Roofing Contractors | Roof Replacement | Roofing materials | Synthetic roof shingles | Composite Roof | Roofing Terminology | Composition Roof
Which Roofing Shingles Are Best For My Home?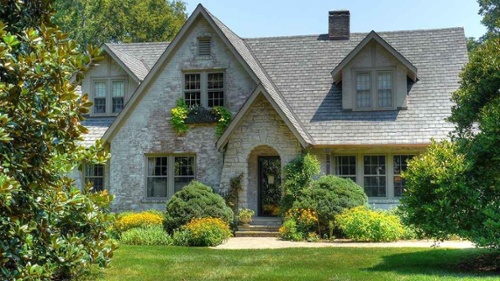 When it comes to roofing materials, a common question we get asked is "Which shingles are best?".
Choosing the right shingles for your roof can be a tough decision since they will protect your home and belongings for many years. With so many options to choose from, it can be tough to decide which ones are best for your budget and style.
The team at Bill Ragan Roofing has been helping homeowners for over 30 years choose the best material for their roofs and today is no different.
So let's take a look at some of the roofing shingles that make our 'best' list.
Asphalt Shingles
Asphalt shingles are one of the best overall shingles for roofs and they are the most commonly used around the country due to their versatility, durability and price.
There are 3 different types of asphalt shingles to choose from: 3-tab, dimensional, and luxury. 3-tab asphalt shingles are more traditional but as they're being slowly phased out of the roofing industry, your next best choice is dimensional asphalt shingles. Available in a multitude of styles, these shingles are your most affordable option without compromising on quality.
Opt for luxury asphalt shingles for a more prestigious look; they mimic slate tiles and give your roof a unique, expensive appearance without the high price. Furthermore, they are three times heavier than dimensional shingles, making them more durable and better at withstanding harsh weather.
Asphalt shingles are one of the easiest and fastest types of material to install on a roof. As many roofing contractors will have experience fitting or replacing shingles, you won't have to pay for a special contractor which will save you both time and money.
Should you need asphalt shingles repaired, you can do so relatively easily and cheaply. Plus, depending on the age of your shingles, you're more than likely to find an exact replacement ensuring they blend in with the rest of your roof and neighborhood.
Composite (Synthetic) Shingles
Composite (also known as synthetic) shingles are made of synthetic polymer or recycled materials making them a more sustainable option for your roof.
Due to the materials they're made out of (fiber-glass, paper and vinyl to name a few) composite shingles are super durable with a Class 4 impact rating – the highest rating a roofing material can have. As one of the longest-lasting roofing materials on the market, composite shingles can withstand extreme conditions and protect you, your home and your belongings no matter the weather.
If its high durability wasn't enough, composite shingles are designed to look exactly like a slate roof for half of the price. Plus, if installed correctly, you can expect to get around 40-50 years of life out of a composite roof. Impressive, right?
But if you should need any repairs to your composite roof, most usually come with a lifetime limited material warranty that will prorate after a certain number of years. Be sure to enquire about this as manufacturers differ when it comes to the length of warranty.
Slate Shingles
Slate shingles are arguably the most beautiful roofing material on the market. Mainly mined in Italy, a slate roof is seen as the 'King' of roofing – a high quality, timeless and resilient material that will reap the rewards for years to come.
Slate shingles are known for their density which can help keep your home cooler in the summer and warmer in the winter, saving you money on electricity and energy bills. They're also known for their unique appearance which can bring a traditional or more modern building to life through the colors and textures of the shingles.
The lifespan of slate shingles is up to 100 years, with some even lasting 150! If you compare this to asphalt shingles that last around 30 years, you can only imagine the quality and durability of slate.
Slate roofs can be anywhere between 3-4 times the cost of what you would pay for an asphalt roof shingle, but while they come with a hefty price tag, the beauty and security they bring to your home is second to none.
Hiring a skilled roofing contractor or someone that has experience installing slate roofs is crucial as the last thing you want is for your slate roof to break, leak or need to be replaced.
How to Choose Which Shingles Are Best
When it comes to choosing shingles for your roof, there are a variety of factors that will contribute to your decision. Take time, for instance. An asphalt roof can be installed in as little as one day, whereas a slate roof can take up to a week, depending on the size of the roof.
The budget will also impact your decision. A slate roof is not for those on a tight budget, but if you do have some wiggle room, you may choose composite or luxury asphalt shingles over your standard 3-tab asphalt.
When making any decisions on which shingles are best, be sure to contact your local roofing contractor as they will be able to assess and advise what's best for you and your roof. Whichever shingles you decide on should be properly installed to prevent problems further down the line.
So, the answer to the question "which roofing shingles are best?" depends entirely on your home, your budget and your circumstances. Remember, what's the best option for you might not be for someone else. You can find out more about roofing materials in our Complete Guide to Purchasing a Roof.
Whether you've got all the information you need from this article, or you're looking for an expert to help guide you to the right decision, the team at Bill Ragan has provided homeowners in Nashville and the surrounding Tennessee areas with high-quality roofs since 1990.
If you're local to Nashville, don't hesitate to contact us so we can talk through your options and find the best shingles for you.