How Do I Choose My Asphalt Shingle?

There are some big decisions to make when getting a new asphalt roof. One of the biggest decisions is choosing the right asphalt shingle.
Unfortunately, some homeowners don't have the information to make the right decision. I want to change that.
For over 30 years, the team at Bill Ragan Roofing has provided honest and transparent information to homeowners so they can make all the right decisions. Because of this, I'll help you find the right type of shingle for your specific situation.
I start this article by quickly breaking down the 3 types of asphalt shingles. After that, you'll learn the 4 questions you need to ask yourself during the decision-making process, plus some key info to help you make a decision.
The 3 types of asphalt shingles
Before getting to how to choose your asphalt shingle, you need to know your 3 options. The three types of asphalt shingles are 3-tab, architectural, and luxury.
Below is a quick breakdown of the 3 types, including pricing, warranties, and lifespan.
3-tab asphalt shingles
3-tab asphalt shingles are the oldest type of asphalt shingle. They lay flat and get their name from the 3 tabs on each shingle strip.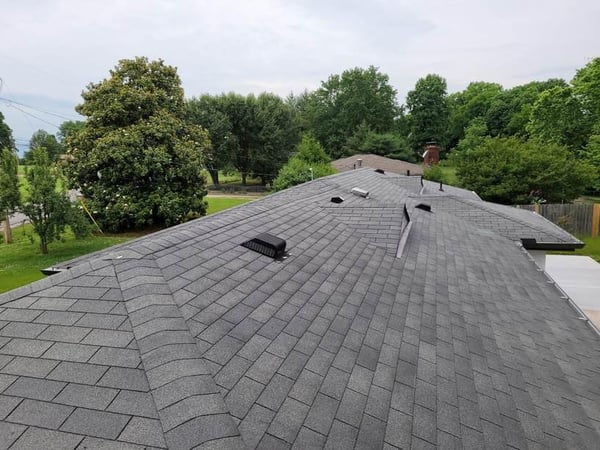 While they are the cheapest of the 3 types, they also are more susceptible to wind damage, have the shortest lifespan, and provide lesser warranty options. Just know that 3-tab asphalt shingles are starting to phase out of the roofing industry.
Architectural asphalt shingles
Architectural asphalt shingles (also called dimensional) are the most common type of shingle and roofing material used today. They give your roof a good-looking random pattern to give it dimension, and some simulate the look of a wood shake roof.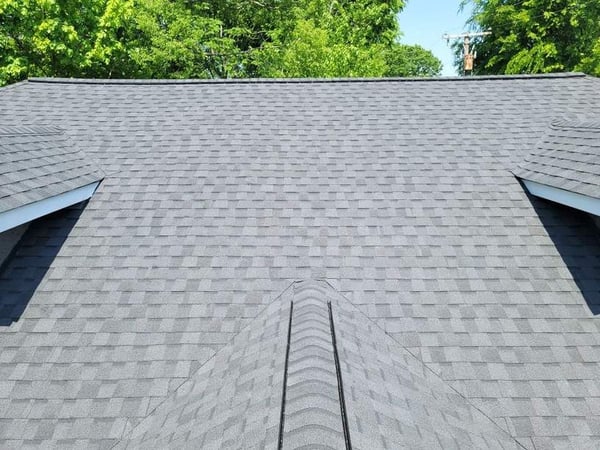 Architectural shingles are the most affordable roofing material that still offers good quality. This quality shows up in 25 years of life and the opportunity to get an enhanced warranty.
Luxury asphalt shingles
Luxury asphalt shingles (also called designer or premium) are the highest quality and offer the most curb appeal of the 3 types. They are made to look like slate to really boost your home's curb appeal.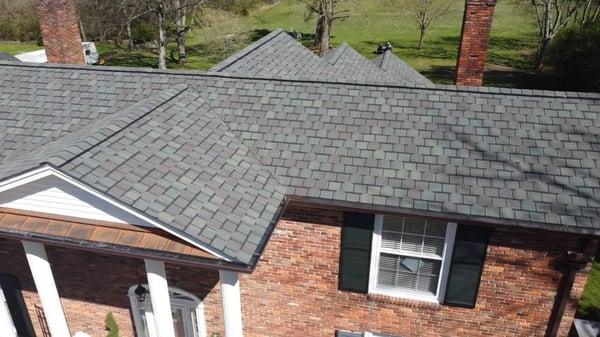 Luxury asphalt shingles are larger and thicker than the other asphalt shingles, which makes them more durable. They can last up to 50 years in perfect conditions, and they also qualify for an enhanced material warranty.
How do I choose my asphalt shingle?
Now you know the 3 types of asphalts. But how do you choose the right one for you?
The best way to do this is by asking yourself 4 important questions. This includes your budget, look, and more.
How much am I willing to spend?
A new asphalt roof will be a big investment, no matter which shingle you choose. But when making your decision, you need to consider your budget.
If you're looking for the cheapest asphalt shingle, 3-tab shingles are an option. However, you sacrifice quality and lifespan with the low price point.
On the other hand, architectural asphalt shingles cost about 15%-30% more but give you more life and better warranty options. Lastly, luxury shingles are the most expensive option of the 3 types.
They're going to be almost double the cost of architectural asphalt shingles. If budget isn't a concern, luxury asphalt shingles are a great option.
But if you're looking for an affordable roofing material that guarantees quality, look no further than architectural asphalt shingles.
Is curb appeal important to me?
Curb appeal is the visual attractiveness of your home from the street. A new asphalt roof always increases your home's curb appeal, but each asphalt shingle offers a different amount.
3-tab asphalt shingles have the lowest curb appeal. So, 3-tab shingles may be right for you if curb appeal isn't important.
Architectural asphalt shingles do have a higher curb appeal than 3-tab shingles. However, they don't stand out as much as other roofing materials, especially when most homes have architectural shingles installed.
Luxury shingles have the highest curb appeal and give your roof a beautiful slate tile look. As I said, all 3 types of asphalt shingles make good-looking roofs.
But if you want your roof to really stand out from the rest of your neighborhood, consider going with luxury asphalt shingles.
Do I want the best protections?
A material warranty is crucial to protect your investment if there's ever a problem with the asphalt shingles. Each type of asphalt shingle comes with material warranties from the manufacturer right out of the package.
The only material warranty for 3-tab shingles is a 25-year warranty as soon as they're out of the package. Both architectural and luxury asphalt shingles come out of the package with a 30-year prorated warranty (loses value over time).
But unlike 3-tab shingles, both architectural and luxury have the opportunity for an enhanced 50-year non-prorated warranty.
To get the enhanced warranty, all of the asphalt roofing components (including your asphalt shingles) must come from one specific manufacturer. After your new architectural or luxury asphalt shingle roof is installed, this warranty ensures the manufacturer covers your entire roof system.
Just know that improper roof installation and inadequate attic ventilation void an enhanced warranty. That's why it's crucial to hire a high-quality roofing contractor that'll do the job right.
How important is lifespan to me?
After investing in a new asphalt roof, you should expect to get the most out of it. That's why you need to consider the manufacturer-specified lifespan for each type of asphalt shingle.
3-tab shingles have a lifespan of 25 years and live the shortest of the three types. Architectural and luxury shingles both have a stated lifespan of 30 years, but luxury shingles have the possibility to go over 30 years and up to 50 under the right conditions.
As long as the asphalt shingles are properly installed and your attic is adequately ventilated, they should get as close as possible to their manufacturer's specified lifespan. However, it's rare for an asphalt roof to reach its full lifespan.
That's why a good rule of thumb is to expect the shingles to get around 80%-85% of the manufacturer's stated lifespan.
Does the brand of asphalt shingle really matter?
There you have it. You now know the questions you need to ask yourself and have the information needed to choose the right asphalt shingle.
When homeowners get to the point, they start wondering about shingle brands. Unfortunately, this leads homeowners down a rabbit hole that isn't necessarily important.
That's why I wrote another article breaking down if the shingle brand is important in the first place.
The team at Bill Ragan Roofing has provided asphalt roof replacement to thousands of homeowners in Nashville and surrounding Middle Tennessee areas since 1990. You can count on our workmanship to last for decades, and we provide a lifetime craftsmanship guarantee to back it up.
Check out Shingle Brand vs. Roofing Contractor to learn which one is more important in the decision-making process.