What Does a Roofing Material Warranty Cover?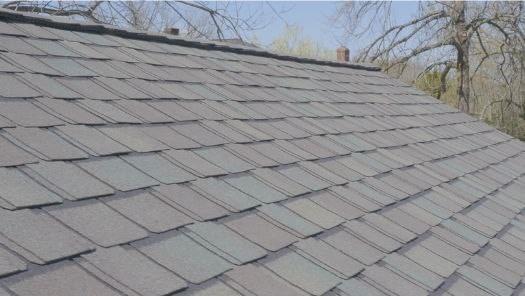 A roof is always going to be a sizable investment. Because you're investing your hard-earned money, you need to know what protects your roof if there's ever a problem.
That's exactly what roof warranties are for. But there are a couple of warranties that each cover something different.
While you need to know both types, we're going to go over the one that protects your actual roofing materials.
Here at Bill Ragan Roofing, we want to help you understand your fallback options if there's ever a problem with your roof. That's why we're going to give you everything you need to know about your roofing material warranty.
Let's get to what a roofing material warranty is, what it covers, and how long it lasts.
What is a roofing material warranty?
A material warranty is exactly what it sounds like, it's a warranty on the roofing materials from the manufacturer. This means if the roofing materials fail because of a malfunction with the products themselves, the manufacturer will cover the cost to replace them.
However, if the manufacturer finds that the roofing materials were improperly installed and you have inadequate attic ventilation, they won't stand behind the products. That's why it's crucial to hire a great roofing contractor with a history of doing things the right way.
If your roofing materials are damaged because of poor installation, you'll only be able to fall back on your roofing contractor's workmanship warranty. But if they didn't install your roof right the first time, there's a good chance they won't stand behind their work.
To ensure your roof is fully protected, you should look for a roofing contractor that offers a lifetime warranty or close to it.
What does a roofing material warranty cover?
While a roofing material warranty only covers the materials themselves, what the material warranty covers depends on the type of roof you choose. The different types of roofing materials each come with a material warranty specific to what needs to be protected.
For an asphalt roof, you'll get a standard warranty on the asphalt shingles themselves and the rest of your roofing materials. But if you invest in an entire roof system, you can register your roof to get an enhanced warranty.
To qualify for an enhanced warranty, all of your roofing components have to come from one specific manufacturer to form a complete roof system. Once your roof has been installed, you'll be able to register the roof with the manufacturer to get the enhanced warranty.
For a metal roof, the material warranty isn't actually on the metal materials themselves. Instead of a material warranty, you get a paint warranty on your metal roof's painted finish.
Unfortunately, you don't get a material warranty on a cedar shake or slate roof because they're natural materials and don't come from a manufacturer.
How long does a roofing material warranty last?
Remember, the warranty you get on your materials depends on the kind of roof you choose. Because of this, the amount of years your roofing materials are covered is different.
For an asphalt roof, it depends on the type of asphalt shingle you choose for your replacement.
For example, dimensional asphalt shingles come out of the package with a standard warranty that lasts 30 years and is prorated after 10 years. This means the manufacturer will pay less towards fixing any problems you have with the shingles as the years go by.
If you get an entire roof system and register it with the manufacturer, you can get a 50-year non-prorated enhanced warranty. The enhanced warranty can actually be transferred to a new homeowner, but it can only be done once in the roof's life.
Just like an asphalt roof, the amount of years on a paint warranty for your metal roof depends on the type. A screw down metal roof's paint warranty is decided by the type of painted finish the manufacturer puts on the metal panels.
On the other hand, every steel standing seam metal roof comes with a Kynar 500 painted finish that protects the panels from the elements and keeps the color you choose from fading. After your metal roof is installed, you get a 30-year warranty on the painted finish.
Find a great roofing contractor to prevent your material warranty from being voided
You just learned what you need to know about the warranty you get on your roofing materials. A roofing material warranty is crucial to every roof replacement, no matter what type of roof you have.
Remember, improper roof installation voids any warranty you have on your roofing materials. That's why it's crucial to find a great local roofing contractor.
But the truth is, that can be hard with how saturated the roofing industry has become. That's why we're going to get the tips you need to weed through all the options to find a great roofing contractor in your area.
Since 1990, the team at Bill Ragan Roofing has proudly provided high-quality roofing services to homeowners in the Nashville area. Whether you need roof repairs or a full roof replacement, you can count on our expertise, workmanship, and lifetime warranty to take care of all your roofing needs.
Here are the 7 Tips to Find a Great Roofing Contractor, so you have the information you need to make the right hiring decision.