3 Things to Know About the Kynar 500 Painted Finish on Your Metal Roof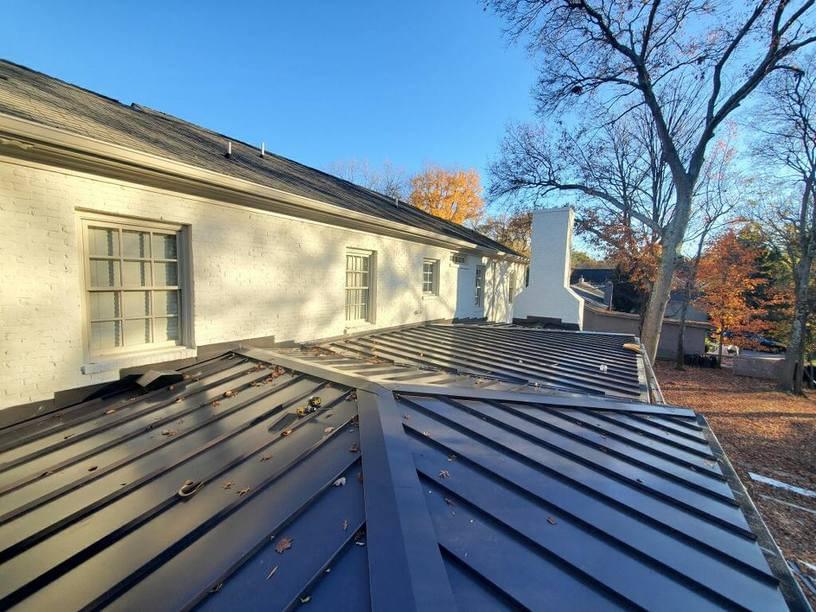 A new standing seam metal roof is going to be a pretty sizable investment, especially if it's going to be your home's entire roof. That's why you need to learn as much as possible about it before diving in and starting the roof replacement process.
If you've already talked to a roofing contractor or done some research on a standing seam metal roof, you've probably heard the term Kynar 500 thrown around. Most homeowners don't think twice about it or even know its true purpose.
While this might not seem like a big deal, you and anyone in the market for a new metal roof needs to understand the purpose and importance of Kynar 500. Without it, standing seam metal roofing wouldn't be one of the most popular and longest lasting roofing materials available today.
At Bill Ragan Roofing, we want you to have the power and knowledge to make all the right decisions when it comes to your roof. That's why we're going to give you crucial information about the painted finish that protects your standing seam metal roof investment.
By the end of this article, you'll learn the 3 things to know about the Kynar 500 painted finish on your metal roof.
1. Kynar 500 protects your metal roof panels
Kynar 500 is a resin-based coating used by licensed paint manufacturers for aluminum, galvanized steel, and aluminized steel. While the painted finish can be applied to metal siding, window frames, door frames, curtain walls, and other miscellaneous metal trims, its main use is in metal roofing.
For metal roofing, Kynar 500 is applied to steel metal roof panels through a patented process to ensure the coating complies with the licensing agreement. This painted finish protects your metal panels from the wear and tear a roof experiences throughout its life to ensure you get the longevity expected out of a metal roof.
But Kynar 500 not only protects the metal panels, it also keeps the paint color from fading as your roof ages. This is especially important because you choose a specific color to give your metal roof the aesthetic and curb appeal you want.
Be aware, the Kynar 500 painted finish is only used on standing seam metal roofs. If you're thinking about a screw down metal roof, you'll still have color options, but it'll have a different painted finish that fades a lot quicker and doesn't last as long.
If you're unsure about which metal roof is right for you, check out this article on metal roofs: standings seam vs. screw down panels.
2. The Kynar 500 painted finish must be protected during installation
To truly get the most out of your roof investment, your new roof needs to be installed correctly. Part of installing your standing seam metal roof properly, is protecting the Kynar 500 painted finish on the metal panels during the installation process.
If there's any scratching or other damage to the finish, the fresh steel on the metal panels is exposed to dew or moisture in the air, causing them to rust. To avoid this, the installers should clean the roof off every evening after they're done for the day.
They can't leave cuts, little triangles, or any type of shavings on the roof because the steel will literally rust overnight. This leads to problems and shortens your standing seam metal roof's lifespan.
Because of this, it's crucial that your local roofing contractor takes all the proper precautions to protect the painted finish before, during, and after installation. That's why you need to hire a great local roofing contractor with a strong installation history to protect your new standing seam metal roof investment.
3. The paint warranty that comes with Kynar 500
There are 2 types of roof warranties you get after your roof is replaced. You'll get one on the workmanship of the roofing contractor you hire and another from the manufacturer of your roofing materials.
The workmanship warranty varies from contractor to contractor, no matter what roofing material you choose. But for a standing seam metal roof, the material warranty is on the Kynar 500 painted finish.
Your new standing seam roof comes with a 30-year paint warranty on your metal panels to protect your investment. This protects you in case the color of your metal roof fades or if anything causes damage to the painted finish (scratches, rusting, etc.).
Even though the paint has a 30-year warranty, it doesn't mean it's going to disappear after 30 years. It just means that after the paint warranty expires, you should start budgeting to replace your standing seam metal roof.
And once you see a lot of rust or the color is extremely faded on your metal panels, you should start the process of replacing your standing seam metal roof.
How long does a standing seam metal roof last?
Now you know that the Kynar 500 painted finish is important to keep your metal roof's color from fading and protecting it throughout its lifespan. As long as it's installed correctly and the painted finish is protected, you should get the most out of your standing seam metal roof.
It should even outlast the 30-year paint warranty. But how long will your new standing seam metal roof actually last? This is one of the most common and important questions homeowners ask before investing in a new metal roof.
Because we want to give you the knowledge needed to determine if a standing seam metal roof is right for you, we have another article breaking down the return you get out of your investment.
The team at Bill Ragan Roofing has been installing metal roofing and other roofing materials in the Nashville area since 1990. We take pride in giving homeowners like you a rare experience in the roofing industry by educating, giving honest advice, and providing high-quality workmanship. Even if we're not the right fit for you, we can at least help you make the right decisions.
To learn how much life you'll get out of your metal roof investment, check out this article on How Long Your New Standing Seam Metal Roof Will Last.