How Long Should Your Metal Roof Last?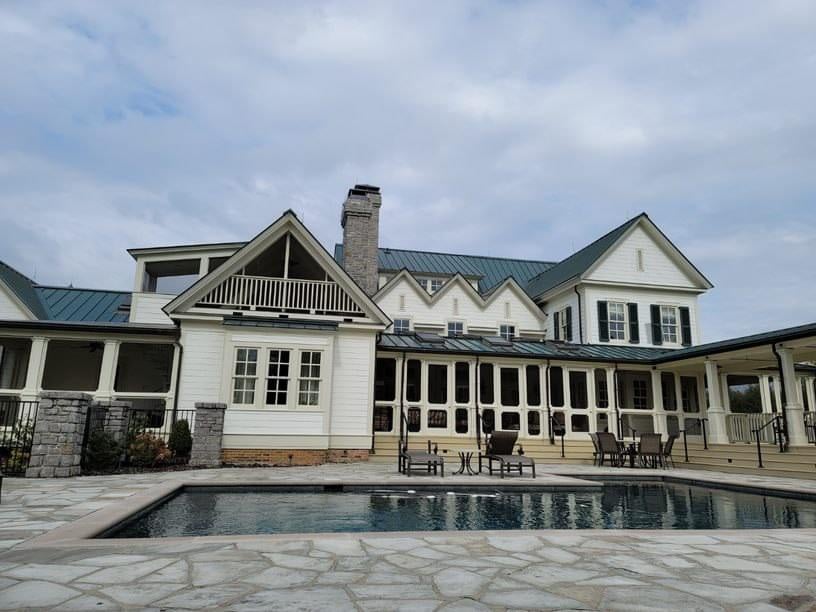 Are you ready for a roof replacement? Are you considering a metal roof over the commonly used asphalt roof?

If so, you probably have a few questions about your new metal roof.

One of those questions should be regarding the lifespan of the two types of metal roof systems.

Because we want you to be as informed as possible before making such an important decision, we're going to break it down for you.

Since 1990, Bill Ragan Roofing Company has provided high-quality metal roofing services in the Nashville area. We strive to give you an experience rare in the roofing industry based on education, honestly, and strong workmanship. No matter what your roof needs, you can count on us to get the job done right.

By the end of this article, you'll know how long the two metal roof systems will last and 3 things that affect the lifespan.
How long does a standing seam metal roof last?
A standing seam metal roof system is a series of panels that are locked together at the seams or seamed mechanically. This allows for panels to expand and contract freely when the metal heats up and cools down.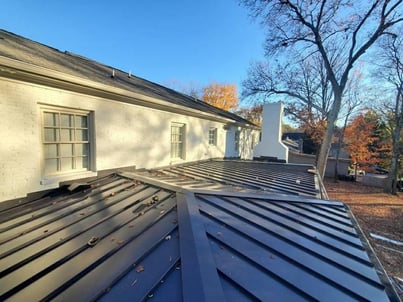 All of the major steel panel manufacturers use a patented process to apply a painted finish called Kynar 500 to standing seam metal panels. This painted finish protects your metal panels from the elements and keeps the color you choose from fading.
Your standing seam metal roof comes with a 30-year paint warranty on the Kynar 500 finish. Even though the paint has a 30-year warranty, it doesn't mean it's going to disappear after 30 years.
As long as it's properly installed and your attic is adequately ventilated, there's no reason you shouldn't get at least 30 years out of your standing seam metal roof. Under the ideal conditions, a standing seam metal roof could live for 50 years.
How long does a screw down panel metal roof last?
A screw down panel (exposed fastener) metal roof is just what it's called; it's screwed down with the fasteners exposed. The panels are fastened down using screws and washers screwed through the face of the metal.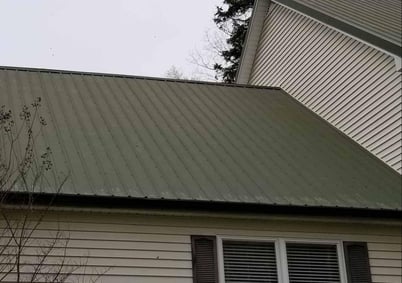 Screw down panels don't come with the Kynar 500 painted finish. Depending on what kind of paint is used on the steel or aluminum panels will determine what kind of warranty you get on a screw down metal roof system.
Properly installed with no maintenance, you could get 20 years out of your screw down panel roof. With periodic maintenance, you could possibly stretch it to 30 years.
Be aware, because screw down metal roof systems screw the metal down, the roof isn't able to expand and contract naturally. Due to this lack of expansion capability, I would not recommend putting a screw down metal roof over a heated space such as your home or office.
3 things that affect the lifespan of your metal roof
Now you know the lifespan of the two types of metal roofs. But do you know what affects their lifespans?
The weather in your area and protecting the finish on the metal panels impact your metal roof's life. Continue reading to learn more about the 3 key factors that affect your metal roof's lifespan.
1. Was the painted finish on the metal roof panels protected during installation?
Remember, the painted finish on your metal roof system's panels protects the metal. Standing seam metal panels have Kynar 500, while screw down panels have whatever painted finish the manufacturer puts on them.
Scratching or damaging the finish on the panels will expose the fresh steel to dew or moisture in the air, causing them to rust. That makes it crucial that your local roofing contractor takes all the proper precautions to protect the finish during installation.
For example, every evening after finishing for the day, the roof has to be cleaned off. They can't leave cuts, little triangles, or any type of shavings on the roof because the steel will rust overnight.
No matter which metal roof system you have, it's important that it's handled carefully during installation. That makes hiring a great local roofing contractor crucial to your metal roof investment.
To help you find a great roofing contractor, read this article on the top 8 questions to ask a roofing contractor.
2. What weather conditions will your metal roof be exposed to?
Every roof goes through wear and tear from the weather throughout its life. The amount of extreme weather in your area determines how fast that wear and tear affect your metal roof.
If you live in an area that gets snow and a lot of hail the integrity and finish on your metal roof panels will weaken quicker. If you have a screw down panel metal roof and live in an area with regularly high temperatures, the lack of expansion capability will shorten its lifespan the more it has to expand and contract.
There's nothing you can do about the weather. Just be aware that your local weather will factor into the lifespan of your metal roof.
3. Do you get annual maintenance for your metal roof?
Even with a properly installed roof, it's important to have an annual maintenance inspection no matter what kind of roof you have.
Once a standing seam roof has been installed, virtually no maintenance is required except at the penetrations such as vent pipes, gas pipes, etc. Even though it doesn't require much maintenance, you should still have it checked yearly to protect your investment.
Unlike a standing seam, because the fasteners on a screw down panel are exposed they need more maintenance. As time passes, the pressure caused by a lack of expansion and contraction of the metal will cause the holes in the washers to get wallowed out by the screws.
Without maintenance, this leads to leaks and will shorten the screw down metal roof's lifespan. To learn more about how critical maintenance is to your roof's life span, read this article on why roof maintenance is important.
How much will a new metal roof cost?
Now you know how long your metal roof will last. If you have a standing seam metal roof, you could get up to 50 years. On the other hand, a screw down metal roof could get up to 30 years with regular maintenance.
Remember, I would not recommend putting a screw down metal roof over a heated space such as your home or office because of its lack of expansion capabilities.
Thinking about the two metal roof systems' lifespan is important. But you still need to know one of the most important factors about getting a new metal roof, how much it'll cost.
Because we never shy away from answering tough questions no one in our industry wants to answer, we're going to explain how much you can expect to pay for your new metal roof.
The team at Bill Ragan Roofing has been replacing roofs in the Nashville area since 1990. Our workmanship and attention to detail ensures your new metal roof's life will be maximized. That's why we provide you with a lifetime warranty.
To learn how much you'll have to invest in your new metal roof, check out this article on How Much a Metal Roof Will Cost.