Does Your Metal Roof Require Maintenance?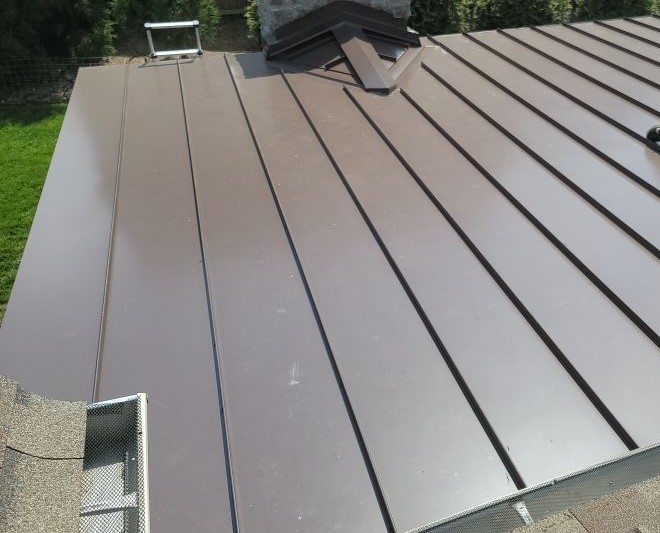 You invested a lot of money and time in your metal roof. So, it makes sense that you want it to be protected and reach its full potential.
That's where roof maintenance comes into play. However, the different types of roofing materials require different forms of maintenance.
Unfortunately, there's misinformation out there about whether or not a metal roof needs maintenance. To combat this, we're going to break down roof maintenance for both types of metal roofing systems.
At Bill Ragan Roofing, we want to ensure every homeowner gets the most out of their roof investment. That's why we take the time to educate you on everything you need to know before you buy a new roof.
By the end of this article, you'll learn if a metal roof requires maintenance and the 3 reasons you need a roof maintenance program.
Does your metal roof require roof maintenance?
There are 2 types of metal roof systems: standing seam and screw down. As long as they're properly installed, both are good roof systems. But for residential roofing, I recommend a standing seam metal roof.
Just like every other roof, your metal roof needs maintenance. However, the amount of maintenance depends on the type of metal roof system you have.
Standing seam metal roof maintenance
After a standing seam roof is installed, virtually no maintenance is required except at the penetrations such as vent pipes, gas pipes, etc.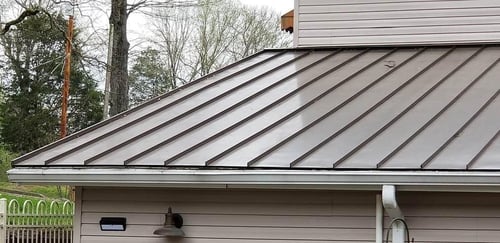 The boots and collars on these pipes will never outlast any roof system.
Failing to periodically check (and replace if needed) the flashing around your metal roof's penetrations will lead to a roof leak. But other than that, cleaning is the only other general maintenance needed, and that's a personal choice for each customer.
Just because a standing seam metal roof requires little maintenance doesn't mean you shouldn't have it inspected annually. Don't let your metal roof investment be ruined because you weren't willing to pay someone to come out and give it a check-up.
Screw down metal roof maintenance
Unlike a standing seam, the fasteners on a screw down metal are screwed through the metal panels and exposed. This doesn't allow the metal panels to naturally expand and contract when it goes through thermal expansion.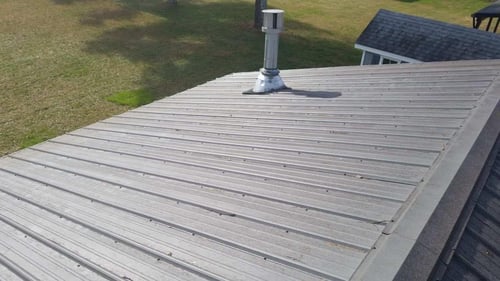 As a screw down metal roof ages, the pressure caused by a lack of expansion and contraction causes the holes in the washers to get wallowed out by the screws. Because of this, a screw down metal roof requires more maintenance than a standing seam metal roof.
To avoid roof leaks, your local roofing contractor will have to come out every 5-10 years or so to replace every one of the screws. Failing to do this causes bigger, more expensive problems and even leads to the possibility of a strong storm tearing the screw down metal roof off.
Unfortunately, most people don't get roof maintenance until it's too late and leaks are already showing up. You should have a roofing contractor out to inspect your screw down metal roof's screws annually to ensure this doesn't happen to you.
3 reasons you need a maintenance plan for your metal roof
You now know that your metal roof does require maintenance and what that maintenance looks like. But did you know roofing contractors have programs that take care of your metal roof for years after it's installed?
Whether you knew this or not, you need to understand why it's important to have a maintenance plan no matter the age of your metal roof.
1. A roof maintenance program gives you peace of mind
No one wants to spend time thinking or worrying about their roof. With a roof maintenance program, you get peace of mind knowing your metal roof is protected, and if there is a problem, it'll be taken care of.
During your maintenance inspection, your roofing contractor will either catch problems or give your metal roof a clean bill of health. Even if you need roof repairs, then at least it was caught before it has the chance to become serious.
After your maintenance inspection, you'll have peace of mind knowing everything checked out alright or all your metal roof's issues are going to be taken care of. And the next time a big storm hits, you can rest assured knowing that you won't have leaks.
2. Roof maintenance programs come with perks
Even though a roof maintenance program gives you peace of mind, it also gives you perks and incentives to make the deal even sweeter.
Every roofing contractor's maintenance program is different, so the perks won't be the exact same from company to company. But I can give you an idea based on what our roof maintenance program (The Overhead Care Club) offers homeowners:
Annual 19-point check-up and attic analysis
Lifetime workmanship warranty on all repairs
Priority appointments
10% discount on all future repairs
Remember, our list won't be the exact same as other roofing companies. However, it gives you an idea of what kind of perks and incentives you get when signing up for a roof maintenance program.
3. Your metal roof investment is maximized with a maintenance program
Your metal roof isn't (or wasn't) a cheap investment. So, you're probably expecting to get the most out of it.
With a roof maintenance program, you can be sure your metal roof investment is maximized. Especially since a standing seam metal roof is one of the most durable and long-lasting roofs on the market.
There are other factors that'll cause your metal roof not to reach its maximum lifespan, like if it wasn't installed correctly or the metal roofing materials fail prematurely. But as long as the installers do their job right, a maintenance program ensures your metal roof reaches its full potential.
How long does a metal roof last?
You just learned why you should have a maintenance program or game plan for your metal roof. The last thing you want is to have your metal roof investment not reach its full potential because you decided not to get roof maintenance.
Remember, a metal roof is one of the most durable and long-lasting roofs you can find. But how long will a metal roof last?
Knowing the lifespan of your metal roof tells you what you get out of your investment, when the right time to replace it is, and more. That's why it's absolutely crucial for every homeowner to understand the lifespan of their metal roof.
Because we want to continue educating you on the important aspects of your roof investment, we wrote another article breaking down the lifespan of both types of metal roofs.
The team at Bill Ragan Roofing has helped homeowners in Nashville and surrounding areas with all of their metal roofing needs since 1990. We take pride in doing things the right way to ensure you get a metal roof that lasts for decades. That's why we don't hesitate to offer you a lifetime warranty on our workmanship.
Check out How Long Does Your Metal Roof Last to learn the lifespan and the factors that impact the life of your metal roof.