6 Ways to Maintain Your Roof to Maximize Your Roof Investment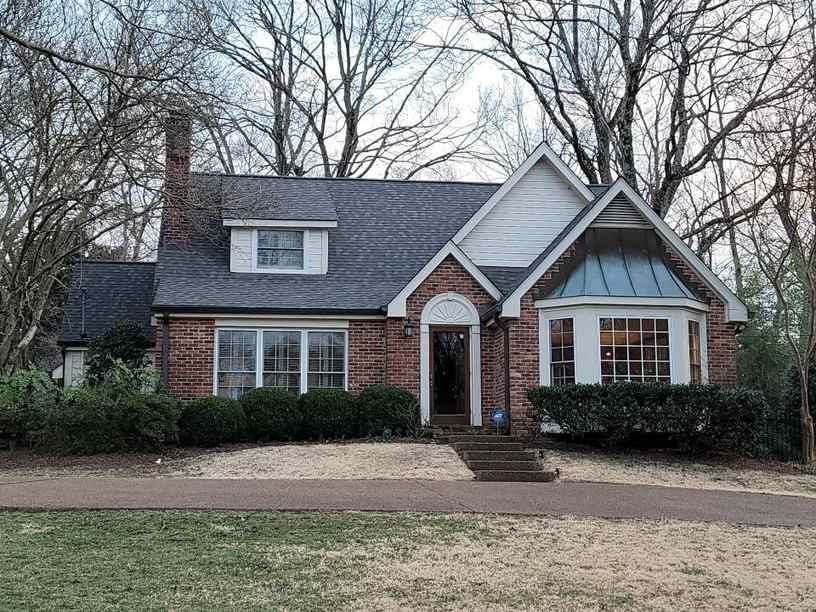 Just like a car, your roof needs maintenance to keep it running smoothly. But if you don't work in the roofing industry, you probably don't know how to actually perform roof maintenance.
While I always recommend hiring a professional, I understand some homeowners like to do things themselves. That's why I want to give you the main ways to maintain a roof.
For over 30 years, the team at Bill Ragan Roofing has helped homeowners get the most out of their roofs. Now we want to help you maximize your roof's lifespan with some general maintenance.
Let's get to the 6 ways to maintain your roof to maximize your roof investment.
1. Look around your attic for potential problems (if you have attic access)
While most of these tips are on the outside, the first one has to do with the inside of your attic. You need to get in your attic to ensure it's vented properly, inspect the bottom of your roof decking, and look for possible animal intrusion.
If your attic is ridiculously hot and the air isn't moving around, you have improper ventilation, and your roof will literally burn up. In the same vein, if trapped condensation can't get out of the attic, your roof decking will rot and weaken the hold the nails have in the wood.
While you're in your attic, you also need to look for any openings or intrusions caused by animals and insects. Your attic is the perfect safe place for small animals.
They can cause damage that leads to roof leaks, damage to electrical wiring (which is a common cause of house fires), and create a biohazard with their waste. If you notice animal droppings or intrusion points, call an exterminator to take care of the problem.
2. Keep your gutters clean
Gutters control where water goes after it flows down your roof. But the water has nowhere to go when your gutter is full of debris.

This makes keeping your gutters cleaned out a crucial part of roofing maintenance. If you don't keep your gutters clean, it can lead to a variety of problems.
If the debris is so built up that water is overflowing the sides of the gutters, it washes out the area around your foundation and eventually causes cracks. Depending how much debris there is, the weight could cause your gutters to pull away from your home.
This causes a gap for water to saturate your exterior walls and enter the interior of your home. For a roof specifically, overflowing gutters can lead to rotting on the edges of your roof decking.
These are just a few of the problems caused by overflowing gutters. Maintaining your gutters isn't only crucial to your roof but to your home as well.
3. Remove debris from roof valleys and other areas of your roof
Just like clearing out your gutters is important, so is keeping the roof itself clear. You need to make sure there's no sitting debris in your roof valleys or anywhere else.
If you leave debris (like leaves and sticks) on your roof, it creates a "dam" that doesn't allow water to flow properly. This causes water to back up and get under the shingles, which leads to leaking inside of your attic or home.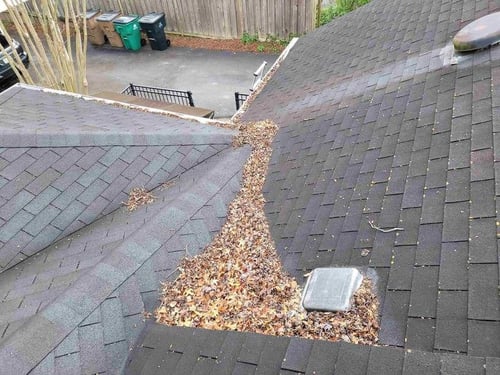 You also have to worry about wet debris sitting on your for prolonged periods of time. Wet debris saturates your asphalt shingles and actually shortens their lifespan.
The longer you let the wet debris sit, the more likely a leak will show up. The number of trees around your home determines how likely you'll run into this problem and how often you need to clear your roof.
4. Check the integrity of your roof flashing and pipe boots
Your roof's flashing is crucial to ensure there are no leaks around your roof penetrations, walls that butt against shingles, and other problem areas of your roof. When maintaining your roof, it's crucial to check the integrity of the flashing.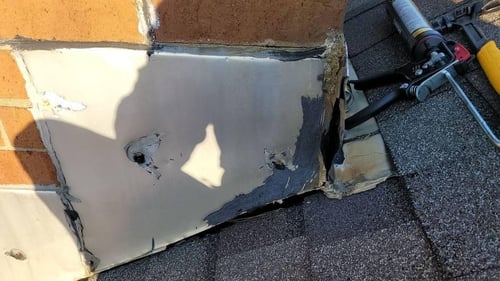 (Rusted roof flashing)
You need to look for signs of rusting and missing or loose caulking around the flashing that keeps your roof watertight. If the metal is rusted or there's a problem with the caulking, water will get into your home.
You also need to check the neoprene pipe boots around vent pipes. As time goes on, UV from the sun breaks down the neoprene and causes cracks to form.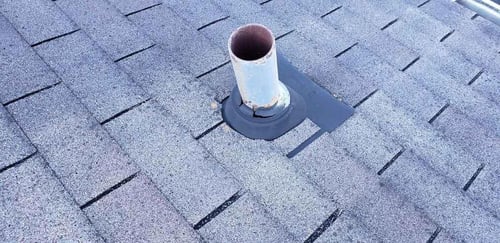 (Cracked pipe boot)
Once it cracks, water will run down wherever the pipe comes out of your roof (closet, kitchen, bathroom, etc.). With roof maintenance, you can catch a cracked pipe boot before it becomes a leak.
If you run into either of these problems, call a professional roofing contractor to fix them. Doing it yourself without proper tools, materials, and knowledge can actually cause more problems.
5. Inspect the condition of your shingles and roof vents
When maintaining your roof, it's important to check the condition of the shingles that make up the bulk of your roof system. You need to look for nail pops, damaged shingles, lifted shingles, missing shingles, or any other noticeable problems.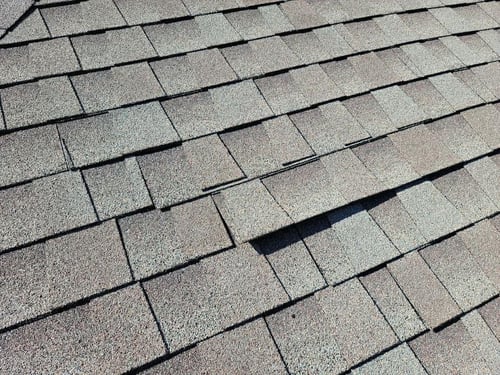 You should also look for granule loss to see if it's almost time for a roof replacement. If you notice any of the problems listed here, you need to contact a roofing contractor immediately.
While looking at your shingles, you also need to look at your roof vents. You need to make sure there are no obstructions and that the vents are functioning properly.
This part of maintaining your roof can be hard if you don't know what to look for, which brings us to the next tip.
6. Hire a professional roofing contractor for a roof inspection
The best way to maintain your roof is to call a professional roofing contractor for an inspection. A roofing contractor will do everything mentioned in this article and more when maintaining your roof.
They'll know what to look for and how to actually take care of any potential problems. But it also saves you the risk of actually getting on your roof.
I know it can be tempting to get on your roof to maintain it. But the truth is, it's better left to the professionals that know how to safely and properly do the work your roof requires.
If you really want to get the most life out of your roof investment, let a professional roofing contractor maintain your roof.
How often does your roof need maintenance?
Now you know 6 tips to maintain your roof. While you can maintain your roof yourself, I don't recommend it.
This is mainly for safety and knowledge reasons, but it also ensures roof maintenance is done correctly. Either way, it's absolutely crucial to maintain your roof to get the most out of it.
But how often does your roof actually need maintenance? Yearly? Every 5 years?
Because I want to help you continue learning about how to maximize your roof, I wrote another article breaking down how often your roof should have maintenance.
Since 1990, the team at Bill Ragan Roofing has provided roof maintenance to thousands of homeowners in Nashville and surrounding Middle Tennessee areas. We take pride in maximizing your roof investment, so you'll never have to worry about your roof again.
To learn how much roof maintenance you actually need, check out How Often Should Your New Roof Have Maintenance.