What is Roof Decking? (Types, When Should It Be Replaced, & More)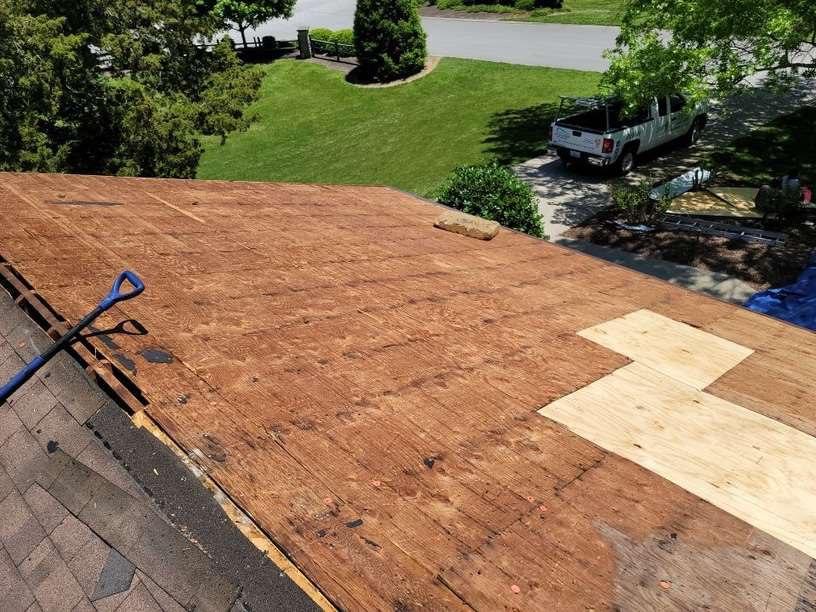 Your roof is more than the shingles you see from the street. It's a combination of different roofing materials and components that come together to protect your home from the elements.
While all the materials are important to your roof, one of the most crucial is roof decking. It's literally the groundwork for your entire roof system.
That's why anyone about to get a roof replacement (or even roof repairs), needs to know about the importance of their roof's decking.
We here at Bill Ragan Roofing want to help all homeowners understand not only the parts of their roof but what exactly they're paying for when getting a replacement. Because of this, we're going to break down what you need to know about roof decking.
By the end of this article, you'll learn what roof decking is, the types of roof decking, the cost of roof decking, and more.
What is roof decking?
Roof decking (or roof sheathing) is the wooden boards that make up the framing of your roof. These boards are what your shingles and other roofing components are installed on.
There are 2 types of wood roof decking: plank decking and sheet decking.
Plank decking
Plank decking was the main type of decking used before the invention of plywood. This type of decking is made up of elongated and rectangular wooden boards that come in 2 different sizes, 1x6 or 1x8.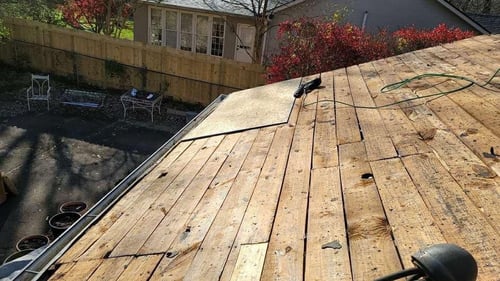 While it's not as commonly used, you'll still find this kind of decking used on roofs today.
Sheet decking
Sheet decking (or sheathing) is exactly what it sounds like, flat sheets of wood. There are 2 types of sheet decking: plywood and OSB.
OSB (oriented strand board) is the most common type of decking used on roofs today. It's made up of wood chips/strips compressed together to form a flat 7/16" sheet.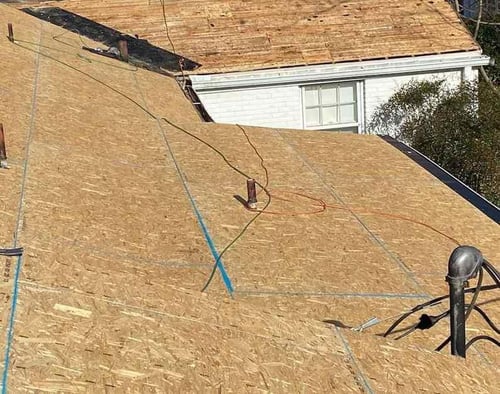 Plywood comes in several different thicknesses (⅜", ½", ⅝", and ¾") depending on the span of the rafters. While OSB is the most common, plywood is still very much used on homes today.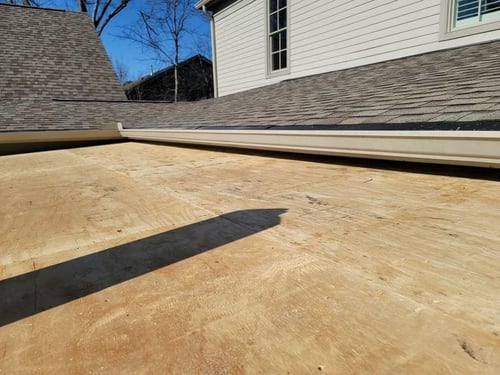 Both types of sheet decking are great options, but which one you get depends on your budget and the availability of the wood.
When should roof decking be replaced?
When you get a roof replacement, you might have to replace your decking. If any of your roof decking's integrity is compromised or there are signs of rotting, the wood will need to be replaced.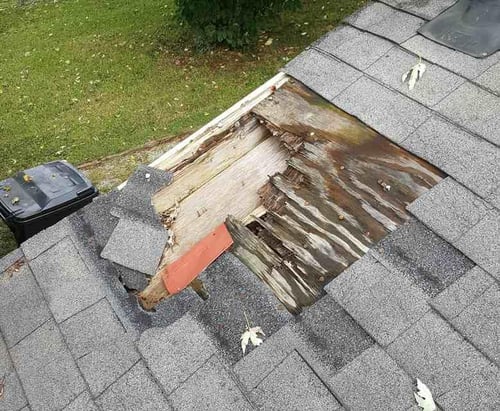 Usually, there are going to be a few boards that have to be changed out. But your roofing contractor won't know how much of your roof decking needs to be replaced until after they finish tearing off your old roof.
If they find rotten boards, your roofing contractor has to replace the decking before they can begin installing your roofing components. However, if your contractor finds your decking's integrity to be sound, then it can handle your new asphalt roof.
How much does roof decking cost?
Roof decking's cost is hard to nail down because of the fluctuation of wood prices. In 2021, wood prices are through the roof, which adds a pretty big expense to your roof investment if a lot has to be replaced.
While I can't give exact prices or even price range, I can at least give you an idea of which type of decking is more expensive. For example, plank decking is priced out per linear foot, while sheet decking is priced out per sheet.
After factoring in labor and materials, plank decking usually costs about three times more per square foot than sheet decking costs. So if you have plank decking and a lot of it needs to be replaced, it's actually cheaper to go over the top of the existing plant decking with OSB 7/16" or 3/8" CDX plywood.
At the end of the day, you won't know the cost of your roof decking until your roofing contractor determines the type and how much needs to be replaced.
The code that has to do with roof decking
Roof codes are crucial to ensure your roof is installed correctly and complies with your state's codes to ensure your home passes an inspection. One of the more important roofing codes has to do with roof decking.
According to code R905.2.1 of the 2018 International Residential Code: asphalt shingles shall be fastened to solidly sheathed decks. This code means that your roof decking (roof sheathing) must be able to withstand and hold your new roof when it's installed.
This simply means if there's any rotten decking or if the decking can't handle the new roofing materials, it must be replaced before your roof is installed according to codes. There's also a code that your roofing contractor has to follow the shingle manufacturer's installation instructions.
As of 2021, if any of your plank decking has more than an 1/8" between the planks, your roof decking has to be replaced per the manufacturer's installation instructions before roofing materials can be nailed on. Be aware, some roofing contractors lower their prices by skipping this to undercut the competition.
When meeting with your roofing contractor, always ask them (if they haven't done it already) to check your roof decking's integrity.
Learn the rest of the roofing materials that make up your roof
Now you know what roof decking is, the types, when it should be replaced, and more. Decking is a crucial part of your roof and must be in good condition to ensure your home is protected.
But roof decking is just one important material that's part of your roof replacement. That's why you and every homeowner needs to know the rest of the roofing materials that make up your roof.
Because we want you to understand every important detail you should know about your roof investment, we wrote another article breaking down the 9 roofing materials that make up a roof.
The team at Bill Ragan Roofing has proudly helped homeowners in the Nashville area with all of their roofing needs. We take extreme pride in doing things the right way and offer a lifetime warranty to be there for you if there's ever a problem. Whether to repair a leak or give you a beautiful new roof, you'll never have to worry about your roof again when you work with us.
Check out 9 Materials Included With Your Roof Replacement to learn the crucial components that make up a roof.