How Much Does TPO Roofing Cost? (3 Other Flat Roofing Options)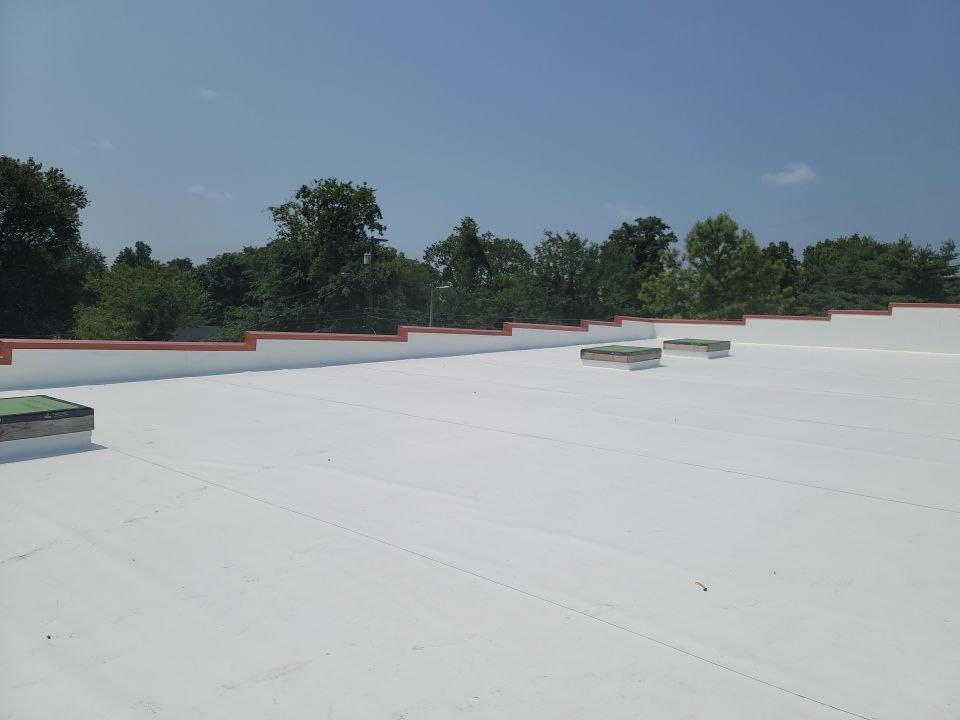 If you're about to start a flat roofing project, you're probably considering using a TPO membrane roof. But before jumping into your TPO roofing project, there's one crucial thing you need to know.
This is how much TPO roofing will cost you. Unfortunately, other roofing companies avoid talking about pricing.
At Bill Ragan Roofing, we have no problem using our 30 plus years in the roofing industry to answer the tough questions homeowners have. That's why we'll be helping you understand the cost of TPO roofing.
In this article, you'll learn how much TPO roofing costs and 3 other roofing materials for a flat roof.
What is TPO roofing?
TPO (thermoplastic polyolefin) is a single-ply white membrane used in both commercial and residential roofing. TPO's white membrane reflects heat instead of absorbing it, keeping the room below the roof cooler.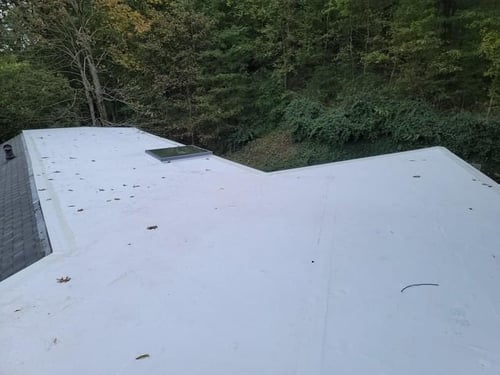 That's why it's a great option if you have a flat roof or a low-slope dormer over a bedroom. However, you can also use it over a non-living space like a garage or covered patio.
Before making the decision, you need to consider the look of TPO's white membrane if you can see the roof from a window. If the window looks over the roof, just know the white membrane will get dirtier a lot quicker.
It's not a big deal if you don't care about the look or can't see the roof at all. However, it's just something to think about when going through the decision-making process.
How much does TPO roofing cost?
Now that you know what TPO roofing is, you're ready to get to the reason you came to this article. A good rule of thumb is to budget around $14.00-$17.00 per square foot (labor and materials) for a smaller TPO membrane roof and around $12.00 per square foot on slightly larger projects.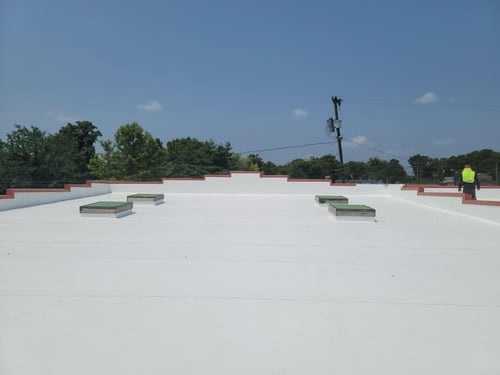 (Large TPO roof)
Like every other type of roofing material, multiple factors determine the cost of a TPO membrane roof. One of the biggest factors is the type of insulation used under the membrane.
If you use insulation that's thick enough to insulate the entire structure, it will cost more than if you're just using fabric insulation and gluing the membrane to it. Another huge factor is the size of the roof.
This may seem backward, but the cost per square foot will trend towards the higher end of the price range on smaller projects. On the other hand, the cost per square foot drastically decreases when you get into larger commercial projects.
After investing in a new TPO roof membrane, you can expect to get around 25 years out of it as long as it's installed properly.
3 more flat roofing options
Now you have an idea of how much TPO roofing costs. But a TPO membrane isn't the only flat roof option.
To help you make the right decision, let's cover the 3 other common flat roofing options.
1. EPDM membrane roofing
EPDM (ethylene propylene diene terpolymer) is a synthetic rubber black membrane commonly used in commercial and medical facilities. While it's used mostly in commercial, EPDM has its place in residential roofing.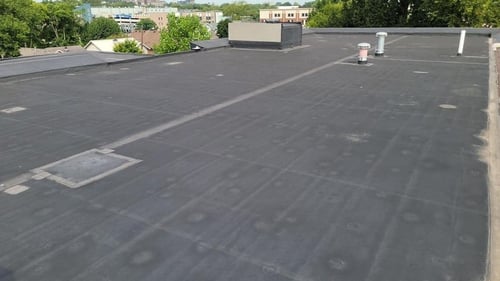 I wouldn't recommend using it over a bedroom or living space because of the heat it's going to absorb due to the black material. However, EPDM is a great option for a flat roof over a garage or another non-living space you can see from a window because the black won't get as dirty as a white membrane.
EPDM is extremely durable and is basically like having a bulletproof rubber roof system. Because of this durability, you can expect to get 25 to 30 years out of a fully adhered 0.060 thickness EPDM flat roof.
Even though they're different, you expect an EPDM membrane roof to be in the same price range as TPO.
2. PVC membrane roofing
PVC (polyvinyl chloride) is also a single-ply white membrane used in commercial and residential roofing. PVC is also a great choice for any flat or low slope over a living space or bedroom.
PVC and TPO are very similar in their characteristics besides their chemical make-up. Even the process to install the two membranes is pretty much the same.
The only major difference is that PVC is slightly more flexible and has been around longer than TPO. You can also expect to get 25 years out of a PVC flat roof as long as it's installed properly.
Just like EPDM, a PVC membrane roof will also be in the same price range as TPO.
3. Standing seam metal roofing
Getting away from the membrane roof systems for a flat roof, we turn to metal roofing. While you can get a screw down metal panel roof, a standing seam metal roof is the recommended choice for residential roofing.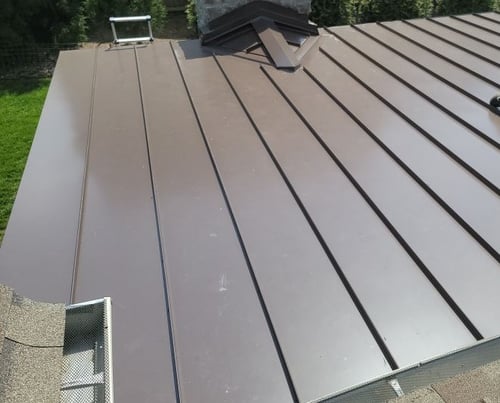 A standing seam metal roof system is a series of metal panels that are locked together at the seams or seamed mechanically. This allows for panels to expand and contract freely when the metal panels go through thermal expansion.
A standing seam metal roof is a great option for a flat roof. It comes with color options to give your flat roof a better aesthetic and is longer lasting than the membrane roof systems.
As long as it's properly installed and your attic is adequately ventilated, there's no reason you shouldn't get at least 30 years out of your standing seam metal flat roof. Under the ideal conditions, a standing seam metal flat roof could last for 50 years.
However, the extra life and aesthetics come at a higher price, and it will be more expensive than all 3 types of roof membranes.
Get the checklist you need to find a great roofing contractor
Now you know 3 more flat roof options other than TPO. After reading this article, you should have a good idea of which flat roofing material is right for you.
No matter which one you choose, it's crucial to hire a great roofing contractor for your flat roof. You might think this is the easy part, but the truth is, it's the most important decision you'll make for your roofing project.
To ensure you make the right hiring decision, we created a checklist of 16 questions that every homeowner needs to ask potential roofing contractors. Not only does the checklist give you the questions to ask, but it also gives you the right answers you should get back.
Don't get taken advantage of by a roofing contractor or let your roof investment be ruined from poor workmanship; get your checklist now.
The team at Bill Ragan Roofing has provided high-quality flat roofing services to homeowners in Nashville and surrounding areas since 1990. When you let us help with your flat roofing needs, your flat roof gets the attention to detail it needs, and you'll have a lifetime warranty on our workmanship.
If you're local to Nashville, don't hesitate to contact us for any of your roofing needs.
Here's your Checklist of 16 Questions You Need to Ask a Roofing Contractor to help you find a reputable roofer in your area.