What is TPO Roofing? (Why You Need It and How Much TPO Roofing Costs)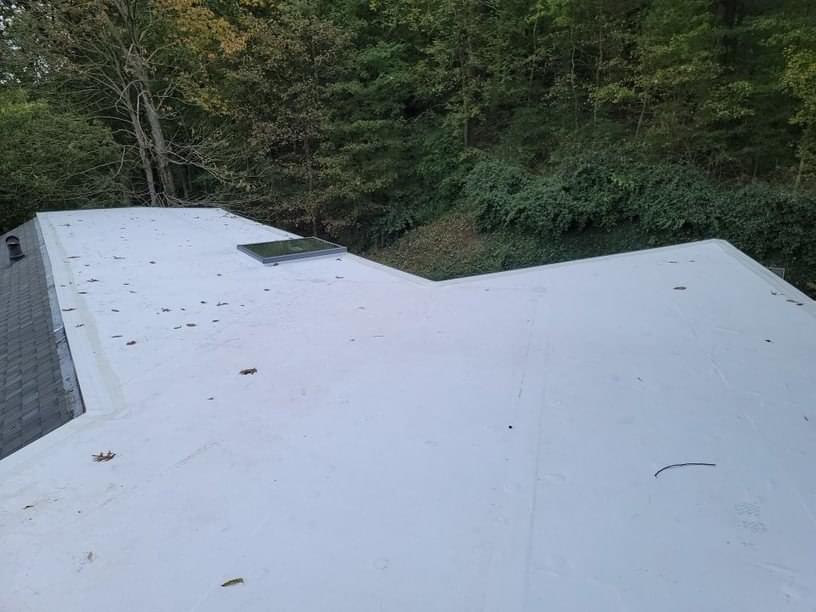 TPO roofing is a commonly used material in the roofing industry today. But even though it's common, most homeowners don't know what it is or anything else about it.
If you're like everyone else, you're here because you know nothing about TPO roofing. We understand it's uncomfortable spending hard-earned money on something you know nothing about.
Here at Bill Ragan Roofing, we use our 30 plus years of expertise to help you understand all aspects of the roofing industry, including your material options. Today, we'll use this expertise to break down TPO roofing.
In this article, you'll learn what TPO roofing is, why you would need it, how long it lasts, and how much it costs.
What is TPO roofing?
TPO (thermoplastic polyolefin) is a single-ply white membrane used in both commercial and residential roofing. Due to TPO being a white membrane, it reflects heat instead of absorbing it.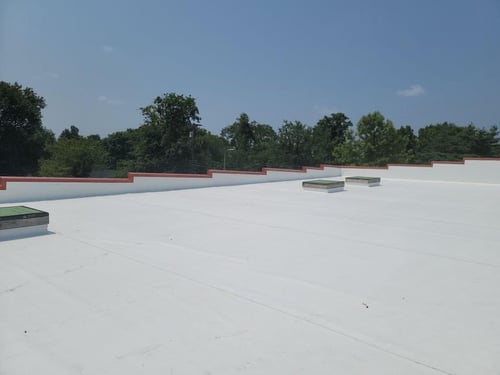 If you have a flat roof or a low-slope dormer over a bedroom, TPO is a great option because it'll keep the room below cooler. You can also use it over a non-living space like a garage or covered patio.
However, you need to consider the look of TPO's white membrane if you can see the roof from a window. If the window looks over the membrane, white will get dirtier a lot quicker.
If you don't care about the look or can't see the roof at all, it's not a big deal. It's just something to keep in mind when going through the decision-making process.
Why do you need TPO roofing?
After learning what TPO roofing is, you need to know why you would use it in the first place. If you have a roof or a roof facet that's pitch (aka steepness) is below a 2:12 (less than 2 vertical units up for every 12 horizontal units out), it's considered low slope.
Water won't run off as fast on a low slope or flat roof as it would on a higher pitch, so it needs to be waterproof. For this reason, you can't use asphalt shingles because they aren't meant to hold sitting water.
This isn't something roofers just came up with one day; it's actually a building code. According to both the shingle manufacturer's installation instructions and building codes, you can't install asphalt shingles on a roof with a pitch below 2:12.
This is why a TPO roofing membrane (or another flat roof system) has to be installed on low slope or flat roofs. If a roofing contractor even brings up installing shingles on a low slope roof, don't hire them.
How long does TPO roofing last?
The lifespan of a roof tells you the return you get on your investment and when it'll need to be replaced. This leads us to the next question, how long will TPO roofing last?
You can get around 25 years out of TPO roofing membrane as long as it's installed properly. However, just because it says 25 years doesn't mean it'll reach its maximum life expectancy.
The reason for this is because there are a lot of factors that determine how long a roof lasts. These factors include the weather in your area, how much direct sunlight hits it, and the quality of installation.
But as long as your TPO membrane roof is installed correctly, it'll get as close as possible to its maximum lifespan.
How much does TPO roofing cost?
Now to one of the most important parts of your TPO roofing research, pricing. A good rule of thumb is to budget around $14.00-$17.00 per square foot for a smaller TPO membrane roof and around $12.00 per square foot on slightly larger projects.
Like other types of roofing materials, there are a number of factors that determine the cost of a TPO membrane roof. One of these factors is the type of insulation used under the membrane.
For example, using insulation that's thick enough to insulate the entire structure will cost more than if you're just using fabric insulation and gluing the membrane to it. Another huge factor is the size of the roof that's getting the membrane.
This may seem backward, but the cost per square foot will trend towards the higher end of the price range on smaller projects. On the other hand, the cost per square foot drastically decreases when you get into larger commercial projects.
The best roofing materials for a flat roof
Now you know what TPO roofing is, how long it'll last, and an idea of how much it'll cost. After reading this, you probably think you're ready to jump in and call a roofing contractor.
But before you do, you need to know about the other flat roofing materials. After all, you need to know the other options to ensure you make the right purchasing decision.
That's why we wrote another article breaking down the 4 best roofing materials for a flat roof.
Since 1990, the team at Bill Ragan Roofing has provided a rare experience to homeowners in the Nashville area through education, customer service, and attention to detail. No matter if you need repairs or a full roof replacement, you can count on workmanship backed by a lifetime warranty to maximize your investment.
Check out The 4 Best Materials for a Flat Roof (& How Much They Cost) to learn more about your flat roof options to ensure you make the right decision.