What Should I Do If My Skylight Is Leaking?

Skylights are a great addition to any home to increase the amount of natural light coming in. Unfortunately, there are times when a skylight leaks.
A leaking skylight can cause all kinds of damage to your home and valuables. On top of that, you now have to worry about getting it fixed.
This is a stressful situation that you may not know how to take care of on your own. That's why you need to understand the steps you should take when your skylight is leaking.
For over 30 years, the team at Bill Ragan Roofing has helped homeowners in Nashville and surrounding Middle Tennessee areas with all of their skylight needs. Now I want to use my 30-plus years of skylight knowledge to help you.
Let's get to what you should do if your skylight is leaking.
Minimize the damage from the leaking skylight
You know water causes damage to your home and belongings no matter how it gets in. So, the first thing you should do is pretty obvious.
But once you notice a leaking skylight, you should proactively minimize the potential damage. Move anything directly under the skylight out of the way and then place a bucket to catch the water.
Now you may be in a situation where water leaks down the surrounding wall(s) instead of dripping straight down. If this happens, you should dry it as soon as possible.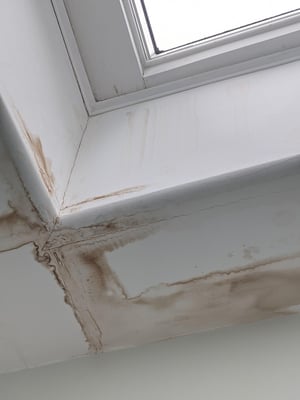 (Skylight leak causing drywall damage)
You may have to continue drying the areas if the skylight is actively leaking when it rains. Unfortunately, some homeowners think that repairing a leaking skylight can be put off, especially if they live in a dry location.
But a leaking skylight can lead to other home repairs on top of your skylight repair if the leak is left unchecked. You'll also have to deal with the potential for mold and mildew.
No matter how or how often your skylight leaks, make sure you have a plan in place to deal with the water.
Try to find the source of the skylight leak
Unfortunately, there are many reasons why your skylight could be leaking. It could be from improper installation, problems with the flashing, a faulty skylight, or your skylight may simply have reached the end of its lifespan.
But once you notice a leaking skylight, I recommend taking a closer look to see if you can find the source of the leak. Your safety is the number one priority, so I don't recommend getting on your roof or on a massive ladder to check it out.
Now you may be thinking, "How am I supposed to find the source when I don't know what to look for?" I don't expect you or another homeowner to notice the signs of something like an improperly installed skylight.
But the main reason I want you to check out the leaking skylight is because of condensation. Because skylights are installed on roofs, it's common for condensation to form when the warm air rises in your home and meets the cooler glass.
This gives the appearance that you have a leaking skylight, but in reality, it's simply built-up condensation. If this is the case, you can fix this by opening windows to circulate the air and/or using a dehumidifier to extract excess moisture from the air.
Even if it turns out to be condensation, it's still not a bad idea to reach out to a local roofing contractor to make sure.
Get the leaking skylight inspected by a professional roofing contractor
The most important thing you should do for a leaking skylight is to call a professional roofing contractor. A professional will assess the situation, diagnose the problem, and offer guidance on how to fix the leaking skylight.
If it's still under warranty, I recommend reaching out to the roofer who installed the skylight. If it's not, it's up to you to use the same company or find another one local to your area.
Now, I know some homeowners like to do DIY work. I know it's tempting to try to repair a leaking skylight yourself to avoid spending money.
But you could actually cause even more damage that costs more to repair than the original leak. You also have to consider your safety when doing the repairs if you aren't used to working on roofs or ladders.
Even if you think you can do the repair, I recommend hiring a professional roofing contractor for any kind of skylight or roof leak.
How much does it cost to repair a leaking skylight?
I understand finding a leaking skylight is never fun. The potential damage alone is enough to stress you out.
That stress level increases when you realize you have to pay to get it fixed the right way. This gets even more elevated when trying to figure out how much it'll cost.
Unfortunately, I can't do anything about the actual leak without putting my hands on it. But I can help relieve some stress by giving you an idea of how much a skylight leak costs to repair.
That's why I wrote another article breaking down how much it costs to repair a skylight and other common roof leaks.
Since 1990, Bill Ragan Roofing has provided high-quality skylight services to homeowners in Nashville and surrounding Middle Tennessee areas. If you're local to the Nashville area, Contact the team at Bill Ragan Roofing to take care of your leaking skylight or any of your other roofing needs.
Whether you're local to Nashville or not, check out How Much It Costs to Repair a Roof Leak to learn how much repairing your leaking skylight will cost.