Roofing Contractors | Insurance
Why You Should Hire a Roofing Company That Works with Insurance Claims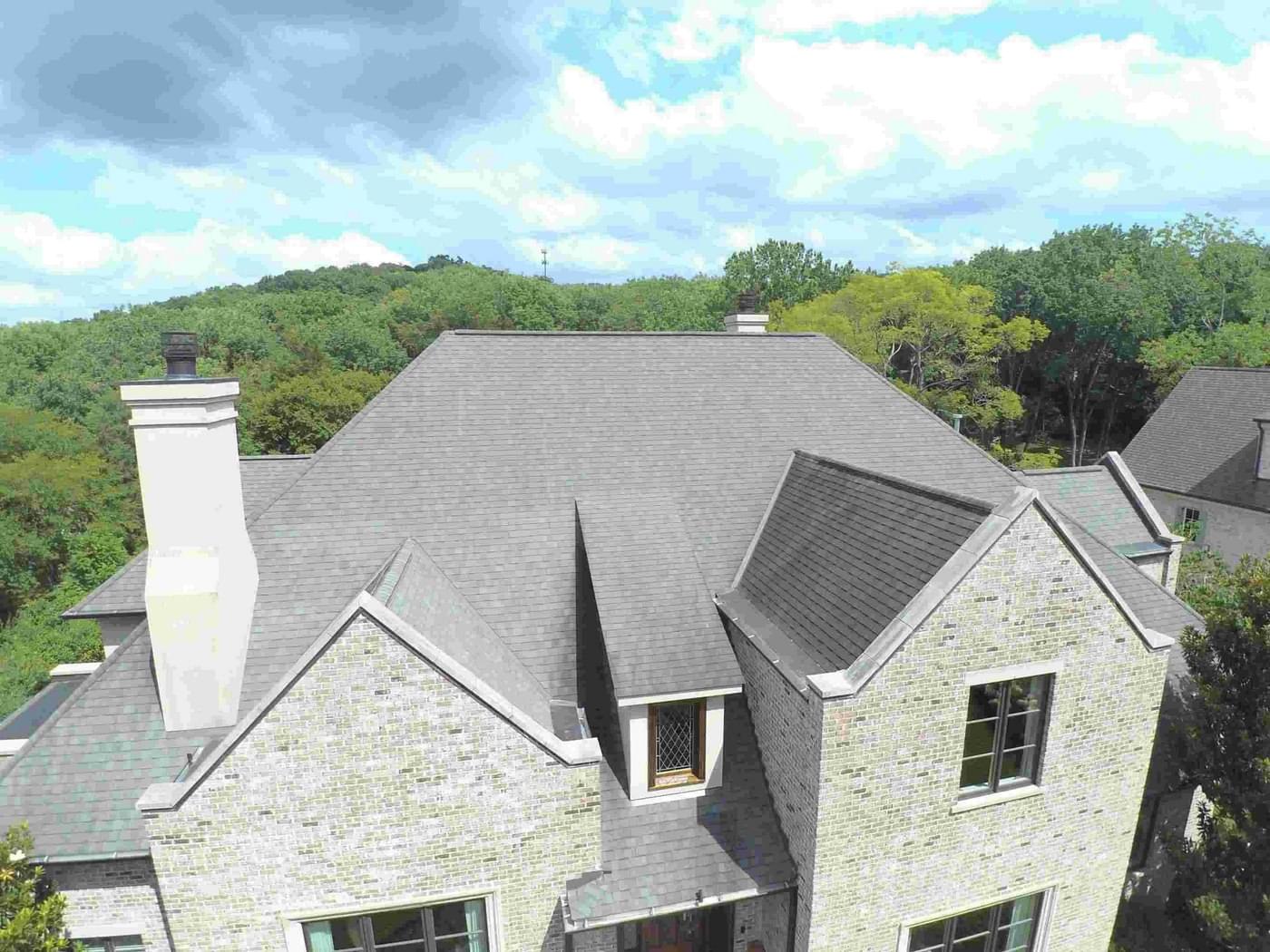 Put yourself into this scenario. A strong storm is blowing through your area. You can hear the strong winds. Thunder is shaking your entire home. And all of a sudden...BANG! A loud thud comes from above.
That was definitely the large tree limb that hangs over your roof. But all you can do is wait for the storm to pass.
After the storm calms down, you go outside to see the extent of the damage. You have shingles missing and the tree limb caused structural damage to your roof.
Now you have to go through the stress of filing a claim and dealing with the insurance company. Wouldn't it be nice if you had someone on your side as you're going through all this? That's where your local roofing contractor comes in.
But to truly get a positive experience when dealing with insurance, you need to hire a roofing contractor that has experience working with insurance claims. By the end of this article, you'll understand why.
Since 1990, we've helped hundreds of residents in the Nashville area with their insurance claims. We take pride in ensuring all of our customers have a positive experience during an incredibly stressful time. We work for you, not the insurance company.
Here, we're going to break down why it's important to hire a company that handles storm damage claims and 3 things to look for in a roofing contractor when replacing your roof through insurance.
Why it's important to hire a roofing company that handles insurance claims
As soon as your insurance claim is approved, you're ready to start the replacement process.
If you're replacing your roof through homeowners insurance, it's crucial to hire a roofing contractor with experience handling insurance claims. But why is this important?
They'll know how the insurance claim process works, how to read your claim, fight to make sure everything is correct on the estimate, and how to do the work in compliance with your insurance company. A roofing contractor that regularly works with insurance can also save you from inadvertently committing insurance fraud.
For example:
If you have a Replacement Cost Value policy or RCV, (your insurance company pays to replace your roof), you might run into a scenario where the work estimate is less than what the insurance company agreed to pay. You don't get to pocket the money that's leftover.
Your RCV policy requires proof of completion to ensure the items that were included in the insurance estimate were included in the contractor's scope of work. If you ask for a check on the recoverable depreciation (the amount an insurance company determines a roof has depreciated over time) but didn't get the work done, your insurance company won't pay the depreciation to you.
Hiring a roofing contractor that knows how to work with insurance claims helps you have a positive experience during a stressful time. After finding the right one, you'll be ready to replace your storm damaged roof.
3 more things you need to look for in a roofing company for your insurance replacement
There are still a few more things to know about hiring a roofing contractor for your insurance replacement. They should also be local to your area, have all appropriate paperwork, and back up their workmanship.
For the rest of this article, I'm going to break down why all of this is important.
1. They're local to your area
When looking for potential contractors to hire, especially for insurance work, it's crucial that you pick one local to your area. They should have a physical office location in your area and a phone number with a local area code.
The reason for this is because many out of state companies (storm chasers) come in after a big storm and undercut the prices of the local roofing companies in your area. They'll send in highly trained salespeople and begin going from door to door using scare tactics to try to sell new roofs to the unwary homeowners.
Once they get the money and move on to the next storm-hit town, the crews stay behind to do the work. Usually, the work on these roofs is done poorly without caring about following local codes or if they install your roof properly.
To ensure this doesn't happen to you when a strong storm comes through your area, make sure you reach out to a local reputable roofing company if your roof has storm damage.
2. They have all the appropriate paperwork to work in your area
Every roofing contractor should be licensed, bonded, and insured. These three pieces of paper are in place to protect you and ensure the job is done right.
You need to make sure you hire a local roofing company that is licensed, bonded, and insured specifically in your state. If they're missing even one of the three, it puts you and your roof investment at risk.
Any local roofing contractor that's licensed, bonded, and insured will be more than happy and proud to show you their paperwork to prove it. But what does this paperwork mean to you?
Licensed
For a contractor to get a license, all they have to do is register with the state board of licensing contractors. The price of the job will determine what license they'll need.
For example, a job over $3,000 requires a home improvement license and anything over $25,000 requires a general contractor's license.
Roofing contractors should have a general contractor's license since a roof is a large investment.
Bonded
A bond ensures that if a company goes out of business during the middle of a job or if there's a problem with the work and they don't fix it, then the customer can fall back on the bond company.
Being bonded means that a bonding company knows that the roofing contractor does business correctly and ethically. The bonding company puts up the bond because they know the contractor will do the job the right way.
Insured
All contractors should be fully insured with general liability, workman's comp, and a company vehicle insurance policy on all the vehicles owned and unowned.
General liability insurance and workman's comp limits depend on the size of the contractor's jobs and the state they're in. If all they're doing is small residential work, their general liability will not be as much as a company that does larger jobs.
If a roofing contractor isn't licensed, bonded, and insured in your state, don't even think about hiring them. Otherwise, if something does go wrong, you will have literally zero recourse.
3. They provide you with a warranty to back up their workmanship
Roof warranties are in place to protect your roof investment. You'll have one on your roofing materials and another on the contractor's workmanship.
Workmanship varies from contractor to contractor, but every roofing company should offer a warranty on their workmanship. They could offer anywhere from one year, two years, three years, five years, 10 years, 25 years, or even a lifetime.
But if a roofing company takes pride in their work, they should have no problem providing you with a lifetime warranty or close to it. Be aware, if you fall for the trap of hiring a storm chasing company, you're not going to get a workmanship warranty.
As soon as the workers leave the job site, they'll quit answering their phones. This is what is known as a "tail light warranty" because as soon as their tail lights disappear from view, the warranty disappears as well.
No matter what roof work you need done, if a contractor doesn't offer you a warranty on their workmanship, don't even think about hiring them.
Ready to find a great roofing contractor to handle your insurance claim?
You just learned 3 more things to look for in a roofing contractor when getting a replacement with insurance.
It doesn't matter if you're getting a replacement through insurance or getting one through retail, the contractor you hire plays a massive role in the life of your roof. Hiring the wrong one can cost you more money in the long run, cause you unnecessary stress, and even lead to premature roof failure.
But how can you tell a good roofing contractor from a bad one? That comes down to asking the right questions and getting the right answers back. Because we want you to find the right roofing contractor for you, we're going to give you these questions.
The team at Bill Ragan Roofing has provided homeowners in Nashville and surrounding areas with guidance through the insurance process since 1990. We take pride in giving you a positive experience during this stressful time.
If you're local to Nashville, Franklin, Brentwood, Belle Meade, or other surrounding Middle Tennessee areas, don't hesitate to Contact Us today.
Get this Checklist of Questions to Ask a Roofing Contractor to help you find the best company in your area for your roofing needs.