How Long Does a Composition Roof Last? (& What Impacts the Lifespan)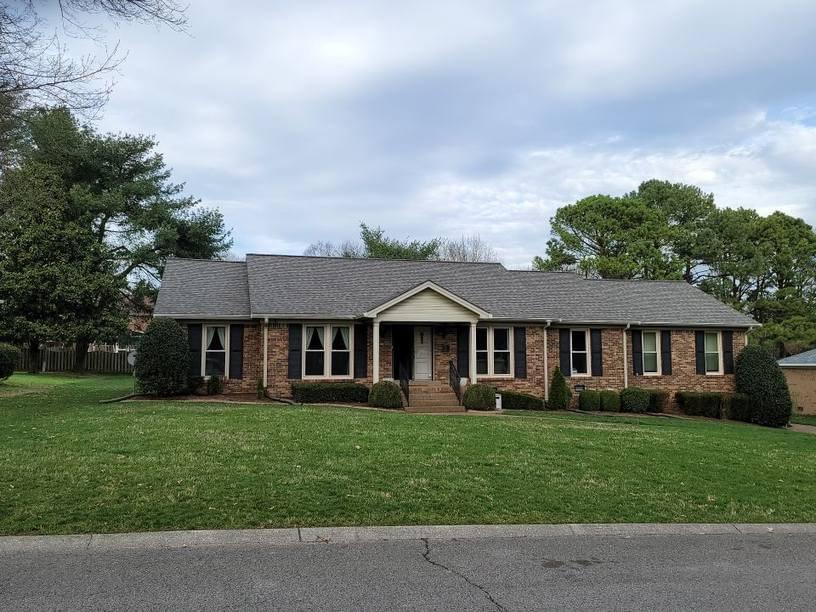 A new composition roof will be an investment. Just like other investments, there are certain things you need to know before jumping in and investing your hard-earned money.
One of the things you need to know is how long a composition roof lasts. Knowing the lifespan tells you when you'll have to replace it and, most importantly, the return you'll get out of your investment.
The team at Bill Ragan Roofing has provided roofing knowledge to homeowners like you for over 30 years. Because it's important to your investment, we're going to help you understand how long a composition roof will last.
This article covers how long a composition roof lasts and 4 factors that impact the lifespan.
What is a composition roof?
A composition roof is another roofing industry term for asphalt shingles. It's also what insurance companies call asphalt shingles on claims for roof damage.
The 3 types of composition (asphalt) shingles are 3-tab, architectural (dimensional or laminate), and luxury (shake look or slate look). They are each designed to give your roof a unique look.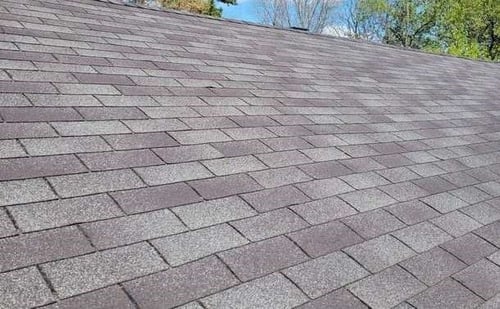 (3-tab shingles)
3-tab shingles lay flat and get their name from the 3 tabs on each shingle strip.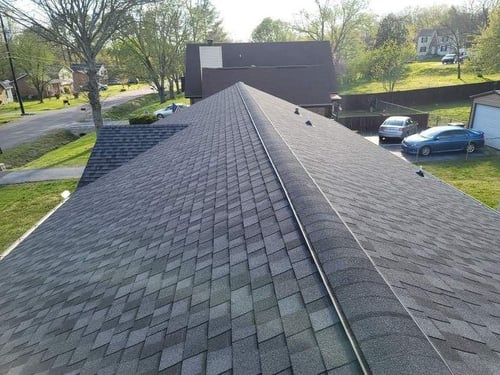 (Architectural shingles)
Architectural (dimensional) shingles have a random pattern and shadow lines to give your roof more dimension. Some even simulate the look of a wood shake roof.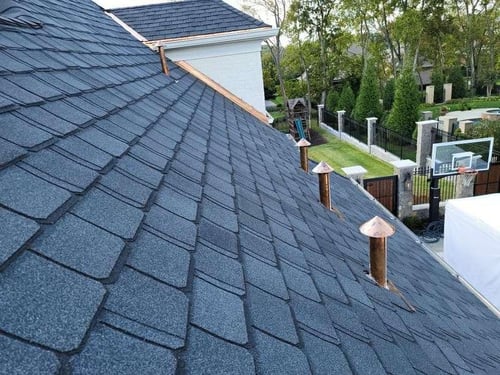 (Luxury shingles)
Luxury (shake roof and slate roof) shingles are larger and thicker than the other shingles. Most luxury shingles are designed to look like slate tiles, hence the name slate look.
3-tab shingles used to dominate the roofing industry, but architectural shingles are now the most common type installed on roofs today. While luxury shingles are just as heavily marketed as architectural, they are around double the price.
How long does a composition roof last?
The lifespan of your composition roof depends on which shingle you have. 3-tab shingles can last up to 25 years, but they have the shortest lifespan of the 3 types.
Architectural and luxury shingles have a lifespan of around 30 years, but the luxury style can go over 30 years and up to 50 under the right conditions.
As long as the shingles are properly installed, and your attic is adequately ventilated, they'll get close to the lifespans above. However, there are a lot of factors that determine how long a composition roof lasts.
Because of this, you should realistically get around 80-85% of the life span out of a composition roof. That means you can expect to get about 20-22 years out of your 3-tab shingle roof and 25-28 years out of your architectural shingles.
On the other hand, luxury shingles are thicker and should get up to around 30 years. In perfect conditions, you can stretch that number even further.
4 factors that impact how long a composition roof lasts
I just mentioned there are factors that will truly determine how long your composition roof should last. While there are plenty of factors that impact your roof's life, there are 4 that stand out.
Let's get to the 4 factors that impact how long a composition roof lasts.
1. Proper attic ventilation
Your attic's ventilation system is what allows your home and roof to breathe properly. If your attic isn't properly ventilated, then the damage from the trapped hot and cold air will drastically shorten your asphalt roof's life.
That's why adequate attic ventilation is one of the biggest factors that impact the life of your composition roof. Without proper ventilation, the trapped heat will literally burn up your roof system, leading to a full roof replacement.
And because it wasn't properly ventilated, any warranties you have from the manufacturer on your roofing materials will be voided.
2. Hiring a reputable roofing contractor to install your composition roof
Just like proper ventilation, hiring a reputable roofing contractor to install your roof plays one of the biggest roles in the lifespan. When your roof is installed properly, you'll get as close to the lifespan of your roofing materials as possible.
That's why you need to find a roofing contractor that has a strong installation history. If you hire one that doesn't use correct roofing techniques, your roof's life will be cut short, and you'll need a roof replacement well before it's time.
No matter if you need repairs or a full roof replacement, your contractor plays a huge role in every aspect of a composition roof.
3. The weather conditions your composition roof is exposed to
Every roof goes through wear and tear due to weather throughout its life. While climate and temperature play a role, it's really about the amount of extreme weather events your area gets.
The more extreme weather that hits your composition roof, the faster the shingles will go through wear and tear. For example, if you live in an area that gets a lot of small hail, then your shingles will have granular loss a lot quicker.
You won't be able to file an insurance claim, but it'll definitely shorten your composition roof's life. On the other hand, if you have a heavy hail storm, a tornado, or strong straight-line winds that damage your roof, you'll be able to get the problem taken care of through your insurance company.
4. Maintaining your composition roof
Every roof needs maintenance to keep it running smoothly. This makes getting annual roof maintenance one of the most important factors to ensure you get the most life out of your composition roof.
When you have annual roof maintenance, common roof problems are caught before they can cause too much damage. It's also a way to keep debris off the roof, out of the valleys, and off the gutter line.
Without maintenance, debris sitting on your composition roof will stay wet. This makes your shingles saturated, and they won't be able to perform their main function, keeping you dry.
If you have a composition roof, it's important to have it maintained at least once a year.
How much does a composition roof cost?
Remember, there are more factors that impact the lifespan of a composition roof. However, the 4 factors mentioned above play the biggest role in the life of a roof.
After reading this article, you know what you get out of your composition roof investment. But before reaching out to a roofing contractor, there's still a huge question you need answered.
This question is, "How much will I have to invest in a composition roof?" Unfortunately, the roofing industry is hesitant to answer this.
We're not like other roofing companies, though. That's why we wrote another article breaking down how much a composition (asphalt) roof costs.
Since 1990, the team at Bill Ragan Roofing has provided high-quality roof replacements to homeowners in Nashville and surrounding areas. With our attention to detail and a lifetime warranty on our workmanship, you can rest assured your new roof will last for decades.
Check out How Much Does a New Asphalt Roof Cost: Pricing, Factors & Considerations to learn what you can expect to pay for an asphalt (composition) roof replacement.