Roof Damage | Roof Replacement
Should I Repair My Roof or Replace It?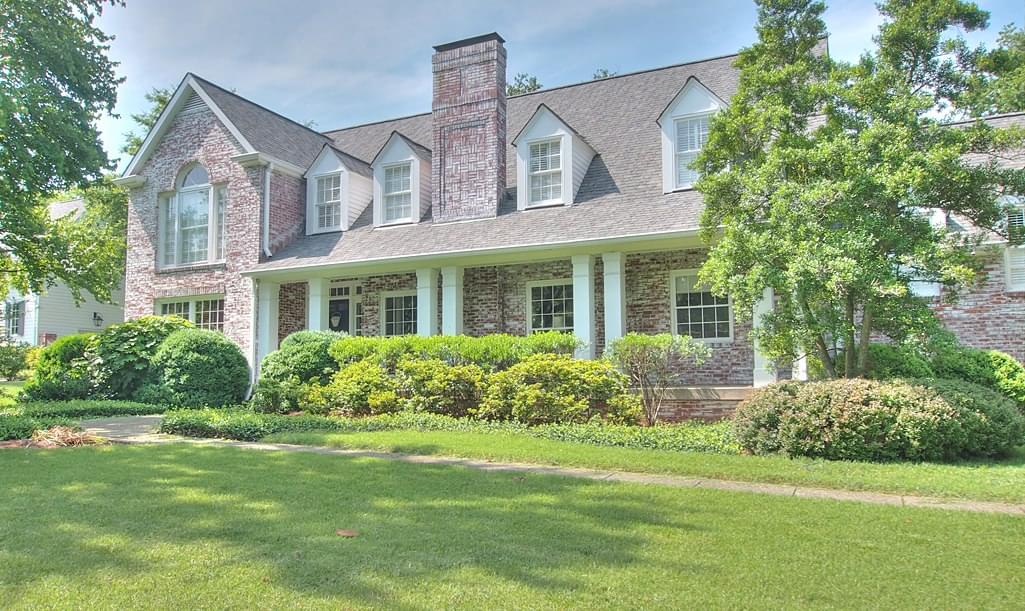 Have you found shingles laying in your yard? How about the number one sign of roof failure such as leaks or water spots on your ceiling?
If you answered yes to any of these questions, you're not alone. Having been in the roofing and construction industry for more than 45 years, I've been asked many times what the solutions to these problems are.
The solutions can vary but most of the time your roof can be repaired. But then there also comes a time when replacing your roof is the only option.
The question is, how do you know which one is right for you? Luckily, we've got you covered.
The team at Bill Ragan Roofing has provided the residents of Nashville with roof repair and replacement services since 1990. We strive to give you an experience rare in the roofing industry with honesty and a strong history of high-quality workmanship. When you work with us, you'll never worry about your roof again.
So, do you need roof repairs or a full roof replacement? Always eager to help you find the right option for you and your roof, I'm going to answer that question and you'll even have the opportunity to take our free quiz at the end of the article to help you even further.
What to Consider When Deciding to Repair or Replace Your Roof
Before determining if you need a roof replacement or repairs, there are some things you need to consider. Knowing how old your roof is, how long you plan on staying in your home, and more give you an idea if it's time to replace your roof.
How old is my roof?
For asphalt shingles, there are a lot of variables to consider when deciding to repair or replace your roof and the age of your roof is one of the most important ones. If you are unsure how old your roof is, a local roofing contractor can tell you how much life you have left on it.
The lower end three-tab shingles will last between 15 and 20 years. The higher quality, much heavier architectural shingles can last up to 40 years and resist wind speeds of 130 MPH.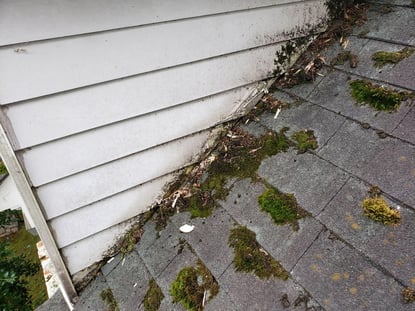 Some signs of an old roof are:
Shingles curling or buckling

Shingles are bald

Shingles are missing

Roof sagging

Moss covering your roof

Blistering shingles

Granules in the gutter
Make sure to have multiple roofing companies come out to talk with you. I've been to many homes where the homeowners have been told that their roofs needed to be replaced when they didn't. There are those that will sell you a roof whether you need it or not, regardless of the condition or the age of your roof.
How long do I plan on staying in my home?
If you're not in your forever home but plan on being there for a while, it may not make sense to replace your roof. However, when it's time to sell your home, you could find it hard to sell depending on the life and condition of your roof.
If your plan is to stay in your home and your roof has already had several repairs, or it's anywhere between 15 and 20 years old, have your roofer out to inspect it. Find out if there is anything that needs attention. If everything looks fine, I would highly suggest that you get on a regular maintenance plan where an expert gets up on your roof to check things out at least once a year, if not twice. This will ensure that you get the full life out of your roof.
If it is your plan to sell your home sometime in the future and your roof is showing signs of damage or looks bad, you'll have a hard time selling it. If this is the case, then installing a new roof may be your best option. Once you put it on the market, the curb appeal of the new roof will help sell your house. Upon selling, you'll get a return of 68% of the replacement cost.
What does my roof replacement budget look like?
For some, a roof replacement just isn't possible because it's not in their budget. If it's not within your budget, your roofer should be able to work with you and limp you along with some repairs until you are ready.
Should I Have My Roof Repaired?
Repairing your roof is going to be the most cost-effective way to take care of the problems you are having. These repairs can extend the life of an older roof and get you through until it's time to tear off your old one and replace it with a new one.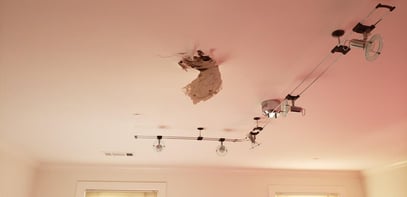 Hole caused by a cracked pipe boot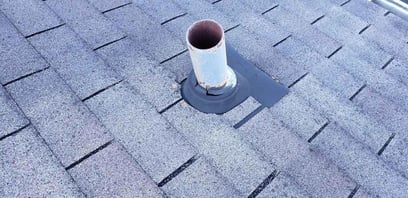 Cracked pipe boot
You will want to consider repairing your roof if you are experiencing any of the following:
Leaks around the Pipe Boot

Leaks Around the Chimney

Missing shingles

Air Gun Nailing Mistakes

Nail pops

Fascia Replacement

Punctures and Holes

Cracking and Blistering

Poor Installation

Tree Damage

Weather Damage

Granule Loss

Splitting

Shrinkage

Poor Maintenance
To learn how much the common roof leaks cost to repair, check out this article on how much roof repairs cost.
Benefits of roof repairs
Roof repairs are more affordable than a roof replacement
It's a lot cheaper to repair a roof than it is to replace one. There are components on your roof that don't last as long as your roof system does.
Roof repairs help you get more life out of your roof
Ask your roofer what types of repairs you can do instead of replacing it. If there's no reason to replace it, add to the life of your roof with a repair. It's that simple.
Disadvantages of roof repairs
Matching shingle colors for a roof repair can be difficult
Over time, shingles will start to lighten because of the sun. So it can be difficult to match a shingle that's being replaced. It is nearly impossible to match your older shingle colors to the new shingles. This will lead to unsightly curb appeal that not only you, but your neighbors will notice.
Poor workmanship can lead to more problems and roof leaks
Roof repair work is highly specialized and it takes someone that is skilled in this area to do it properly. Repair work and installing are totally different from each other. Someone that doesn't know what they're doing can cause more damage than what's already there.
Should I Have My Roof Replaced?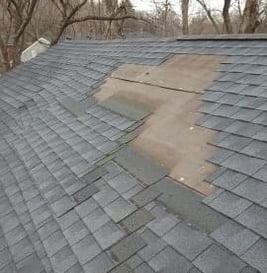 Slipped shingles from a poor air nailing installation. This roof is only two years old and needs to be replaced.
When you should replace your roof depends on several factors, such as the wear and age, the quality of the installation, and your home's vulnerability to damage in the future.
To learn more about these factors and when you should actually replace you roof, check out this article on when you should get a new roof (3 signs that you need a replacement).
If you need a complete replacement, below are the pros and cons of replacements.
Benefits of a roof replacement
A new roof increases your home's curb appeal
A new roof is 40% of your home's curb appeal. Curb appeal is going to get your house noticed either negatively or positively. With a replacement, it's going to fall in the positive category.
When you have an old tired looking roof and you put on a new one, the house will look like a newer build. The replacement will not only give you years of peace of mind, but it will make your house the prettiest on your street.
A roof replacement gives you peace of mind
Once you replace your roof, you can go out of town without constantly checking the weather back home. There won't be any damages or leaks to greet you when you walk back in the door. That's peace of mind!
Disadvantages of a roof replacement
Roof replacements tend to be very noisy
A lot of people want to be home while their roof is being replaced. They don't realize how loud it is actually going to be inside the house while the shingles are being installed. I always recommend to my customers to plan to be away from the house while the shingles are being installed.
You may want to remove your pets during your roof replacement
While you understand that it's going to be nearly impossible for you to stay inside with all the banging that will be done overhead, you may also want to consider your pets. I've had many customers leave their dogs and cats at home during the roof installation. While dogs tend to get over it fairly quickly, I've known cats to disappear for three days. You may want to consider sending them to doggie or kitty daycare or having a friend watch them while the work is being done.
Many roofing companies don't clean up very well after your roof replacement
Most roofers will do 90% of the work for residential replacement, get the check you cut for them and move on to their next project. What about the last 10%?
The last 10% is the inspection and cleanup that should be done when a roofer has finished a project. If the cleanup isn't done properly there will be nails in the yard, debris in your shrubs, and flat tires all around for your family and guests from nails in the driveway.
It also makes your attic look like a warzone. If the roofer you hire doesn't lay down plastic or a tarp over everything in your attic, there will be debris all over your holiday decorations and anything else valuable you have in stored up there.
Buying a new roof is no fun
A new roof isn't a jet ski. You won't get to play with it or enjoy it like everything else you invest a large amount of money in.
However, a roof is a necessity. The joy you get out of it is the peace of mind knowing that your home is protected from the elements and that you have a solid foundation over your head that will last you a long time. And, as I stated earlier, it does add 40% to your home's curb appeal.
What Should I Do Next?
Here are a few things you should keep in mind before signing on that dotted line.
One of the most important things you need to do is research.
Before calling a roofing company to come to inspect your roof, do your research. Educate yourself so you know what a roofer or salesperson will be explaining to you so you can ask the right questions.
You also want to educate yourself so you don't get taken advantage of and wind up replacing your roof when it still has plenty of life left in it. Check out every company's reviews and choose a company that fits your specific needs and answers the questions you have.
Get a second opinion
If a salesman tells you that you need a roof replacement, call a second or even a third company to come out and inspect your roof too. I've met with homeowners who have had five new roof quotes from different roofing companies when they didn't need a new roof, just a simple repair.
If they all come back with different answers, then go with a company that has a track record of doing things the right way, who is giving you honest answers, and educating you so you know what you're actually getting for the price you're paying.
The roofing industry has more complaints filed against them with the Better Business Bureau than any other industry. To learn more about why you should talk to multiple roofing companies, check out this article on why you should get multiple quotes for your roof replacement.
Pick a local roofing company you trust
You need to be able to trust the local roofing contractor you choose. It's very important that you do your research to find the best possible local roofing company. Not all roofing companies have local offices and it's not required by the State of Tennessee to be licensed.
So make sure whoever you use is licensed, bonded and insured. Ask the right questions and get comfortable with the company that will be doing the work.
After all, your roof is what is protecting you, your family and your valuables. Your roof is the most important component of your home.
Ready for a roof repair or a roof replacement?
The truth is, you won't know what your roof needs until you get an inspection. That's why you need to get an honest inspection from a roofing contractor you can trust.
After reading this are you still struggling with deciding which one fits your roof? Like I stated earlier, we have a free quiz to help you determine the best option for your roof.
The team at Bill Ragan Roofing has been repairing and replacing all types of roofs in Nashville since 1990. After working with us, you'll get a lifetime warranty on our workmanship. If you're local to Nashville, don't hesitate to contact us today for a roof assessment to learn exactly what your roof needs.
Take your free Repair vs. Replacement Quiz to help you determine what your roof needs.