7 Roofing Facts Every Homeowner Needs to Know

You probably don't think about your roof unless there's a problem. But when there's a problem or a roof replacement is needed, most homeowners don't have the information they need to make the best decisions.
This is where a homeowner is taken advantage of by the roofing industry. I don't want that to happen to you.
For over 30 years, the team at Bill Ragan Roofing has helped homeowners understand the ins and outs of the roofing industry. That's why I want to start your roofing knowledge journey by breaking down some basic facts that every homeowner needs to know.
This article covers the following:
The materials and components that make up your roof.
What you need to know about a roof's lifespan.
Increasing roofing prices.
The average cost of a roof replacement.
Factors that impact roof pricing.
The importance of your attic's ventilation to your roof.
How storm damage can lead to insurance paying for a replacement.
1. Your roof is more than just the roofing material you see
A roof is more than just the roofing material you see from the ground. It's a combination of different components and materials that come together to form a complete roof system.
While the main roofing material (E.g., asphalt shingles) makes up the bulk of an asphalt roof, all the other roofing components are just as important.
The main materials and components that make up a roof are:
Roof decking
Roof flashing
Underlayment
Drip edge
Ice and water shield
The roofing material you choose (asphalt shingles)
Ridge capping
Roof vents
Pipe boots
All of these materials are important to help your roof do what it does best, protecting you and your family. If even one of them is improperly installed or left off, you'll have costly problems down the road.
2. An asphalt roof rarely reaches its maximum lifespan
An asphalt roof's lifespan is the number of years you get out of it. Each type of asphalt shingle has a manufacturer-specified lifespan.
However, an asphalt roof very rarely reaches the manufacturer's specified lifespan. For example, architectural asphalt shingles have a stated lifespan of 30 years.
But architectural asphalt shingles will realistically live around 80-85% of their maximum lifespan. This means architectural shingles should realistically last around 22-25 years.
While it's great to put this number on it, it's possible that asphalt shingles may not last this long due to multiple factors.
These factors include:
The quality of asphalt shingle installation
Adequate attic ventilation
The weather the shingles are exposed to
The direction the roof faces
The amount of maintenance
If your asphalt roof isn't properly installed and your attic isn't properly ventilated, you won't get near its maximum lifespan. But as long as you hire a great roofing contractor and invest in maintenance, your asphalt roof should get as close as possible to its maximum lifespan.
3. Roofing prices are up across the board
Roofing has always been an expensive service. However, roofing prices are going up and aren't decreasing as we near the end of 2022.
Roofing prices are increasing mainly because material manufacturers are raising their prices. Their prices are impacted due to the increased cost of the raw materials (like oil) most roofing materials require during the manufacturing process.
Building materials like wood, metal, and others are also increasing in price. Because a roof is made up of roofing and building materials, this increases the price more.
Another reason prices are increasing comes down to the scarcity of products. This doesn't necessarily happen in every part of the country, but it impacts most areas.
Unfortunately, combining all of this means roofing prices are up across the board with no signs of slowing down as of now.
4. The average cost of a new roof
The biggest question (and concern) when getting a new roof is the cost. Unfortunately, it's impossible to give you an exact price for a new roof because of the factors that go into the cost of a replacement.
Because of this, I can't give you an exact price for a new roof. But I can at least give you the average cost range of a new roof for a standard middle-class home.
The price range below is based on a 3 bedroom, 2 bathroom, home with a walkable roof pitch, a little roof complexity, and architectural asphalt shingles.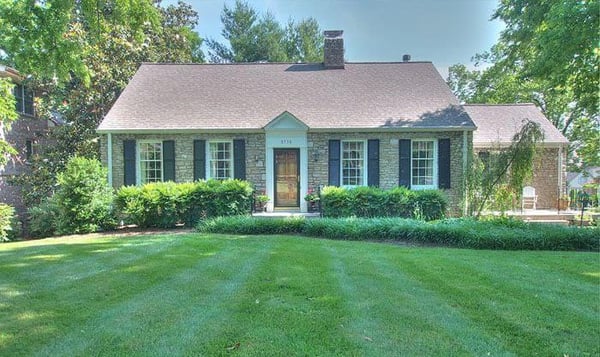 No two homes or roofs are the same, but most homeowners can expect the average cost to replace a roof to be around $15,000. Keep in mind that your roof could be less, more, or fit right in the price range above.
But you won't get exact pricing until after a local roofing contractor gives you an estimate for your roof replacement.
5. The factors that impact the price of a new roof
As I just said, there are a lot of factors that go into the cost of a new roof. The roofing material you choose (asphalt, metal, etc.) has a huge impact on the price of a roof replacement.
But there are so many other cost factors that a roofing contractor takes into account. Below is a list of factors a roofing contractor keeps in mind as they're coming up with an estimate:
The

type of roof material

you choose
Labor and time (set up, tear-off, installation, clean up)
Your roof's accessibility
The number of penetrations your roof has
Your roof's size and the complexity of it
The amount of

roof decking

that may need to be replaced
Dump fees
Operating costs
All of the factors are specific to your roof and your roofing contractor. This is why it's impossible to give you exact pricing for any roofing project.
6. Your attic's ventilation system is crucial to your roof
Most homeowners don't think about their attic's ventilation system when it comes to a roof. But your attic's ventilation system is what allows your home and roof to breathe properly.
Not only does it impact your home's energy bill, but it has a big impact on the lifespan of your roof. Without proper attic ventilation, the damage from the trapped hot and cold air will drastically shorten your roof's life.
In the summer, poor attic ventilation allows heat to build up in your attic, which literally burns your roof up. For an asphalt roof specifically, adhesives in the decking will deteriorate, and your shingles will crack or curl.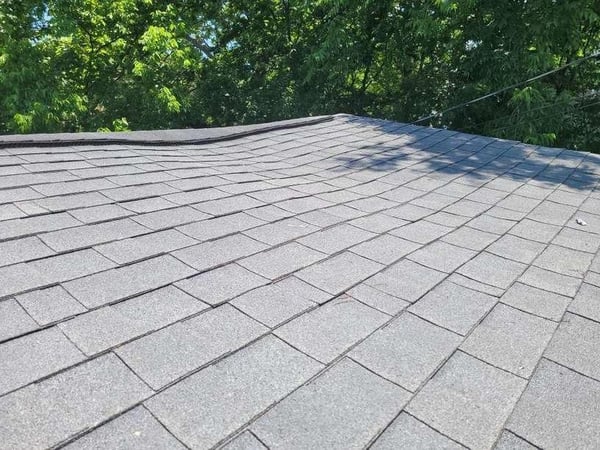 In the winter, condensation from the heat and moisture from your home's interior travel into the cold attic. This condensation becomes trapped and causes your roof decking to swell and become wavy.
The decking also loses its ability to hold nails, loses its load-bearing capacity, and causes mold/mildew to form. No matter if it's cold or hot air, a roof's lifespan is drastically impacted if your attic isn't properly ventilated.
7. Storm damage can lead to your insurance company paying for a roof replacement
No one wants to experience storm damage to their roof. But did you know storm damage can lead to your insurance company paying for your new roof?
Homeowners insurance will pay for your replacement if your roof has storm damage caused by extreme weather. This extreme weather includes straight-line winds (aka damaging winds) during heavy thunderstorms, hail storms, snowstorms, and tornados.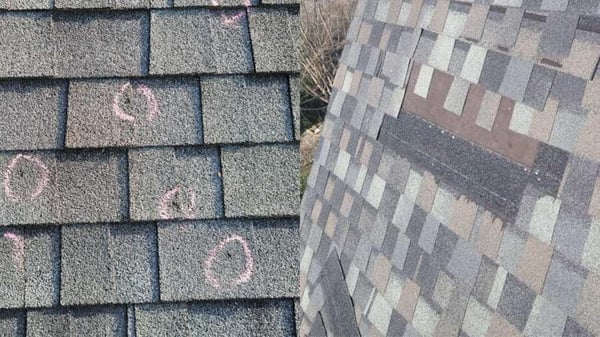 (Left: hail damage; Right: wind damage)
They'll also cover roof damage from fallen tree limbs during strong storms. If there's extensive damage to your roof, there should be no question that it'll be covered by insurance.
However, it's up to the insurance adjuster and what they find during their inspection if your roof is worthy of a full replacement. But as long as the damage is caused by extreme weather, your homeowner's insurance should pay to replace it.
Get the guide with all the roofing information you need for a replacement
There you have it, the 7 roofing facts that every homeowner needs to know. Obviously, I can't include everything you need to know in one article.
But the truth is, there's much more you need to learn about a roof replacement or another roofing project. That's why I created a buyer's guide containing all the necessary information.
The Complete Guide to Purchasing a Roof helps you pick the right roofing material for your budget, helps you find a great roofing contractor, ensures you don't get taken advantage of, and much more. Become one of the most educated homeowners in the roofing industry by getting the buyer's guide now.
The team at Bill Ragan Roofing has provided thousands of homeowners in Nashville and surrounding Middle Tennessee areas with high-quality roof replacements since 1990. When you work with us, you'll never have to worry about your roof again.
If you're local to Nashville, Brentwood, Franklin, Belle Meade, or another Middle Tennessee area, don't hesitate to Contact Us today.
Here's The Complete Guide to Purchasing a Roof, so you have all the power to make the best purchasing decisions for your upcoming roof replacement.