Synthetic roof shingles | Composite Roof
How Long Does a Composite (Synthetic) Roof Last?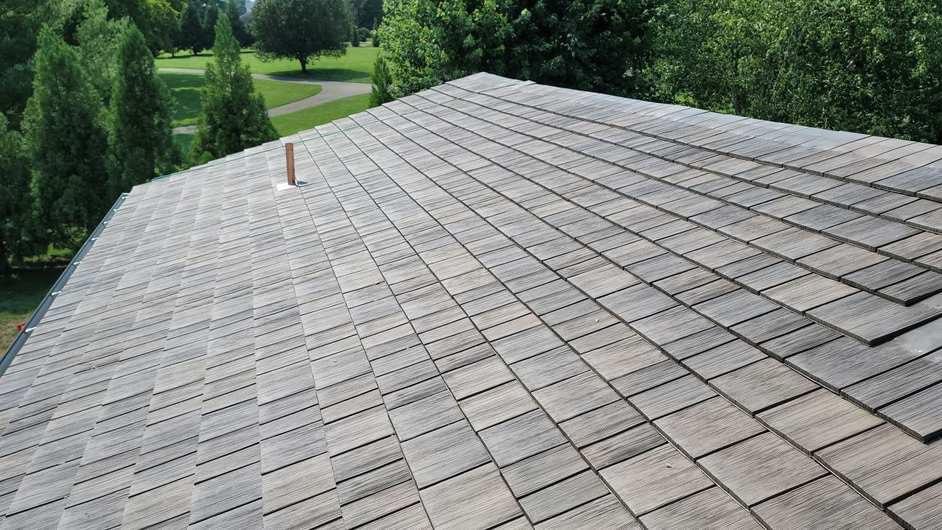 Before making any kind of investment, you should do research and learn as much as possible about what you're paying for. A new composite roof is no different.
There's plenty you'll have to learn before deciding if it's the right type of roof for you. One of the most important things to learn about a composite roof is how long it will last.
After all, it makes sense to know the return you'll get out of your composite roof investment.
We here at Bill Ragan Roofing want to help homeowners like you understand everything about getting a new roof, from the materials to how much it's going to cost. To help you decide if it's the right roofing material for your replacement, we're going to give you the lifespan of a new composite roof.
But before that, let's go over a quick explanation of what a composite roof is.
What is a composite roof?
Composite (also known as synthetic) shingles are made of recycled materials and designed to look exactly like a slate or cedar shake roof.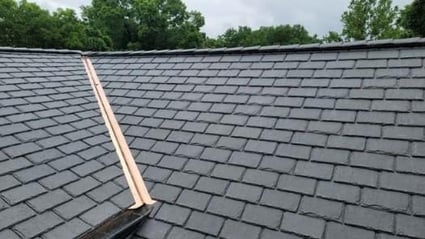 You're probably thinking, "Does it really look like slate?"
You might be able to tell the difference if you work in the roofing industry. However, you, your neighbors, or anyone walking by won't be able to tell it's not the real thing from the ground.
Because of this, composite shingles are becoming more and more popular as a cheaper alternative for anyone who wants slate or cedar shake shingles.
How long does a composite roof last?
Before getting a new composite roof, you need to know the return you'll get out of your investment. This return is the number of years it'll stay leak-fee and protect your family from the elements.
As long as they're installed correctly, you can expect to get around 40-50 years of life out of composite shingles. The reason composite shingles are durable is because of their impact rating.
For example, DaVinci Roofscapes (the leading composite shingle brand) shingles have a Class 4 impact rating, which is the highest rating a roofing material can have. This means they stand up well to anything that hits your roof, including extreme weather, such as hail.
You can also walk on the shingles without worrying about breaking them like you would with normal slate or cedar shakes. If you're looking for a long-lasting roof that stands up well to the elements, a composite roof is a great way to go.
3 things to know about composite shingles versus the material they mimic
Were you already considering a real slate or cedar shake roof before finding out that composite shingles were an option? If so, you need to know how they match up on key factors.
To help you determine if you should get a composite roof instead of the material it mimics, we're going to go over 3 comparisons to keep in mind.
1. Composite shingles are lightweight
If you were considering a real slate roof before finding out that composite shingles were an option, you would have to deal with the weight issue.
Because real slate roofs are incredibly heavy, your house has to be built or framed to carry the weight of the slate tiles. This really adds to the cost of getting an already expensive slate roof.
With a composite slate roof, you don't have to worry about the weight of the materials. They're actually a little heavier than asphalt shingles.
Without having to worry about the weight of a composite slate roof, you'll save money and time but still have the natural slate look you want.
2. The material warranty that comes with composite shingles
When you get a new roof, you'll usually have a material warranty from the manufacturer of your roofing materials. Unfortunately, real slate and cedar shake don't come with a material warranty because they're naturally made.
Unlike the materials they mimic, composite shingles come with a lifetime limited material warranty that's usually prorated after a number of years. The actual length of the material warranty depends on the manufacturer your roofing contractor uses.
Because of this, it's important to ask which manufacturer they use and the material warranty options for your new composite roof.
3. Composite shingles might not cost as much as the roofing material it mimics
Anytime you need a new roof, it's going to be an investment. Unlike asphalt and even metal, slate roofs and cedar shake roofs are huge investments.
The truth is, most homeowners won't be able to afford these kinds of roof systems. If you want the slate or cedar shake look without paying their prices, composite shingles will usually be cheaper.
But it ultimately depends on the type of roofing material you're comparing the synthetic shingles to.
Synthetic slate shingles are usually around half the price for the actual composite shingles and other components compared to slate. On the other hand, synthetic cedar shake shingles and real cedar shakes will be around the same price.
Even though the materials themselves are cheaper (for synthetic slate only), it's hard to say if the labor of tearing off your old roof and installing your new composite roof will be too.
Even if your composite roof is cheaper than real slate or cedar shake, it's still going to be a sizable investment. It will cost more than the most expensive asphalt shingle, and the cost will really go up if you add any upgrades, like getting copper flashing.
However, if you're already considering a slate or cedar shake roof seriously, you'll be able to afford a composite roof.
Get the tips you need to hire a great roofing contractor
After going through these comparisons, you should have a good idea if a real slate/cedar shake or a composite roof is the right choice for you. If you're still on the fence about which one is right for you, take this Roof Type quiz to assure yourself you're making the right decision.
But if you've already decided and are ready to move on to the next step of getting your new roof, it's time to start looking for a roofing contractor. Choosing the right one is the biggest and most important decision you'll have to make for your roofing project.
Because of this, you need to know how to find a great one in your area. That's why we're going to give you 7 tips that will help you find a great roofing contractor.
Since 1990, Bill Ragan Roofing has provided high-quality roof replacements in Nashville and surrounding areas. Our expertise in all roof types ensures you get the most of your roof investment, no matter the material you choose.
If you're local to Nashville, don't hesitate to contact us for your roofing project today.
If you aren't local, don't think we're the right fit, or just want to learn more, check out 7 Tips to Find a Great Roofing Contractor, so you're able to make the right hiring decision.