Slate Roof | Synthetic roof shingles
Slate Roof vs. Synthetic Slate Roof (The 4 Main Comparisons)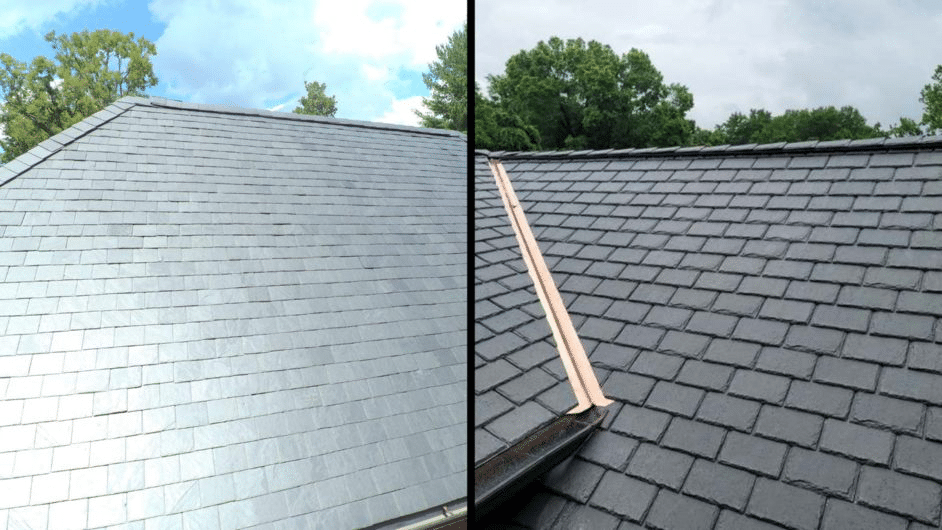 Slate has been used in roofing for centuries. But as technology grows and gets better, the roofing industry is developing new materials.
One of these roofing materials are synthetic shingles. Synthetic shingles are made to look exactly like slate (or cedar shake) and are growing more popular by the day.
While they look the same, they have major differences when comparing them to naturally mined slate. This leads to a roofing industry matchup of an older, established material vs. a new, modern material.
We here at Bill Ragan Roofing want you to have all the information needed to make the best decision for you. That's why we're going to compare natural slate roofing to synthetic slate roofing to help you figure out which one is right for you.
By the end of this article, you'll learn the 4 main comparisons to keep in mind when deciding between real slate or synthetic. But before jumping in, we're going to do a quick recap to ensure you know what exactly the two types of roof are.
What is a slate roof?
A slate roof is a premium roof system made primarily out of natural slate tiles and other slate roofing materials.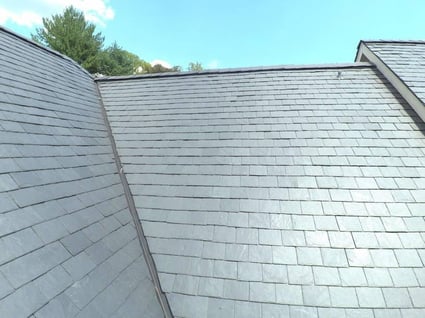 It's one of the most beautiful and long-lasting roof systems on the market. Because of its aesthetics, shingle manufacturers make asphalt shingles (and now synthetic) to mimic the look of a slate roof.
The slate itself is mined (mostly in Italy) and cut into square tiles that are installed on your roof one at a time. Because a slate roof is naturally made, you might have to wait until the slate roofing materials come readily available.
What is a synthetic slate roof?
Synthetic slate shingles are made of recycled materials and are designed to look exactly like a slate roof.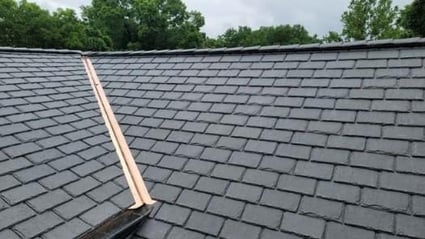 They are modeled from actual slate to give them a completely authentic look and have chisel marks to add a hand-crafted touch. If you work in the roofing industry, you might be able to tell the difference between synthetic slate shingles and a natural slate roof.
But you, your neighbors, or anyone walking down the street won't be able to tell it's not the real thing from the ground.
The 4 main comparisons of synthetic slate roofing versus slate roofing
Now that you know what each type of roof is, you're ready to learn the 4 main comparisons to help you find the right one for your roof.
1.The weight of the materials for a slate roof compared to a synthetic slate roof
Usually, you wouldn't have to worry about the weight of your roofing materials. However, slate roofs are incredibly heavy compared to synthetic slate roofs and other common roof types.
Your home has to be built or framed to carry the weight of your slate roof. This ensures the walls of your home won't fall out and that your roof won't cave in.
If your home can't withstand the weight of the slate the way it is, you'll have to retrofit it so it can hold the weight, and that can get incredibly expensive. On the other hand, synthetic slate shingles are lightweight and lighter than luxury asphalt shingles.
This means you won't have to worry about the weight and pay the price of retrofitting your home like a normal slate roof.
2. The lifespans of a slate roof and a synthetic slate roof
The lifespan is the number of years you get out of your roof. I mentioned earlier that slate is one of the longest-lasting roofs on the market.
But how long does it really last, and how does it compare to a synthetic slate roof?
As long as your slate roof is properly installed and flashed properly, it'll be the last roof you ever put on your home. It's hard to put an exact number on the lifespan, but there's no reason a slate roof shouldn't live around 75 years or even close to 100.
While a synthetic slate roof won't last as long, you can still expect to get around 40-50 years out of it as long as it's installed correctly. Obviously, a slate roof has a clear advantage over a synthetic slate roof when it comes to lifespan.
However, correctly installing a slate roof is the key to reaching its maximum lifespan. Every individual slate tile has to be handled carefully, and it takes a really skilled roofer to handle and install the easily breakable slate tiles.
3. Your warranty options for a slate roof and a synthetic slate roof
When you invest in a new roof, you'll have two warranties. You'll have one from the contractor on their workmanship and one from the manufacturer on your roofing materials.
Because slate tiles are naturally made, there's no manufacturer material warranty on the slate roofing materials. You'll only be able to rely on your contractor's workmanship warranty if there's ever a problem.
Unlike real slate, a synthetic slate roof comes with a lifetime limited material warranty. However, the length of the material warranty depends on the manufacturer of your synthetic shingles.
Because of this, it's important to talk to your roofing contractor about which manufacturer they use and the material warranty options for a synthetic slate roof.
4. The difference in cost between a slate roof and a synthetic slate roof
Both a slate roof and a synthetic slate roof are big investments. The truth is, most homeowners won't be able to afford these kinds of roof systems.
With that in mind, a synthetic slate roof will be cheaper than a real slate roof. Synthetic slate roofs are usually around half the price for the shingles and components compared to slate tiles.
Unfortunately, it's impossible to give you an exact price because there are too many factors that go into the cost of a roof. However, I can give you a general ballpark number for the two.
You can expect a slate roof to start around $15.00 per square foot and has the potential to get up to around $30.00 or more per square foot for labor and materials.
On the other hand, you can expect a synthetic slate roof to start around $10.00 to $12.00 per square foot and has the potential to get up to $20.00 or more per square foot.
If you're already considering a slate roof seriously, you'll be able to afford a synthetic slate roof.
Make sure you find a great roofing contractor for a slate or synthetic slate roof
You now know the 4 main comparisons for a slate roof and synthetic slate roof. Both are great and long-lasting roof systems, but it's up to you to decide which one is right for you.
Whichever one you choose, it's crucial to find a roofing contractor with the experience necessary to make the investment worth it. Unfortunately, it can be hard to find a reputable roofing contractor out of all the options in your area.
To do this, you have to ask potential roofing contractors the right questions. But how do you know which questions to ask?
Because we want to help you and other homeowners make the right hiring decision, we developed a checklist of 16 questions to ask a roofing contractor and the right answers you should get back.
Don't throw your hard earned money away on a bad roofing contractor. Get your checklist now.
The team at Bill Ragan Roofing has provided high-quality roofing services to homeowners in Nashville and surrounding areas since 1990. No matter what service is needed, you can count on our workmanship and lifetime warranty to be there to take care of you for years to come.
If you're local to Nashville, don't hesitate to contact us for any of your roofing needs.
Whether you're local to Nashville or not, get your checklist of 16 Questions to Ask a Roofing Contractor, so you have the power to make the hiring decision.