Synthetic Roofing | Roof Lifespan
How Long Does a DaVinci Roof Last? (& 3 More Things to Know About It)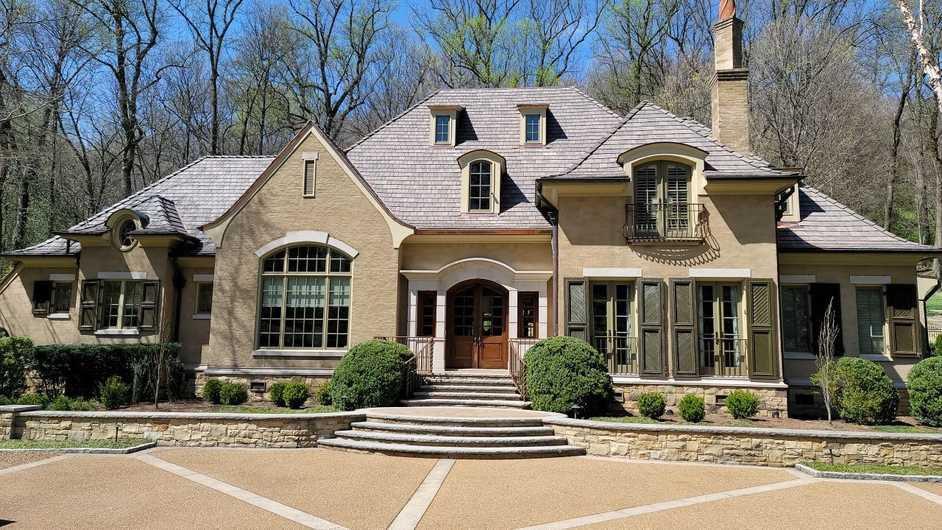 Synthetic (aka composite) roofs are newer to the roofing industry but are growing more popular. One of the top synthetic shingle manufacturers is DaVinci Roofscapes.
But there's a lot to learn about a DaVinci roof before deciding if it's right for your replacement. One of the most important things to know is the lifespan of a DaVinci roof.
For over 30 years, the team at Bill Ragan Roof has educated homeowners so they can find the right roofing material for their roof replacement. Because of this, I want to help you determine if a DaVinci roof is right for you by breaking down its lifespan.
To start this article, I'll get right to how long a DaVinci roof lasts. After that, I'll get into 3 more things you need to know about a DaVinci roof.
How long does a DaVinci roof last?
Unfortunately, there are a lot of factors that play into the lifespan of a DaVinci roof and every other type of roof system. So, it's hard to put an exact number on how long it'll last.
However, I can at least give you an idea and a year range of how long a DaVinci roof will last.
This is what DaVinci's website says about how their roof systems last:
"Made of virgin resins, UV and thermal stabilizers, along with a highly-specialized fire retardant, DaVinci Slate roofs will last many decades. Our products are backed by a Lifetime Limited Materials Warranty on residences and a 50-year warranty on commercial projects."
Even though they don't give you a number, you can expect to get around 40-50 years of life out of a DaVinci roof as long as it's installed correctly. What makes a DaVinci roof so durable comes down to the impact rating on the shingles.
DaVinci shingles have a Class 4 impact rating, which is the highest rating a roofing material can have. This high impact rating means they stand up to anything that hits your roof, including extreme weather like hail.
A DaVinci roof is a great option if you're looking for a long-lasting roof that stands up well to the elements.
3 more things to know about a DaVinci roof
Now you have an idea of how long a DaVinci roof lasts. But there are still a few things to know before determining if a DaVinci roof is right for you.
Let's get into 3 more things you need to know about a DaVinci roof.
1. There are two styles of shingles for a DaVinci roof
The look is one of the biggest reasons homeowners are drawn to a DaVinci roof. You'll have two shingle style options to choose from, slate or cedar shake.
DaVinci shingles are designed to look exactly like real slate tiles and cedar shakes. They even use molds to make them look as authentic as possible.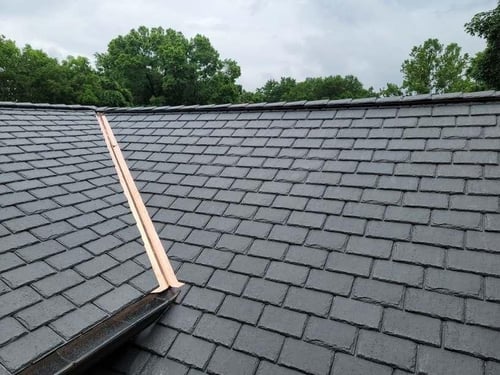 For example, DaVinci slate shingles have chisel marks to add a hand-crafted touch to give them a completely authentic look. DaVinci cedar shake shingles have realistic grain patterns and deep grooves to create a shingle that looks just like shake shingles.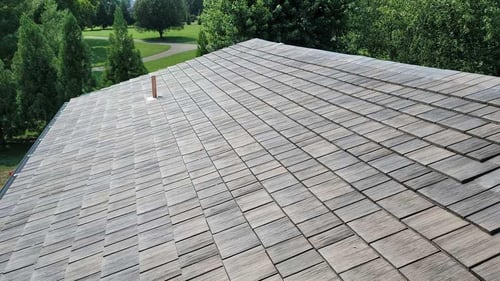 The shingles come in different sizes and colors to give your roof the exact look you want. You might be thinking that the DaVinci shingles won't look like a real slate or cedar shake roof.
If you work in the roofing industry, you might be able to tell the difference between a DaVinci roof and the roofing material it mimics. But I guarantee you, your neighbors or anyone else won't be able to tell the difference when walking by.
2. DaVinci roofs won't show wear and tear like the material it mimics
Real slate tiles and cedar shake shingles show wear and tear over time. You don't have to worry about the same type of wear and tear with a DaVinci roof.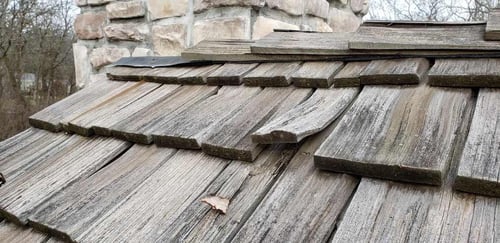 (Curling cedar shake shingles)
Natural cedar shakes rot, crack, and curl as they age. DaVinci cedar shake shingles are specifically designed to ensure curling and cracking won't happen.
They also won't lose their color as much as natural cedar when it ages. While slate tiles can become brittle with age, they won't really have an aesthetic issue like cedar shakes.
However, you don't have to worry about the DaVinci shingles being as fragile as natural slate. You also don't have to worry about the weight of the materials like you do a slate roof.
This means you won't have to go through the hassle of figuring out if your home can handle the weight of slate or pay the expense of retrofitting your home to handle it.
3. DaVinci roofs are eco-friendly
The last thing to know about a DaVinci roof is that it's an eco-friendly roof system. While other synthetic shingles are made out of recycled materials, DaVinci shingles are made out of an engineered polymer.
But even though they aren't made out of recycled materials, every DaVinci shingle is 100% recyclable. Every scrap, cutting, or used tile can be returned to DaVinci's home base in Kansas to be recycled.
It's completely up to your roofing contractor if they want to do this after your roof replacement is done. However, if you don't live within 500 miles of Lenexa, Kansas, your roofing contractor will have to ship the materials at their own expense.
How much does a synthetic roof replacement cost?
Now you know 3 more things about a DaVinci roof. After reading this article, you should have a good idea if it's the right type of roof for you.
But there's still one more thing we didn't cover in this article. This is how much a synthetic roof replacement costs.
If you're like most homeowners, pricing is a huge part of the decision-making process. So, we wrote another article breaking the cost to help you truly determine if a DaVinci roof is right for your roof replacement.
Since 1990, the team at Bill Ragan Roofing has provided high-quality roof replacements to thousands of homeowners in Nashville and surrounding Middle Tennessee areas. We take pride in our workmanship and offer a lifetime workmanship warranty to back it up.
Check out How Much a Composite (Synthetic) Shingle Roof Replacement Costs to learn if a DaVinci roof fits your budget.