Everything You Need to Know About DaVinci Roofing

As technology improves, newer roofing materials are being manufactured. One of these newer roofing materials is synthetic (also called composite) shingles.
While there are a few great manufacturers, DaVinci Roofscapes is at the forefront of the synthetic roofing movement. But because it's a newer roofing material, most homeowners don't know enough about DaVinci roofing to determine if it's right for them.
I want to change that.
For over 30 years, the team at Bill Ragan Roofing has helped homeowners find the roofing material that fits their budget, style, and more. Because of this, I'll break down everything you need to know about DaVinci roofing.
This article breaks down the following about DaVinci roofing:
Eco-friendliness
Curb appeal
Pricing
Warranties
Lifespan
DaVinci roofing is eco-friendly
The first thing you need to know is that DaVinci roofing is a very eco-friendly roofing material. But Davinci Roofscapes doesn't use recycled materials because of "the long-term viability of a roof" like other synthetic shingle manufacturers.
Instead, they make their synthetic shingles out of an engineered polymer.
According to DaVinci's website:
"We use an engineered polymer, which is impregnated with fire retardant and the most advanced UV and thermal stabilizers available, specifically formulated for the tough conditions tiles are exposed to in all climates throughout the year. DaVinci roof tiles use only virgin resin in order to assure consistency."
Even though DaVinci roof shingles aren't made of recycled materials, they are still 100% recyclable. Every piece of DaVinci roofing is 100% recyclable, and scraps (even unused or used shingles) can be returned to Lenexa, Kansas, for recycling.
This makes DaVinci roofing one of the most "green" roofing materials on the market today.
DaVinci roofing increases your home's curb appeal
The next thing to know about DaVinci roofing is what it does for your home's look after installation. DaVinci roofing adds a huge boost to your home's curb appeal.
This is because they're manufactured to look like a natural slate or cedar shake roof. And to be honest, it does look close to the real thing.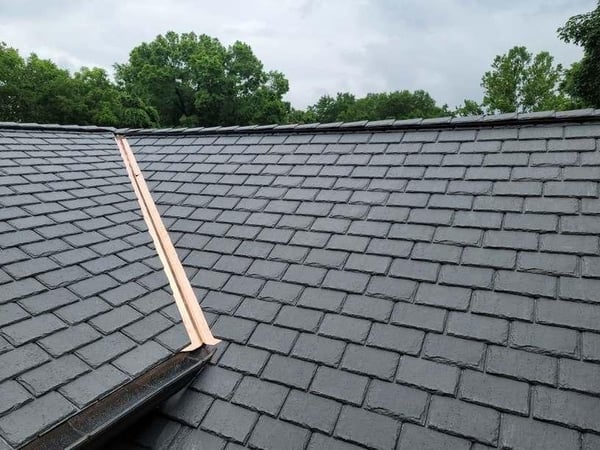 DaVinci slate shingles are modeled from real slate tiles and have realistic chisel marks that add a hand-crafted touch for a completely authentic look.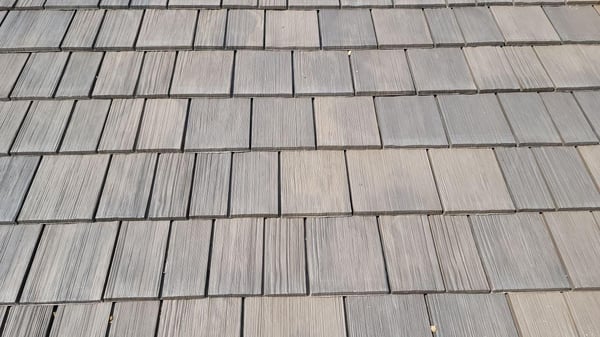 DaVinci cedar shake shingles have real grain patterns and deep grooves that look just like real wood or cedar shake shingles.
As I said, DaVinci roofing looks pretty close to the real thing. Honestly, you can probably tell the difference if you have experience in the roofing industry.
But I would bet a good amount of money that you, your neighbors, or anyone else walking by won't be able to tell the difference from the ground.
The cost of DaVinci roofing
DaVinci roofing is a premium roofing material. Like everything else in this world that's considered premium, it comes at a premium price.
This premium price point is the biggest concern and roadblock for homeowners considering DaVinci roofing. Just know that it's impossible for me or anyone else to give you an exact price without a roof inspection.
This is because of the factors that go into pricing out a new roof and the fact that every roof is different. However, I can give you a good budgeting number to give you an idea.
You can expect DaVinci roofing to cost around $14.00-$20.00 per square foot. I get that this price is intimidating, but a DaVinci roof will always cost less than the roofing material it mimics (cedar shake or slate).
If you're looking for affordability, DaVinci roofing probably isn't the right choice for you. However, affording a new DaVinci roof won't be a problem if you're also considering cedar shake or slate roofing.
The material warranty you get from DaVinci Roofscapes
After DaVinci roofing is installed, you'll have two types of warranties to protect your investment. One on your contractor's workmanship and one from DaVinci Roofscapes on the roofing materials themselves.
While the workmanship warranty depends on your roofing contractor, DaVinci Roofscapes offers a great material warranty. All of DaVinci's shingles come with a Limited Lifetime Warranty and a 10-year non-prorated warranty against manufacturer defects.
Just know that the number of non-prorated years for the lifetime warranty changes based on the type of DaVinci shingle you choose. But no matter which one you choose, DaVinci roofing has good protection options.
How long DaVinci roofing lasts
The last thing to know is probably the biggest perk of DaVinci roofing. This is how long DaVinci roofing lasts after installation.
DaVinci roofing has a Class 4 impact rating on their shingles, which is the highest rating a roofing material can have. This high impact rating means that DaVinci roofing stands up well to objects or debris that hits your roof, even extreme weather like hail.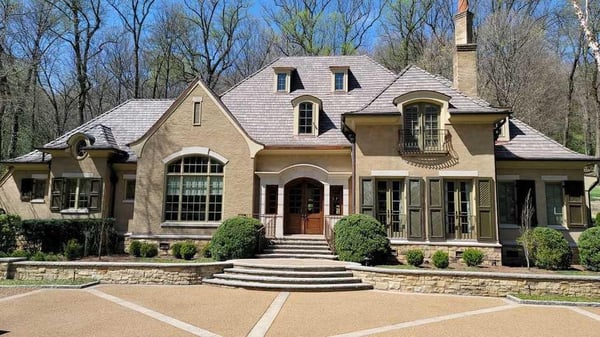 Because of this durability, you should get around 40-50 years out of a DaVinci roof if it's installed properly. This lifespan makes DaVinci roofing one of the longest-lasting roofing materials on the market today.
Do you think DaVinci roofing is right for you?
After reading this article, you have the information needed to determine if DaVinci roofing is right for you. If it is, you're ready to find a great roofing contractor to start the process of getting your new DaVinci roof system.
But what if DaVinci roofing isn't right for you? Or what if you don't know how to find a roofing contractor you can trust?
Whether you relate to one or both of these questions, I have the buyer's guide you need. The Complete Guide to Purchasing a Roof helps you find the perfect roofing material fit, what you'll pay for during a roof replacement, how to find a trustworthy roofing contractor, and so much more.
Go into the roof replacement process as the most educated homeowner in the roofing industry by getting The Complete Guide to Purchasing a Roof today.
The team at Bill Ragan Roofing has provided thousands of homeowners in Nashville and surrounding Middle Tennessee areas with high-quality roof replacements since 1990. We take pride in our work and back it up with a lifetime craftsmanship guarantee.
If you're local to Nashville, Brentwood, Franklin, Belle Meade, and other Middle Tennessee areas, don't hesitate to Contact Us today.
Here's The Complete Guide to Purchasing a Roof, so you have all the power to make the best purchasing decisions for your upcoming roof replacement.