The 5 Most Durable Roofing Materials (And How Much They Cost)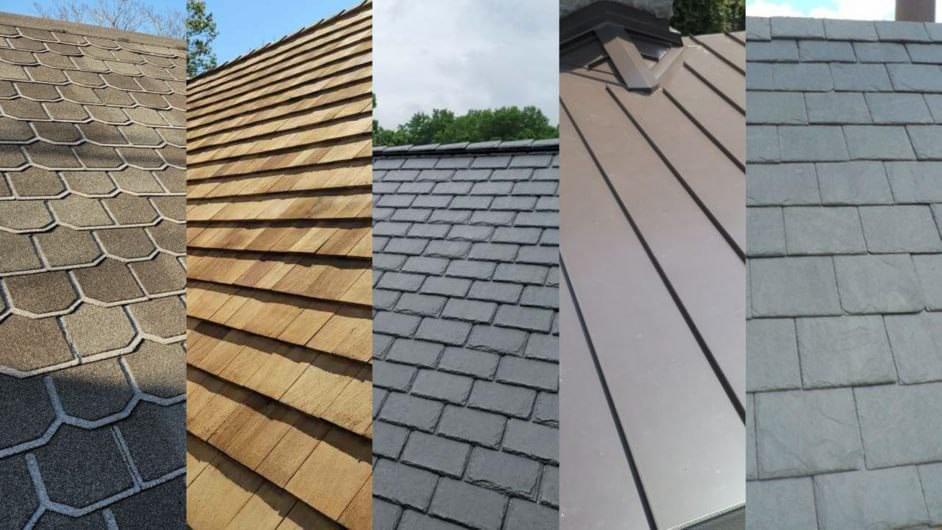 Anytime you invest in something, you want to get the biggest return or as much as you can out of it. Your roof is no different.
When homeowners start the roof replacement process, they're expecting to get as many years as possible out of it. That's why durability has become a huge factor in the roofing material decision-making process.
But the truth is, each roofing material offers something different when it comes to durability. And usually the more durable, the more expensive.
For over 30 years, the team at Bill Ragan Roofing has helped homeowners like you find the perfect roofing material fit for their replacement. Because of this, we'll determine if one of the top durable roof systems is right for you.
In this article, I break down the 5 most durable roofing materials, plus how much they cost to see if that lifespan is worth the price.
As you're going through this article, keep in mind that the lifespans are based on proper roof installation and adequate attic ventilation. Also, any cost number you see is only to give you an idea of the budget you'll need for each roofing material.
1. Luxury asphalt shingles
The first roofing material is luxury asphalt shingles. Luxury or premium asphalt shingles are designed to mimic slate tiles.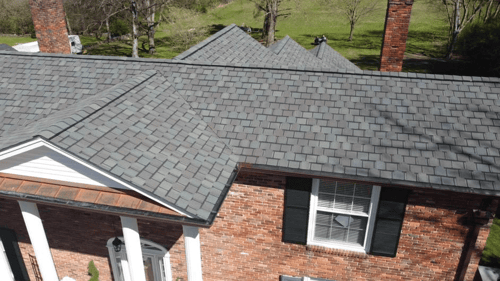 The reason they're on this list comes down to being larger and thicker than the other types of asphalt shingles. Because of this, you should get up to 30 years out of luxury asphalt shingles.
In perfect conditions, you can push that number even further. But like every other material on this list, it won't come cheap.
For a two-story house with a cut-up, complex roof, a steep pitch, and not easily accessible, a luxury asphalt shingle roof costs around $8.50 per square foot. This makes them two times more expensive than the most common and affordable roofing material in the country, architectural asphalt shingles.
2. Cedar shake shingles
Next on the list is cedar shake shingles. A cedar shake roof is a premium roof system made of natural cedar shake shingles and other natural wooden (cedar) materials.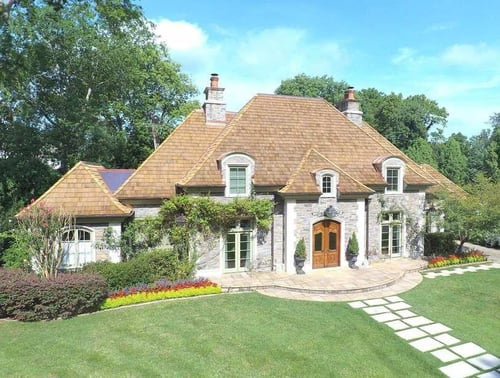 It's one of the most aesthetically pleasing roofing materials you can choose for your home. Just like luxury asphalt shingles, you can expect to get around 30 years out of a cedar shake roof.
If you get regular roof maintenance, invest in quality materials, and live in the right climate, you could get up to 50 years. While the lifespan may be the same as luxury asphalt shingles, the cost difference is drastic.
A cedar shake roof costs around $25.00 to $30.00 per square foot. If you have a more complex roof and invest in the best grade of cedar shakes, you'll be towards the higher end of the price range.
Just know cedar shake shingles crack, curl, and lose their color as time goes on. While this won't happen right away, it's something you need to consider if you're interested in a cedar shake roof.
3. Standing seam metal roof
The next material is a standing seam metal roof. A standing seam metal roof system is a series of metal panels locked together at the seams or seamed mechanically.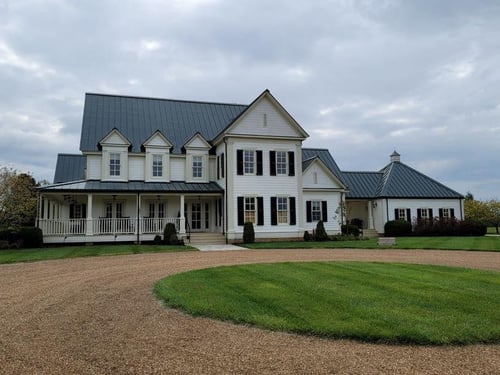 Because of this, the metal panels can expand and contract freely when the metal goes through thermal expansion. If you choose the commonly used steel panels, there's no reason you shouldn't get 30 years out of a standing seam metal roof.
While metal itself is a durable material, the durability really comes from the Kynar 500 finish on the metal panels. The painted finish protects the metal from the elements and keeps the color you choose from fading.
While the Kynar 500 has a warranty of 30 years, it doesn't mean it'll disappear once it gets to the 30-year mark. This means you can get up to 50 years out of a standing seam metal roof in the right conditions.
Like the materials above, it comes at a pretty steep price. You can expect a standing seam metal roof to cost around $15.00 per square foot. How much you'll end up paying really comes down to the complexity of your roof, the roofing contractor you hire, and if they have in-house panel machines.
4. Composite (synthetic) shingles
Our next material is newer to the roofing industry and becoming more popular. Composite (also known as synthetic) roof shingles are made of recycled materials or engineered polymer.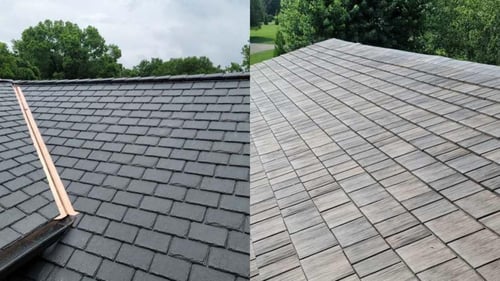 What makes them stand out is that they're designed to look exactly like a cedar shake roof or slate roof. But what makes them unique is their class 4 impact rating, which is the highest rating a material can receive.
Because of this, a composite shingle roof will last around 40-50 years. While synthetic cedar shake shingles and synthetic slate shingles have the same lifespan, they come in at different price points.
A new composite cedar shake roof will cost around $14.00-$18.00 per square foot. On the other hand, a new composite slate roof costs around $10.00 to $12.00 per square foot and can get up to $20.00 or more per square foot.
If you have the budget, a composite shingle roof is a great and durable roofing material that makes your home stand out from the rest in the neighborhood.
5. Slate tiles
The last and most durable roofing material on this list is a slate roof. A slate roof is a roof system made primarily out of natural slate tiles and other slate roofing materials.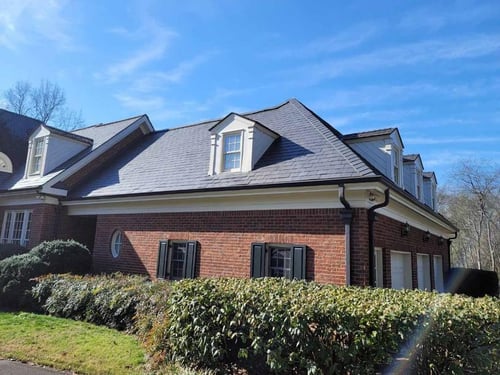 While it's hard to put an exact number on the lifespan, there's no reason a slate roof shouldn't last around 75 years or even over 100. As long as it's installed properly, it'll be the last roof you ever put on your home.
A slate roof is not only the longest-lasting roof system on the market, but it's also one of (if not the most) expensive. You can expect a slate roof to start around $15.00 per square foot and has the potential to get up to around $30.00 or more per square foot.
The truth is, installing a slate roof is a very slow and expensive process. Your home also has to be built, framed, or retrofitted to carry the weight of the slate tiles because they're so heavy.
Just know a slate roof becomes more expensive if you have to retrofit your home to handle the weight.
The guide you need to choose the right roofing material
Now you know the top 5 durable roofing materials available and an idea of their cost. Remember, the lifespans in this article all depend on proper roof installation and your attic having adequate ventilation.
Also, the cost numbers aren't exact and only give you an idea of the budget you'll need for each roof system. Knowing the lifespan and costs of these roofing materials is great and will help your decision-making process.
But the truth is, there's even more you need to learn to truly determine which roofing material is the best fit for you. That's why we created The Complete Guide to Purchasing a Roof.
This buyer's guide has the advantages and disadvantages of all the materials covered in this article, including their cost, lifespan, and the warranties they come with. It also helps you find a great roofing contractor, tells you everything you'll pay for, how to pay, and more.
The last thing you want is buyer's remorse when it comes to a new roof investment. Keep going to get your free guide now.
Since 1990, the team at Bill Ragan Roofing has provided high-quality roof replacements to thousands of homeowners in Nashville and surrounding Middle Tennessee areas. No matter what type of roof you choose, you can count on it to last for decades to come. And we back that up with a lifetime warranty on our workmanship.
If you're local to Nashville or a surrounding area, don't hesitate to contact us for your roofing needs today.
Here's The Complete Guide to Purchasing a Roof, so you have all the power to make the best purchasing decisions.