Nashville, Tennessee | Roof Repair
What You Need to Know About Roof Repairs in Nashville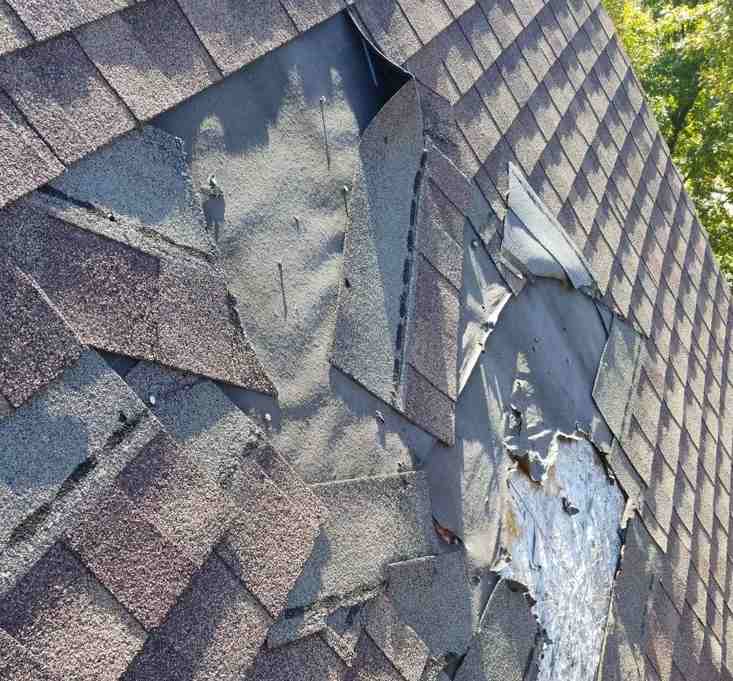 Are you finding water coming through your ceiling? Are you thinking about calling the number on one of those cheap-looking "Roof Repair for $150" signs all over Nashville? Before you do, there are a few things you need to know.
The team at Bill Ragan Roofing has been repairing roofs in the Nashville area since 1990. Our high-quality workmanship ensures your roof stays leak-free and your valuables protected. When you work with us, you'll never worry about your roof again.
By the of this article, you'll learn what you need to know about repairing your roof in Nashville. And at the very end, we're going to provide you with the next logical next, how much roof repairs cost.
Why would you need a roof repair?
Before we get to what you need to know about repairing your roof, you need to know why you need a roof repair. Repairing your roof is going to be the most cost-effective way to take care of your roof leak.
Roof repairs can extend the life of an older roof and get you through until it's time to tear off your old one and replace it with a new one. But what's causing your roof to leak? It could be a number of things, including:
Leaks around the Pipe Boot
Leaks Around the Chimney
Missing shingles
Air Gun Nailing Mistakes
Nail pops
Fascia Replacement
Punctures and Holes
Cracking and Blistering
Poor Installation
Tree Damage
Storm Damage
Granule Loss
Splitting
Shrinkage
Poor Roof Maintenance
This list of problems may seem daunting, but we see some of these leaks more often than the rest. To learn more about the most common roof leaks that lead to repairs, read this article on the 6 most common roof leaks.
3 things you need to know about repairing your roof in Nashville
Now that you know why you would need a roof repair, you're ready to learn some things you need to know about getting your leaky roof taken care of. Continue reading to learn the 3 things you need to know about repairing your roof in Nashville.
1. Beware those little signs around Nashville
You've probably seen those wicked little signs while driving down the road in Nashville that advertise "ROOF REPAIRS FOR $150." These signs are typically spray-painted or written with a black marker attached to telephone poles or stuck in the ground at intersections all over Nashville.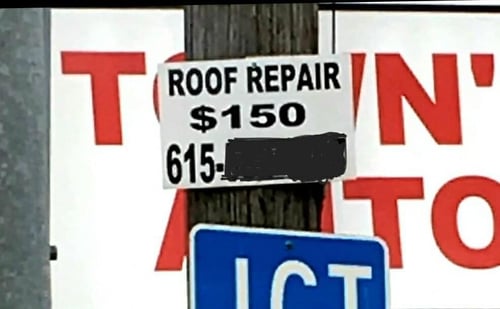 The problem with these signs is you don't know who you're dealing with. I know it can be tempting to call them because of the price, but using them could potentially cost you hundreds if not thousands of dollars.
Hiring someone based on this low price off of a sign basically means you are hiring someone with little to no roofing experience. You will get a very shoddy repair which could cost you a lot of money down the road.
When you finally decide to call a professional because your roof is still leaking, you'll find the mess they've made on your roof is so bad that it can't be fixed without extensive and expensive repairs. I understand everyone is on a budget, but to get your roof leaky truly taken care of, you have to look for quality over price.
2. Roof repairs are an art form
It's important that you choose an experienced roofing repair technician from a reputable roofing company. Roof repairs are very technical, it takes someone with real training and true experience in the trenches to be able to diagnose and fix your problem correctly.
The skills needed to properly perform the job of a roof repair technician takes many years to learn because it requires true craftsmanship.
Most people can't track or find the source of your roof leak. Detecting where the leak is located takes true experience and know-how. For example, some leaks can show up pretty far away from the source.
If you hire someone who has no experience, they could do more damage to your roof by "repairing" where the water is coming from even though the source of the leak is 5 feet away. This leads to more money out of your pocket and potentially more damage to your roof.
3. Hire an established Nashville roofing contractor
You just learned that you need to hire someone who has experience dealing with roof leaks. That means you need to hire an actual roofing contractor to take care of your leaky roof.
Not only do you have to hire an actual roofing contractor, but it's also crucial to hire one that is local to Nashville. They must have a physical office address in Nashville and phone number from the Middle Tennessee area.
This ensures that they're in Nashville, and you can find them if you ever have a problem with your roof. This is especially important after big storms that hit Nashville from time to time.
For example, some out of state companies come in after a big storm, undercut Nashville roofing company prices, get the money, and move on to the next storm-hit town. These companies don't care if they repaired your roof properly.
If you find yourself needing a roof repair, do your research to find a reputable Nashville roofing company. Check out their reviews on Google, Angie's List, the BBB, Yelp, and their Facebook page to see what their customers are saying about them.
To learn how to find a great roofing contractor in Nashville, read this article on the 4 qualities to look for in a Nashville, Tennessee roofing contractor.
How much do roof repairs cost?
Now you know the 3 things you need to know about getting roof repairs in Nashville. When you avoid those cheap looking signs and hire an actual roofing contractor, you can be assured that your roof leak will be taken care of properly.
But are you curious how a roof repair could cost? If so, you're not alone.
While we can't give you an exact number without coming out to your roof for an inspection, we can at least give you an idea on the cost to repair the common leaks we see.
The team at Bill Ragan Roofing has provided high-quality roofing services to the residents of Nashville since 1990. Whether you need repairs or a full roof replacement, our workmanship ensures you get the most life out of your roof. That's why we offer a lifetime warranty.
Check out How Much Does It Cost to Repair a Roof Leak? to get an idea of the price you'll pay for roof repairs.