3-tab Shingles vs. Architectural Shingles

Getting a new asphalt shingle roof requires making some big decisions. Besides hiring a roofer, no decision is bigger than choosing the type of shingle.
And if you're like most homeowners, the decision will come down to either 3-tab shingles or architectural shingles. Unfortunately, you can't make the right decision without an honest comparison.
For over 30 years, the team at Bill Ragan Roofing has helped homeowners choose the perfect roofing material for their situation. That's why I want to give you the information needed so you can make the right decision.
This article starts with the basic differences between the two types of shingles, including their pros and cons. After that, we'll put the two against each other on curb appeal, wind rating, lifespan, warranties, and cost.
What's the difference between 3-tab and architectural shingles?
Before getting to the head-to-head matchup, you need to know the differences between the two types of asphalt shingles. So, let's do a quick overview of each shingle, plus their pros and cons.
3-tab shingles
3-tab asphalt shingles lay flat and get their name from the 3 tabs on each shingle strip. This asphalt shingle used to dominate the residential roofing industry until technology improved to create architectural asphalt shingles.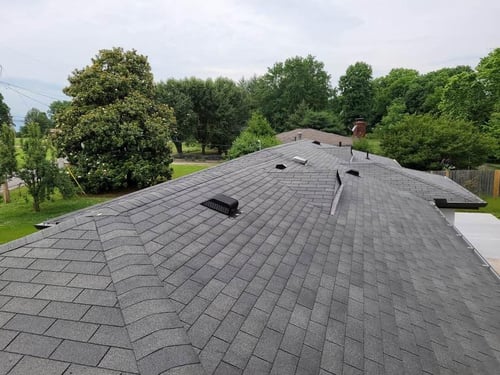 3-tab asphalt shingle pros:
Cheapest roofing material on the market
Ease of repair and installation
3-tab asphalt shingle cons:
Short lifespan
Hard to color matches for repairs and insurance
Needs yearly maintenance
Low curb appeal
Prone to wind damage
Architectural shingles
Architectural (also called dimensional) shingles provide a random pattern to give your roof dimension or simulate the look of a wood-shake roof. It's not only the most common asphalt shingle installed on homes today but also the most common roofing material in general.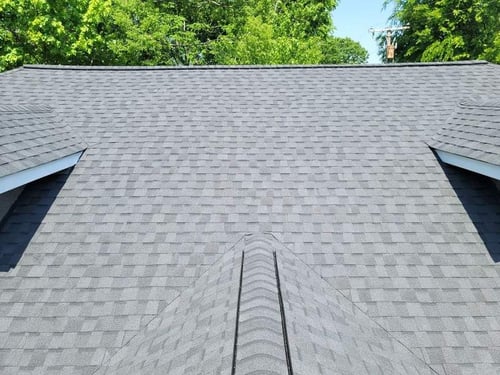 Architectural asphalt shingle pros:
Affordability
Ease of repair and installation
Readily available materials and colors
Architectural asphalt shingle cons:
Low curb appeal compared to other materials
Needs yearly maintenance
Prone to hail damage (

Impact resistant options

available)
3-tab shingles vs. architectural shingles
Now that you know the main differences between the two asphalt shingles, let's get to the main event. The rest of this article compares 3-tab and architectural shingles on key decision-making factors like curb appeal, wind ratings, warranties, lifespan, and cost.
Curb appeal
Both 3-tab shingles and architectural shingles make for good-looking roofs. However, architectural shingles have a higher curb appeal than 3-tab shingles.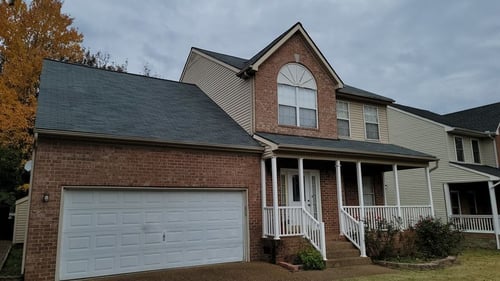 (3-tab shingle roof)
This is mainly due to architectural shingles providing more dimension instead of laying in a flat, uniform way like 3-tab shingles. There's also the fact that 3-tab shingles are being phased out of the industry, which means fewer color options.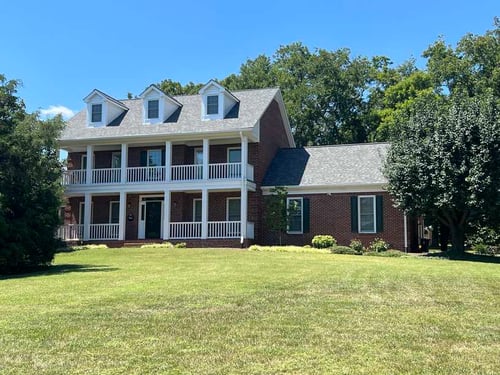 (Architectural shingle roof)
On the other hand, architectural shingles have plenty of color options, and some are made to resemble cedar shakes. However, aesthetics are subjective, and there's no problem with liking the look of 3-tab shingles more.
Wind ratings
Both shingles have wind-resistant ratings, but the difference is dramatic. With architectural shingles being thicker, a higher-quality material, and their installation method, they have a higher wind rating than 3-tab shingles.
Let's use Certainteed's shingles (our preferred brand) as an example. Certainteed's XT25 3-tab shingles have a 60-mph wind rating, while their Landmark architectural shingle has a 110-mph wind rating.
The wind resistance between the two is obviously dramatic, but you can increase architectural shingles' wind rating even further to 130 mph with the appropriate accessories.
Lifespan
Compared to other roofing materials, both asphalt shingles have the shortest lifespans. However, architectural shingles have a longer lifespan than 3-tab shingles.
This simply comes down to the quality of materials and their ability to withstand the elements. As long as they are properly installed and your attic is adequately ventilated, architectural shingles will last between 20 to 25 years.
On the other hand, 3-tab shingles can last 15 to a maximum of 20 years in perfect conditions. But if your area experiences strong winds and frequent storms, their lifespan could even be shorter than 15 years.
Warranties
Both shingles come with warranties out of the package, but their differing lengths reflect their quality. 3-tab shingles come with a 25-year limited warranty, while architectural shingles come with a 30-year warranty (prorated after 10 years).
This doesn't seem like much difference, but architectural shingles come with the opportunity to get a 50-year non-prorated enhanced warranty. By getting all the asphalt roofing components (including your asphalt shingles) from one manufacturer, this warranty ensures your roof is covered for the life of the materials.
With the enhanced warranty, architectural shingles are the clear winner for this category.
Cost
Both shingles are the most affordable roofing materials on the market today. However, architectural shingles are more expensive than 3-tab shingles.
A 3-tab shingle roof will cost around $4.00 per square foot, while an architectural shingle roof will cost around $5.86 per square foot. These numbers aren't exact and fluctuate based on roofing contractor, area, and availability.
Even though 3-tab shingles are cheaper, you're more likely to spend more on repairs and sooner replacement than architectural shingles. So, consider investing in quality over trying to get the cheapest roof possible.
Did you decide which asphalt shingle is right for you?
After reading this article, you should have a good idea of which shingle is right for you. My recommendation is architectural shingles simply because of the quality, but I understand why homeowners on a tight budget choose 3-tab shingles.
But at the end of the day, your decision is yours to make. I have no doubt you'll make the best choice for you, but did you know metal is closing in on asphalt shingles as the most popular residential roofing material?
If you didn't, you're not alone. Metal roofing's popularity has crept up on everyone in the industry.
That's why one of the biggest roofing questions asked today is, "Is metal roofing better than asphalt shingles?" Let's find out.
Check out Metal Roofing vs. Asphalt Shingles to determine if you should stick with asphalt shingles or join the metal roofing trend.