3 Advantages of Using Copper Roofing During Your Replacement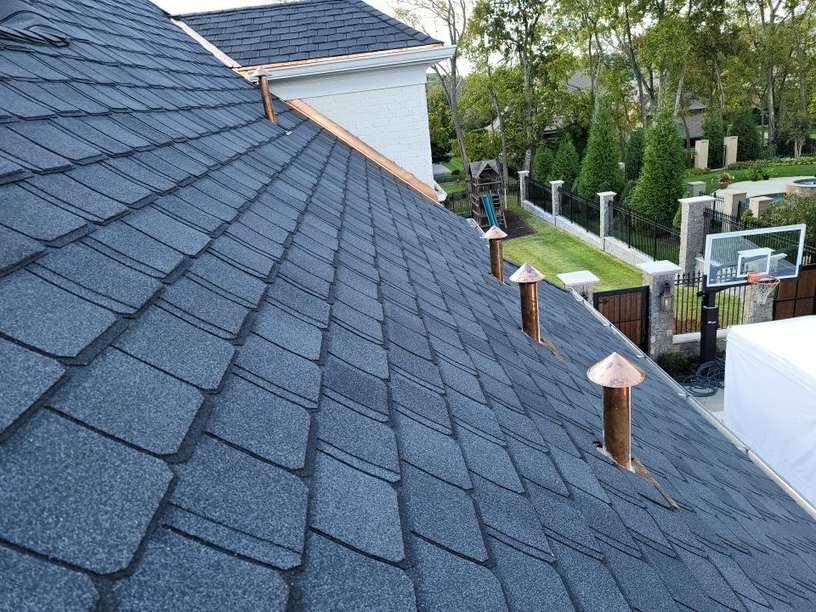 There's always going to be metal used during your roof replacement. Even if it's only used for flashing purposes.
One of the most popular types of metal homeowners use today is copper. But the truth is, copper isn't going to be right for everyone. That's why you need to know the advantages of copper roofing to determine if it's the right metal option for you.
At Bill Ragan Roofing, we want every homeowner to have the information they need to make the right decisions about such an important purchase. That's why we're to break down what you get when investing in copper roofing.
By the end of this article, you'll learn the 3 advantages of copper roofing and if it's the type of metal for your upcoming roof replacement.
1. Copper roofing is used for multiple purposes
The first advantage of using copper as a roofing material is the versatility of the metal. Because of copper's ability to easily bend into any shape, it's installed on a lot of different areas.
While you can use it for your entire standing seam metal roof system, most homeowners use it for accent purposes. This could be over bay windows, a front porch, a flat (or low slope) area, or even your gutters.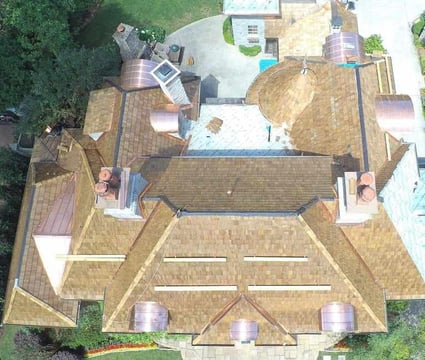 It's especially great over arches because of the flexibility of the metal. But copper roofing is most popularly used as flashing on luxury asphalt, cedar shake, and slate roofs.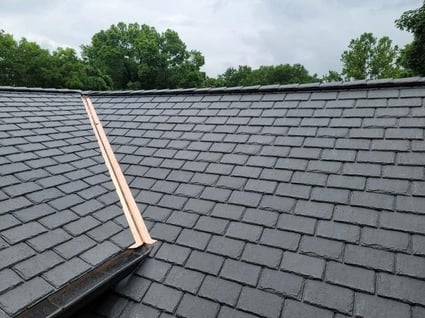 Be aware; copper goes through thermal expansion like other metals. If you get a copper roof over a heated surface you need to hire a local roofing contractor that has experience installing metal to avoid problems with your copper investment.
2. Copper roofing boosts your home's curb appeal
Every homeowner wants their house to stand out from the rest of the neighborhood. The easiest way to do this is with your roof.
You can make your roof stand out in various ways, including choosing one of the most aesthetically pleasing roofing materials. The best way to make your roof and home unique from the rest is by using copper roofing.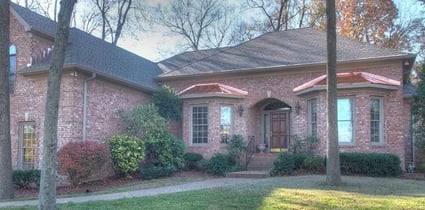 That's why we like to tell homeowners that copper boosts their home's curb appeal. If someone is driving by or walking down the street they're definitely going to take notice of your roof.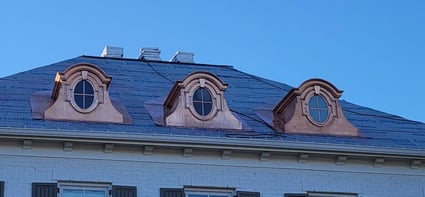 Copper's curb appeal even adds value to your home if you plan on selling it in the future. While the upfront cost of copper can be intimidating, you'll get it back when it's time to sell your home.
No matter where you use copper on your roof, it's going to raise your home's curb appeal and cause people to do double takes when going by your home.
3. Copper roofing is a "lifetime" material
The biggest advantage of copper roofing is its lifespan. While other types of metals last a long time, copper is a lifetime material.
The lifespan alone makes copper worth the cost of investment. Because as long as it's properly installed, you should never have to replace it.
Even when your roof is ready to be replaced, the copper areas of your roof shouldn't need to be replaced. However, if the area you live in experiences a lot of hail, the copper on your roof can get dinged and dented.
But as long as you have homeowners insurance, the insurance company should cover the damage caused by hail to copper and your entire roof.
Is copper roofing right for you?
Now that you know the 3 main advantages of copper roofing, you need to decide if it's a good fit for you. The biggest disqualifier for most homeowners is the price of copper.
If you're getting copper standing seam panels, you're looking at around $40 per square foot. If you're looking for an aesthetic upgrade that requires bending, folding, or a lot of cutting, the waste and labor factor will make it a little bit more expensive at about $50 per square foot.
You also have to think about the oxidation copper goes through as it ages and gives it a patina look. If you don't like the greenish, bluish patina look, copper might not be right for you.
If you have the budget, copper's lifespan alone is well worth the investment. However, if it's going to break the bank and/or you don't like the patina look, copper probably isn't the best choice for your upcoming roof replacement.
The other types of metal roofing materials you can use for your replacement
After reading this, you should know if adding copper to your upcoming roof replacement is right for you or not. If it is, great! You're on your way to raising your home's curb appeal with a lifetime material.
But what if copper isn't right for you? What if you just want to know the other options? If this sounds like you, you're not alone.
Most homeowners want to know all the options available to them before making their roof investment. That's why we wrote another article breaking down the top 3 types of metal used in residential roofing.
Since 1990, the team at Bill Ragan Roofing has helped homeowners in Nashville and surrounding areas get the beautiful roof they deserve. Even if you don't use copper, you can count on our high-quality materials and workmanship to raise your home's curb appeal. We also provide a lifetime warranty to be there for you if there's ever a problem.
Check out The 3 Common Types of Metal Used in Residential Metal Roofing to find the right type of metal for your roof replacement.