How is Your Property Cleaned Up After a Roof Replacement?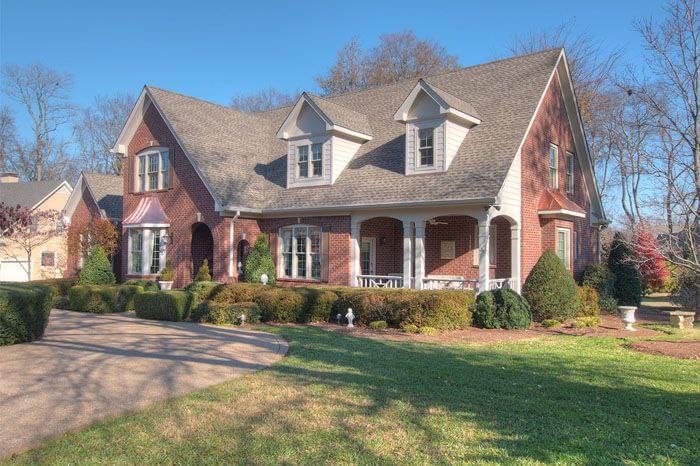 Are you ready for your roof replacement but still find yourself stressing out about the possibility of finding nails in your yard for months after it's completed? You're not the only one.
One of the most frequent questions customers ask me is how I'm going to ensure their yard and driveway are clear of nails and other roofing debris after their roof replacement. Since our customer's satisfaction is our absolute goal, I'm going to answer that question.
The team at Bill Ragan Roofing has been replacing roofs in the Nashville area since 1990. We know what it takes to give you a high-quality replacement that will give you peace of mind for years. That's why we offer a lifetime warranty on our workmanship.
When your roof replacement is completed, your property should look exactly as it did before but with a new beautiful roof. By the end of this article, you'll know the steps your roofing contractor will take to clean up after themselves, like making sure all roofing debris is blown off your roof and picking up nails with magnets.
Cleaning up during the roof replacement process
The clean-up process doesn't begin after the roof replacement, it's happening during the entire roofing process. After your new roof is installed, 95% of the ground should already be clean.
They do this by having most of the crew tearing off your old roof and installing your new roof while the rest stay on the ground making sure all the roofing debris gets to the dump trailer. If your roof has one layer and is at a walkable angle, the roofing debris can be carried across the roof and pitched into the dump trailer while the crew on the ground picks up any stragglers that didn't make it.
But for more difficult roofs, there will be a tarped landing zone where the crew on the roof throws the roofing debris. The crew on the ground will pick it up using wheelbarrows to ensure everything gets into the dump trailer.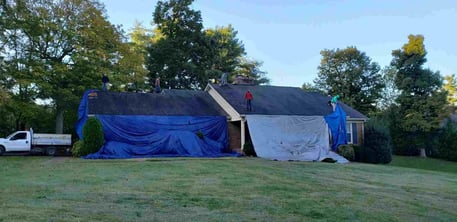 Your roofing contractor will clean up as they go through the entire 8-step process to replace your roof.
Clearing off your new roof
After your new roof is installed, your contractor will get a powerful handheld blower and start blowing the new roof off. They do this to clear your new roof of any debris and little granules that come off the shingles.
They'll blow off the sawdust that was left from cutting the vents in for your ventilation system, the loose granules off the shingles, and finally the gutters. Your gutters should have already been cleaned during the tear-off process, but your roofing contractor should run a magnet through them to get any loose nails after your replacement is completed as well.
They'll then blow out the downspouts to make sure everything from the gutters up is clean. Then, they can begin concentrating on the ground.
Inspecting your property after your roof replacement
At this point, your new roof is clean and sparkling. Your roofing contractor will then begin visually inspecting your yard and landscaping looking for any roofing debris that was missed.
They'll go through your property and driveway with one or two magnets to catch any nails that got away. After your yard and driveway are clear of roofing debris and nails, your contractor will apply the finishing touches.
They'll load up all their tools and equipment then move their vehicles out of your driveway so they can use the powerful handheld blowers to clear all the paved surfaces. Then, they'll walk around your property blowing off your porch, patio, or anywhere else granules or dust could have fallen.
If your roofing contractor cleans up properly, you could end up with a yard that was cleaner than before the replacement of your roof.
What else do you need to ask a roofing contractor?
When you get a roof replacement, you shouldn't be able to tell that roofers have been on your property, except for the fact that you got a brand new roof. Two of the main jobs your contractor has during your roof replacement is protecting your property and ensuring it's spotless afterward.
That's why you should always ask a roofing contractor about protecting your property and the clean-up process. But there's even more questions that every homeowner should ask when meeting with a potential roofing company.
Because we want you to be as informed as possible about such an important decision, we're going to give you the rest of these questions.
The team at Bill Ragan Roofing knows what it takes to give you the best looking roof in the neighborhood. We have been offering high-quality roof replacements to residents in the Nashville area since 1990. If you're local to the Nashville area, don't hesitate to contact us so we can take care of all your roofing needs.
Check out this article on the Top 8 Questions to Ask a Roofing Contractor so you're armed with the knowledge you'll need when meeting with a contractor.