8-Step Process to Replace Your Roof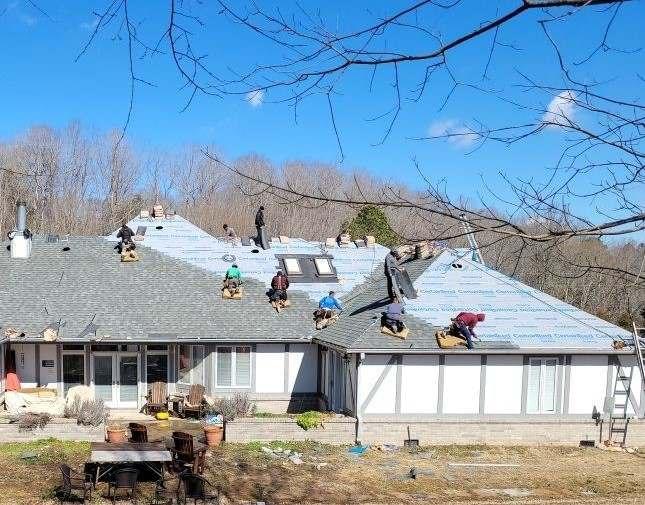 The day of your roof replacement has finally arrived. You're going to get a new roof that's going to give you peace of mind for years. But did your contractor walk you through the replacement process?
The team at Bill Ragan Roofing has been replacing roofs in the Nashville area since 1990. When you work with us you'll never have to worry about your roof again. I understand getting a roof replacement can be nerve-racking, that's why I'm going to explain the process you can expect when that day comes.
By the end of this article, you'll know the steps your contractor takes to replace your roof from having the materials delivered to the cleanup process.
And at the very end, don't forget to get your free checklist of questions to ask a roofing contractor to find a great company for your roof replacement.
8-step process to replace your roof
The day your roof is installed is the most important day in the life of your roof. It must be installed using correct roofing techniques to truly give you peace of mind.
Some contractors will cut corners or not pay attention to the details that roof installation requires. Before we get to the steps to replace your roof, you need to know that proper roof installation is crucial to protecting your roof investment.
The exact steps to install a roof will vary from contractor to contractor. But you'll find the process is pretty routine among reputable roofing contractors.
Below you'll find the steps your roofing contractor takes to replace your roof.
1. Roofing materials will get delivered to your home
The first step to your roof replacement is getting all the roofing materials delivered to your home. Usually, a roofing contractor will have them delivered the afternoon before or the morning of your replacement.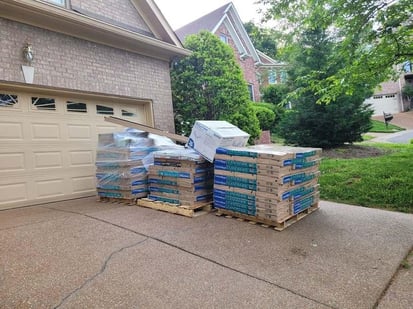 Your roofing material delivery will depend on the size of your roof. When they're delivered they should be kept in a dry area near the roof access point.
Don't let the contractor deliver the materials multiple days in advance. The last thing you want is pallets of shingles sitting on your lawn and killing your grass.
2. Moving your vehicles out of the way
When your contractor arrives at your home they'll make sure all the vehicles are moved out of your driveway or garage. If the vehicle in the garage won't be used during your replacement then it's not necessary to move.
Your contractor does this so you can come and go as you please. They don't want to block you or your family from going about your business as usual.
It also protects your vehicles from any stray debris that could fall from your roof. You don't want your windshield cracked by falling roof debris.
3. Setting up protection for your property
The next step of your roof replacement is preparing your property for the roof tear off. For example, they'll start tarping the ground for the dump zone and set up tarps to cover your shrubbery and landscaping.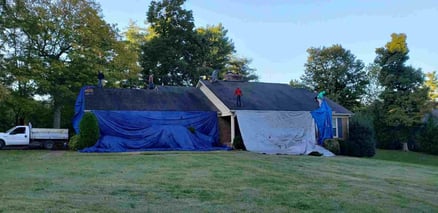 This is where your contractor takes all the necessary steps to ensure they protect your property during your roof replacement. It's also a good idea for you to protect things on the inside, to learn more check out our article: How is my property protected during a roof replacement.
4. Your old roof will be torn off
After your contractor covers everything, they'll begin tearing off your old roof in sections. They'll start on the furthest corner of your roof away from your driveway so that they're always moving towards the dump trailer and new materials.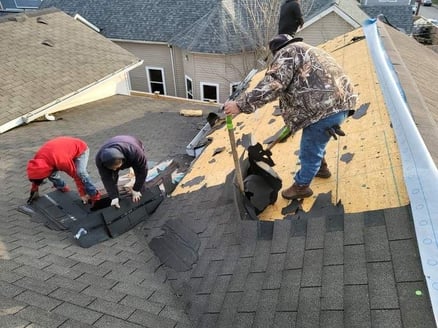 After a section is torn off, some of the installers will stay behind to begin installing your new roof while the others continue tearing off. This saves time and means less traffic on your roof.
5. Your gutters will be cleaned out
As soon as a section is torn off and cleaned up, your gutters will be cleaned out as well. Any roofing debris from the tear-off, leaves, and other possible blockages will be removed from your gutters.
Getting your gutters cleaned out isn't just something that happens during a roof replacement, it should also be done periodically through annual roof maintenance.

6. Your contractor starts installing your roofing materials
After the tear-off and making sure your gutters are cleaned out, your contractor is ready to install your new asphalt shingle roof. They'll systematically work their way around the house following the sections that are torn off.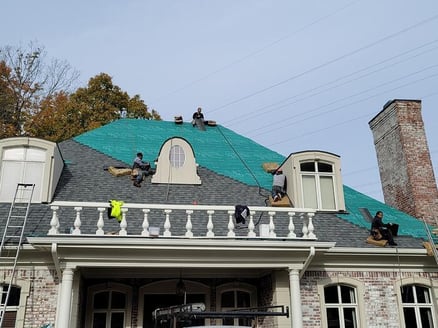 Once a section is torn off, they'll lay the underlayment and install the drip edge. Depending on the weather, they'll then start installing your starter shingles and shingles using the installation method of your choosing.
When they're done with the shingles, they'll put on all the ridge capping. One of the very last things your contractor will install is all the vents that are needed for your roof's ventilation system.
Be aware, the life of your roof not only depends on the installer's workmanship but the quality of the roofing materials as well. You should always invest in quality roofing materials to get the most out of your roof replacement.
7. Cleaning up after the replacement
After your new roof has been installed, your contractor is ready to begin the cleanup process. They'll blow off your roof so that all the leftover debris gets down on the dump tarps.
They'll also blow out your gutters and downspouts to clear them of any roofing debris. After they get off your roof, they'll spend a couple of hours on the ground.
This is when they'll roll up all the tarps, get their tools, and make sure everything on the ground is cleaned up. To ensure they get all the nails, they'll go all over your property with a strong magnet. After they leave, it should be like they weren't there at all.
8. Inspecting their workmanship
After your roof has been replaced and your property has been cleaned up, your contractor will double-check the finished product. They'll get on your roof, take a look around, and make sure the quality of the roof matches the high standards you expect when investing in a roof replacement.
They'll double-check the areas that are known to leak frequently (around penetrations, skylights, chimneys, etc.) and make sure they're properly protected. No matter the contractor you hire, they should always inspect their workmanship to ensure your roof was properly installed and all local codes have been followed.
Ready to hire a roofing contractor?
Now that you know the process to replace your roof, you're probably wondering how long it'll take. That answer varies from roof to roof. Factors like the weather and roof accessibility go into how long it'll take to replace your roof. But remember you can't put speed over quality.
To ensure you get a high-quality roof replacement, you need to hire a great roofing contractor. Because we want to help you find a great one in your area, we're going to give you our checklist of questions to ask a roofing contractor.
Your free checklist gives you the questions every homeowner needs to ask and the right answers to get back when meeting with potential roofing contractors. Don't get taken advantage of, get your checklist now.
The team at Bill Ragan Roofing has been offering high-quality roofing services to the residents of Nashville since 1990. We know what it takes to give you a roof replacement that'll make your home the best-looking one on the street. We even provide you with a lifetime warranty to back up our workmanship.
If you're local to Nashville, don't hesitate to contact us to start the journey of replacing your roof today.
Whether your local or not, don't forget your free checklist of Questions to As a Roofing Contractor to ensure you're asking the right questions and getting the right answers back.