5 Things That Void Your Roof Warranty

Roof warranties are in place to protect your roof investment if there's ever a problem. But just like other types of warranties, some things void them.
This is the last thing you want to happen to your investment. That's why, to avoid voiding your roof warranties, you need to know what voids them in the first place.
For over 30 years, the team at Bill Ragan Roofing has helped homeowners understand the ins and out of the roofing industry. Because of this, I'll break down the 5 things that void your roof warranty.
This article covers the following:
A quick overview of the two types of roof warranties.
The 5 things that void a roof warranty.
How to hire a roofing contractor to avoid voiding your warranties.
What are the two types of roof warranties?
There are two types of roof warranties you'll get after installation. There's one on the roofing contractor's workmanship, and the other is from the manufacturer of your roofing components.
So, before we get to what voids them, it's important to understand the differences between the two types of roof warranties. Let's quickly break down the two types of warranties.
Workmanship warranty
A workmanship warranty covers the craftsmanship of the roofing contractor you hire. This warranty is in place to protect your investment from lazy or careless work during the installation process.
The length of a workmanship warranty varies from roofing contractor to roofing contractor. The number of years could be anywhere from 2, 5, 10, 25 years, or even a lifetime warranty.
A reputable roofing contractor will offer at least a 10-year workmanship warranty. If they aren't offering anything at all, don't even think about hiring them.
Material warranty
A material warranty comes from the manufacturer of your roofing materials. As the name says, it covers the roofing materials and components in case of manufacturer defects.
Almost all roofing materials come with a material warranty. However, naturally occurring roofing materials like slate, cedar shake, or tile do not.
Just know that it's not just the roofing material that's covered, but it can also be the individual components of your roof system.
5 things that void a roof warranty
Now that you know the difference between the two types of roof warranties, you're ready to learn what voids them. Both roof warranties can be voided, but most of the reasons on this list void one or the other.
Let's get to the 5 things that void a roof warranty.
1. Improper installation
The quality of your roof's installation plays a huge role in your roof's lifespan. That's why hiring a roofing contractor with a strong installation history is crucial.
Unfortunately, some homeowners make the wrong hiring decision and/or find a cheap roofer. This usually leads to your roof or parts of your roof being improperly installed.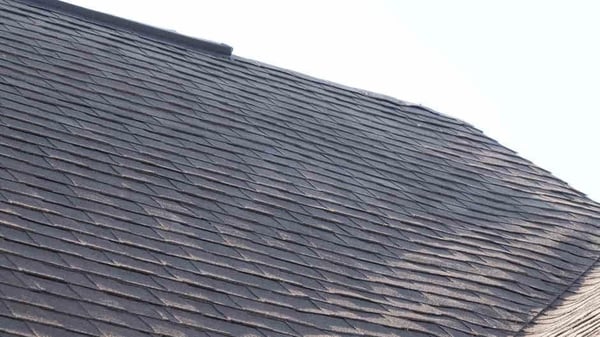 (Improperly installed roof)
Which brings us to the first thing that voids a roof warranty, improper roof installation. When your roofing material and components aren't installed correctly, the material warranty from the manufacturer is voided.
The reason it's voided is simply that the manufacturer won't stand behind their products if they weren't installed per the instructions to function correctly. Not only does improper installation ruin your material warranties, but it also means insurance won't cover your roof in the event of storm damage.
2. Inadequate attic ventilation
Your attic's ventilation system allows your home and roof to breathe properly. Without proper ventilation, trapped hot and cold air will drastically shorten a roof's lifespan.
But just like improper installation, it also voids your roofing material warranties. The reason is the exact same as above.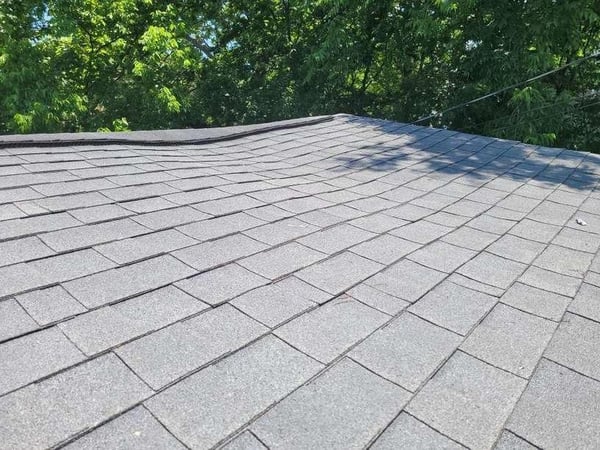 (Damage caused by inadequate attic ventilation)
Manufacturers simply won't stand behind products if they aren't able to perform to their highest abilities. Unfortunately, you have to rely on your roofing contractor's workmanship to fix problems caused by improper installation and inadequate attic ventilation.
But if you hire a trusted roofing contractor, they'll fix any workmanship problems for free.
3. Getting roof work done by a different roofing or general contractor
Your roofing contractor gives you a workmanship warranty to protect your investment. But they're only guaranteeing their work and the quality of it.
However, some homeowners go through another roofer or a general contractor to get a skylight, repairs, or any other roof work done. If you do this, you're voiding the workmanship warranty from the roofing contractor that did the original installation.
This is because they won't stand behind their craftsmanship if another trade or contractor does anything to mess with it. After all, they won't eat the cost of a repair if the problem is caused by someone else.
Just know that if you get work done or add additions, it doesn't necessarily mean the entire roof's workmanship warranty is voided. Usually, it's only the specific area that was worked on.
However, this varies by roofing contractor. That's why you need to check the fine print of your original estimate and go over your warranty paperwork before getting anything else done.
4. DIY roof work
There are a lot of resources that can help you do pretty much any kind of project around the house. This led to an increase in DIY roof work over the last few years.
I get being self-sufficient and saving money where you can. But as soon as you start doing your own roof repair, you void both roof warranties.
Unfortunately, I have seen cases where homeowners try to do repairs, fail to fix the leak, and then try to fall back on their workmanship warranty. But because they messed with the work, they have to pay out of pocket to fix a problem that the warranty would've covered in the first place.
Before doing a DIY roof repair, look at your warranty information and get the leak taken care of professionally if it's still covered.
5. Pressure washing your roof
As a roof ages, it develops algae streaks. This isn't a big deal for some homeowners, but for others, it is.
The only way to get rid of these algae streaks is to clean your roof. Unfortunately, the first thing that most people think of is pressure washing.
This isn't just a huge mistake but also voids both warranties. Pressure washing a roof damages and takes the protective granules off of shingles.
This shortens the life of your roof and speeds up the need for a replacement. Obviously, a manufacturer or contractor won't cover damages caused by pressure washing.
If you want to clean your roof, DO NOT hire a roofing contractor. Find a company that specializes in soft washing and roof cleaning specifically.
Hire a great roofing contractor to avoid voiding your roof warranties
Now you know 5 things that void roof warranties. At the end of the day, warranties are in place to protect your roof investment.
But all it takes is making one bad hire or decision to get rid of those protections. That's why you need to know how to find a great roofing contractor to avoid voiding your warranties.
Now, you may think finding a trusted roofer is easy. Unfortunately, it's a little harder than you think.
That's why I wrote another article that gives you the tips needed to find a great roofing contractor in your area.
The team at Bill Ragan Roofing has provided high-quality roofing services to homeowners in Nashville and surrounding Middle Tennessee areas since 1990. We take pride in our work and offer a lifetime craftsmanship warranty to back it up.
Check out 7 Tips to Find a Great Roofing Contractor to learn what to look for in a trustworthy roofer.