DIY Roof Repair: Should I Hire a Roofer Instead of Doing It Myself?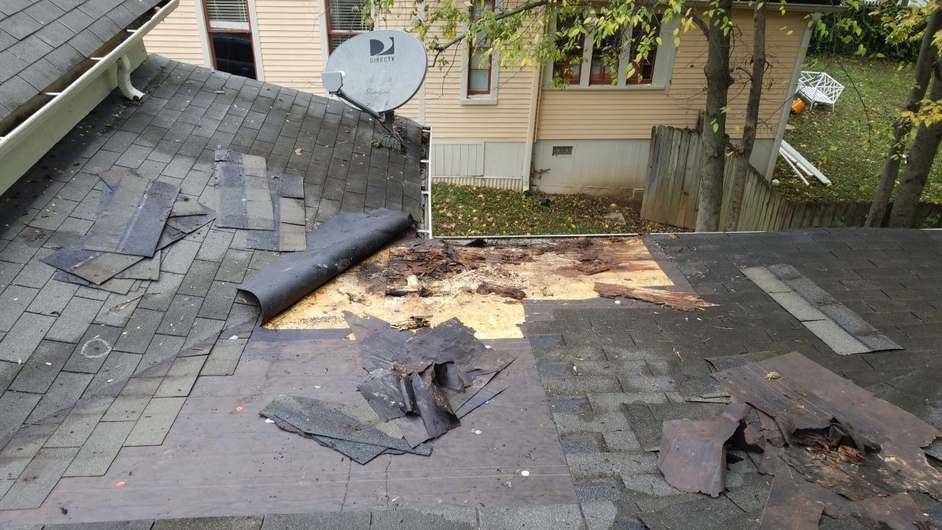 Spending any amount of money on your roof is never fun. That's why some homeowners try to do their own roof repairs to avoid spending their hard-earned money.
Honestly, I completely understand why some want to go this route. And with the rise of DIY videos and articles, it's getting easier for the average homeowner to do all kinds of things.
So, I get that you want to save money where you can and repair your own roof. But the question isn't can you do it; it's should you do it.
For over 30 years, the team at Bill Ragan Roofing has provided helpful and educational roofing content to homeowners like you. Now we want to help you understand what's at stake with DIY roof repairs.
I start this article by diving right into if you should hire a roofing contractor instead of repairing your own roof. After that, we'll get into the 4 things you need to know before actually deciding if a DIY roof repair is right for you.
Should you hire a roofing contractor instead of repairing your roof on your own?
You probably noticed that we're a roofing company. So, of course, we'll always recommend hiring a roofing contractor to repair your roof leak.
But at the end of the day, your roof is your property, and you're free to do your own repairs. If you have some construction or contracting experience, you may have better results than the average homeowner.
If you don't have any relevant experience, there are videos and articles that help guide you through roof repairs. Just know the quality of your repairs versus a certified contractor can be drastic.
If you don't repair your roof correctly, you could potentially cause more damage and have bigger problems on your hands. If you aren't 100% sure that you can pull off a roof repair, just call a local roofing contractor.
4 things to know before doing a DIY roof repair
Now you know I don't recommend repairing your own roof. Like I said, you're free to do them if you want.
But there are some things you need to consider before making the final decision about repairing your own roof. Let's get to the 4 things you need to know about a DIY roof repair.
1. Working on a roof is dangerous
The first and most important thing to know about DIY roof repairs is that working on a roof is dangerous. Before setting foot on your roof, you need to ask yourself if it's worth the risk.
Roofing contractors have the safety training and knowledge to minimize risks while on a roof. But that doesn't mean accidents won't happen from time to time, even with all the experience.
A roofing contractor also has the right equipment to be on your roof safely, like ropes and harnesses to tie off on steep roof pitches. If you're not used to working on a ladder or walking on a roof, you shouldn't be up there, period.
I understand saving money where you can is important and necessary. But no amount of money is worth the safety risks involved with repairing your roof by yourself.
2. You may not have the right tools or materials to do the job
No matter what kind of roof repair you need, certain tools and materials are required to do the job correctly. A roofing contractor will have most of these on hand before they even get to your home.
But there's a good chance you don't have the right tools and an even better chance you don't have the right materials to do repairs. You may be thinking, "Well, I have a hammer; what else do I really need?"
Depending on what's causing the roof leak, you could need roofing nails, shingles, pipe boots, caulk, ice and water shield, and on and on and on. Let's use a common nail pop repair as an example of the materials you'll need.
To repair a nail pop, you'll break the seal on the shingle, lift the shingle up, pull the nail out, and move it. If the nail wasn't driven straight, you'll have to pull the nail out, drive it in properly, and then lay some ice and water shield on top of it.
If the nail worked its way through the shingle, you'll have to reseal the shingle as well. After all this, you'll need to fill the nail hole with some type of cement and reseal the shingle back down.
This is a lot to do for such a simple repair, and you'll spend money buying all of the materials/tools needed to do the job anyway. So, it's just easier to call a roofing contractor who has all this on hand and has the experience to do it correctly.
3. You'll void your current roof warranties
After getting a new roof, you should have two types of warranties to protect against potential problems. You'll have one on your roofing contractor's workmanship and one on your roofing materials.
As soon as you start doing your own roof repair, you void both warranties. Now, you may be doing the repair because your workmanship warranty expired or the roofing contractor is no longer around.
In this case, you're obviously not voiding the workmanship warranty. But I have seen cases where homeowners try to do repairs, fail to fix the leak, and then try to fall back on the roofing contractor's 10-year, 25-year, or lifetime warranty.
As soon as you mess with their work, you void the roofing contractor's warranty, and they will no longer cover their craftsmanship. In the same vein, the manufacturer's material warranty will also be voided.
This comes down to the simple fact that if you mess with the area that's leaking, there's no way to prove a material defect or poor workmanship caused it. Before doing your own repair, look at your warranty information to see if you're still covered and get the leak taken care of professionally.
4. You might not repair the roof leak the first time
You may think you're really handy, and doing the actual work won't be that hard. But it takes skill to track and repair a roof leak.
If you have no experience or prior roofing knowledge, there's a pretty good chance you might not repair your roof leak on the first try. There's even a chance the source of the leak isn't coming from where you see the water dripping.
Because of this, you may think you found the source of the leak, do the repair, and then your roof continues leaking. Even if you actually find the source, there's no guarantee that you're repairing it correctly to stop the leak.
Like I said earlier, the quality of doing your own repair versus a roofing contractor can be drastic. So, you could end up doing even more damage to your roof with no guarantee of it stopping the problem.
How much do roof repairs actually cost?
Now you know the 4 things to consider before doing a DIY roof repair. Remember, I recommend calling a professional roofing contractor for roof repairs.
But if you have the confidence to do it yourself, it's your right because it's your property. Just make sure you have a list of the materials you need and read/watch as many educational sources as possible before starting.
But before doing anything, you need to know how much a roof repair costs to truly decide if DIY roof repairs are worth it. Because we want you to have all the information needed to make the best decisions, we wrote another article breaking down how much the most common roof repairs cost and how a roofing contractor repairs them.
Since 1990, the team at Bill Ragan Roofing has repaired thousands of roofs for homeowners in Nashville and surrounding Middle Tennessee areas. Just like roof replacements, we provide a lifetime workmanship warranty on our repairs.
Check out How Much It Costs to Repair a Roof Leak before doing DIY roof repairs to learn if it's really worth doing it yourself.