My Roof is Leaking, What Should I Do? (6 Steps to Fix Your Roof Leak)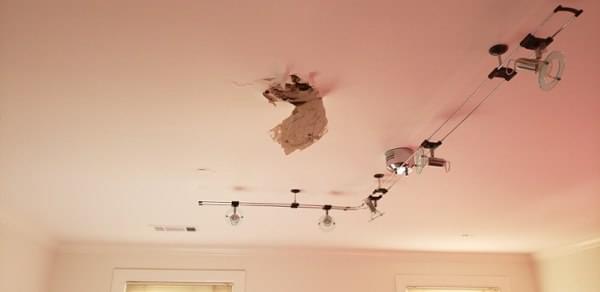 Do you have a roof leak? Are you stressing out about where to begin with getting it fixed? Don't worry, you're not alone.
Roof leaks can cause expensive damage and health problems if you leave them alone for too long. Luckily, we're here to break down the steps to get your roof taken care of to avoid these problems.
The team at Bill Ragan Roofing has been providing high-quality roof repairs and replacements to the residents of Nashville since 1990. We know what it takes to ensure your roof lasts for decades. That's why we offer a lifetime warranty.
By the end of this article, you'll learn the 6 steps you should take to fix your leaky roof.
1. Contain the roof leak
The first step to take care of your roof leak is to contain the water to prevent widespread damage. This is usually done with putting a bucket or a pot in your attic to catch the water as it comes down through your roof.
If you don't contain the water, the cost to repair the water damage inside your home will greatly outweigh the cost of your roof repair. Be aware, the cause of your leak isn't always going to be where you see the water come through your roof.
To track the source and cause of your roof leak, you'll need to call a roofing contractor for a roof inspection.
2. Call a local roofing company
The most crucial step of getting your roof leak taken care of is calling a reputable local roofing contractor. The local roofing contractor you call must have a physical office location in your area and a local phone number. This ensures you know where to find them if you ever have a problem with your roof.
Another reason to call a quality local roofing company is that they know what needs to be done that's specific to the area where you live. They'll know what installation codes to follow, the paperwork required, and everything else they'll need to ensure your roof is correctly installed and in compliance with your state's requirements.
This is especially true if your roof is leaking after a big storm. Some out of state companies come in after a big storm, undercut local roofing company prices, get the money, and move on to the next storm-hit town. These companies don't care about local codes or if they properly install your roof.
To learn more about why you need to call someone local to your area, read this article on why it's important to hire a local roofing contractor.
3. Receive an inspection from a local roofing contractor
A roof inspection is when a roofing contractor checks the condition of your entire roof. Once your local roofing contractor comes out to your home, the first thing they'll do is inspect your roof and track down your leak.
They'll check your roof penetrations, your attic's ventilation, and other crucial areas of your roof and determine if your roof leak is isolated or if it's from roof failure. After making an assessment of your roof, they'll determine if you need a repair or a full roof replacement.
If your leak isn't caused by premature roof failure, your roofing contractor can do repairs to get more life out of your roof. However, if your roof leak is caused by roof failure or extensive storm damage, you'll need a full roof replacement.
4. Get an estimate for the scope of work to repair or replace your roof
After your roofing contractor determines if you need repairs or a full replacement, you'll receive an estimate/quote for the scope of work that has to be done. Your estimate should be as specific as possible with a line item list of everything that is going to be done.
For example, if you need a roof replacement, your estimate will have how many roof layers will be torn off, how the contractor is going to protect your property, installation method, the materials included, and more.
To learn more about your roof estimate, read this article on what should my roof estimate include.
5. Go over the estimate with your roofing contractor
After receiving your roof estimate, your contractor should set up a time to sit down with you and go over it. They should go over each and every line item in your quote so you understand exactly what you're paying for.
It's also crucial that you read the fine print in your estimate. The fine print tells you if a contractor will pay for damaged property and what's excluded from your repair or roof replacement.
This is also your opportunity to air your concerns and ask any questions you have. If a roofing contractor won't go over your estimate with, don't think about hiring them.
6. Get a second opinion on your roof leak
Before signing on the dotted line, you should call another roofing contractor to give you an estimate as well. I would recommend getting at least 2 and a maximum of 3 quotes for your roof leak.
But why? When you get multiple roof estimates, you can compare prices, determine if the work required is correct, and helps you find the right contractor.
If you only call one contractor, you have to take their word on what your roof needs. If one contractor says you need a replacement, but two others say you only need repairs, then it's a safe bet that you don't need a new roof.
To learn more about why getting a couple of roof estimates is important, read this article on why you should get multiple quotes for your roof replacement.
Find a great roofing company for your roof leak
Once you go through these 6 steps, you'll be ready to sign on the dotted line to get your roof leak taken care of. After signing your estimate, you'll get your roof repaired or go through the replacement process.
Remember, hiring a reputable local roofing contractor is the crucial first step to this entire process. You have to hire one who has a strong installation history and is known to do things the right way.
But how do you find a great roofing contractor from all the options available in your area? Because we put so much emphasis on giving you the power to make the right hiring decision, we're going to give you 7 tips on how to find a great roofing contractor in your area.
The team at Bill Ragan Roofing has been providing high-quality roofing services since 1990. Our workmanship ensures you get the most out of your roof. When you work with us, you'll never worry about your roof again.
If you're local to Nashville, don't hesitate to contact us to take of your roof problems.
Whether you're local to Nashville or not, check out 7 Tips to Find a Great Roofing Contractor to ensure you make the right decision.