Does Homeowners Insurance Cover Roof Leaks?

Finding a roof leak is a stressful situation. Figuring out how to handle it can be just as stressful.
You already know you need to call a roofing contractor to take care of the problem. However, a huge question most homeowners have is whether or not their homeowners insurance policy covers a roof leak.
The truth is, your insurance company will cover it, but only in the right situation. Because we want you to be the most educated homeowner possible, we're going to break it down for you.
For over 30 years, the team at Bill Ragan Roofing has guided homeowners through the insurance claim process. Now we'll do the same for you.
This article answers the following questions:
Does homeowners insurance cover roof leaks?

Will insurance pay for your roof replacement?

Is it worth it to file an insurance claim for roof damage?
Does homeowners insurance cover roof leaks?
So, will your homeowners insurance company cover your roof leak? The answer is yes, but only under certain circumstances.
Homeowners insurance covers your roof leak and any other roof damage caused by an extreme weather event. This extreme weather is straight-line winds (aka damaging winds) during heavy thunderstorms, hail storms, snowstorms, and tornados.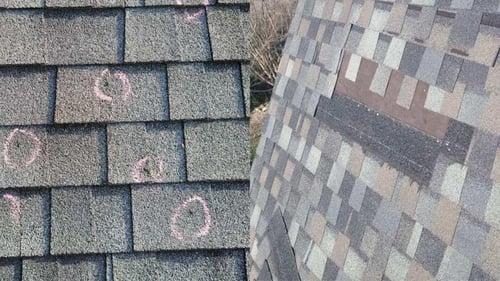 (Left: hail damage; Right: wind damage)
They'll also cover damages from tree limbs falling on your roof during strong storms. While they'll cover the damages I mentioned above, insurance won't cover roof leaks caused by general wear and tear or aging.
This means you have to rely on the insurance adjuster's discretion and what they find during their inspection if you have a viable claim. But as long as the damage is caused by extreme weather, your homeowner's insurance will cover your roof.
Will insurance pay for your roof replacement?
Now you know that insurance will cover a roof leak caused by storm damage. If it is, and you decide to file a claim, you'll get a payout to replace your roof.
But how much money you get from the insurance company depends on your policy. On your insurance paperwork, you'll either have an Actual Cash Value or Replace Cost Value policy.
They both ensure you get a payout from the insurance company, but the amount is very different.
Actual Cash Value policy
An Actual Cash Value (ACV) policy means the insurance company only gives you the depreciated value of your roof at the time of the claim. This policy only ensures that you get a check for what your roof is valued at today.
Unfortunately, this won't cover the cost of a full roof replacement. You'll have to use the depreciated amount you get from insurance and make up the difference out of pocket.
You may be able to find a roofing contractor who will do it for the amount your ACV policy gives, but this guarantees you'll get the cheapest materials and labor available. This cheap roof equals cheaper quality, which sets your roof investment up for premature failure.
Replacement Cost Value policy
A Replacement Cost Value (RCV) policy gives you what it costs to replace your roof with a brand-new version of itself. You'll first get a check for the actual cost value of your roof like an ACV policy, but the insurance company holds back the rest in recoverable depreciation.
After the job is complete and you prove it was completed per the insurance claim, you'll get the second check covering most or the rest of the cost. But remember that your insurance company only pays to restore your new roof to a brand-new version of itself.
If you want to add upgrades to certain areas, like going from 3-tab asphalt shingles to architectural asphalt shingles, you'll cover the difference. Unfortunately, insurance companies rarely give you enough to cover a full roof replacement, even with an RCV policy.
You do have options if this happens, but it requires due diligence and patience on your part. However, you'll have no issues getting as much covered as possible with a great roofing contractor.
Is it worth it to file an insurance claim for roof damage?
It's definitely worth it to file an insurance claim for roof damage in the event it was damaged by storms. You pay your insurance premiums for this very reason.
But just know that you'll still have to take care of your deductible. No matter what you read, hear, or what a roofing company says, you must pay your deductible when your claim is approved.
You'll hear about roofing companies paying deductibles, but this is illegal and is outright committing fraud. And do you think you or the roofing contractor will have to deal with the repercussions?
Unfortunately, some homeowners jump at the opportunity for a roofing company to cover their deductible. Getting a roofing company to pay your deductible is not worth committing fraud, even if it saves money upfront.
This is actually one of the biggest scams in the roofing industry, and you should NEVER let a roofer pay your deductible.
What do you need to know about filing an insurance claim?
Now you know that homeowners insurance will cover roof leaks, if insurance will pay for a roof replacement, and if it's worth filing an insurance claim. If your roof leak is caused by storm damage, you'll have a viable claim.
But just know that the claim process is confusing and overwhelming, especially if you haven't been through it before. The last thing you want is to start the process without fully understanding what you're getting into.
So, before diving into filing a claim, there are some things you need to know about the actual process. That's why I wrote another article breaking down what you need to know about the insurance claim process.
Check out 5 Things You Need to Know About the Insurance Process for Roof Damage, so you're fully prepared and informed when the time comes to file a claim.