What is an ITEL Report for a Roof Damage Insurance Claim?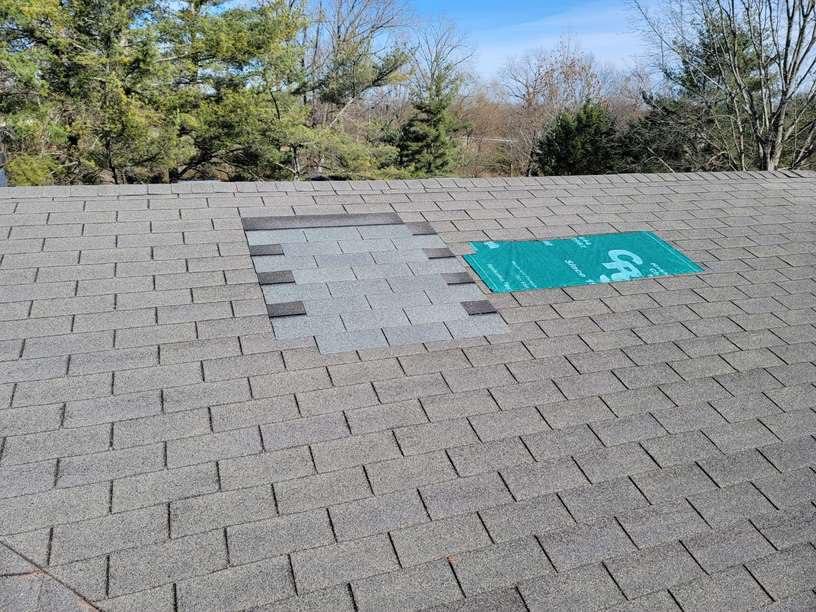 Finding roof damage after a strong storm is a stressful and, depending on the extent of the damage, scary situation. But you have insurance, so you're not too worried because your insurance company will take care of the problem.
But what if they push back on your claim? Or what if they only approve a roof patch instead of giving you the full replacement you need?
Some homeowners hang their heads and accept the insurance company's answer when this happens. But just know, there are options available.
One of these options is getting an ITEL report. But getting the actual report is just a small part of the process.
For over 30 years, the team at Bill Ragan Roofing has guided homeowners through the insurance process. Because of this, we want to help you understand how getting an ITEL report may help your roof damage insurance claim.
To start this article, I'll quickly break down what an ITEL report even is. After that, you'll learn how matching laws play into the ITEL process.
To finish this article, I break down the ITEL process and how it affects your insurance company's decision.
What is an ITEL report?
ITEL Laboratories Inc is an independent laboratory that analyzes and matches the materials that make up your home. These materials include cabinets, siding, flooring, and roofing.
An ITEL report for roofing purposes is to identify your current shingle color and manufacturer. To get a report, a shingle sample or an entire shingle must be sent to the ITEL laboratory for analysis.
After analyzing, they'll provide a report that states the brand and specific color of the shingle currently installed on your roof. With the report, your roofing contractor and the insurance company will determine if your roof can be repaired with the same shingle or if your entire roof will need to be replaced due to matching laws (more on that in a minute).
Just know the reports aren't always 100% accurate. However, the report will still help determine the next steps for your insurance claim.
How shingle matching laws play into the ITEL process
Before getting to the ITEL process, you need to know about matching laws. In Tennessee, an insurance law went into effect starting 10/09/17.
This law states if you have an insurance claim on the interior or exterior of your home, the insurance company must pay to ensure everything matches in appearance.
Law 0780-01-05-.10(1)(b) states:
When a loss requires replacement of items and the replaced items do not match in quality, color, or size, the insurer shall replace items so as to conform to a reasonably uniform appearance according to the applicable policy provisions. This applies to interior and exterior losses. The insured shall not bear any cost over the applicable deductible, if any.
For roofing specifically, this impacts shingle matching on a storm-damaged roof. Because of this law, the insurance company must replace your entire roof if there are no shingles available that match your current roof shingle's color.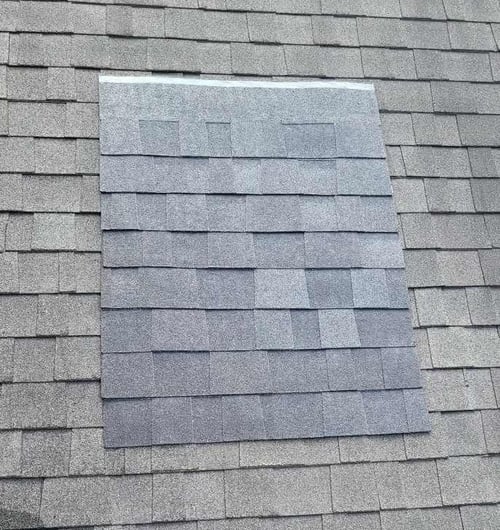 (Nonmatching shingles)
The shingle could be no longer available, discontinued, or out of production. Even if the shingle is available, the color might not match because of the wear and tear a roof has gone through as it ages.
Whatever the reason, the insurance company will have to pay to replace your roof because no shingles match up perfectly with your current roof. Be aware, not every state has matching laws, and some insurance policies exclude the matching law.
Before starting the ITEL process, make sure to talk to your local roofing contractor about the matching laws specific to your state and look over your policy exclusions.
The ITEL process for a roof damage insurance claim
Now that you know about matching laws and what they mean to your insurance claim, you're ready to learn the ITEL process. Just know the process isn't 100% guaranteed to work to get a new roof through the insurance company.
However, it's still a great way for your roofing contractor to fight for you and ensure all options are exhausted when getting push back from your insurance company.
Fill out the ITEL report form and send in a sample
The first step to start the ITEL process is you or your insurance company filling out the form from the ITEL website and sending a sample. After filling out all the relevant insurance and personal information, you'll need a physical sample of a shingle that's already on your roof.
Your roofing contractor will then take a shingle off, usually from an area that can't be seen, and replace it with another like-colored shingle that definitely won't match. Once they have your shingle sample, they'll send it and the filled-out form through UPS or FedEx to the ITEL laboratories for analysis.
ITEL analyzes and sends back a report
After sending in your sample, it's now a waiting game while ITEL analyzes. This could take around 7-10 days, give or take a few days.
Once the shingle sample is analyzed, ITEL will send a report to you and/or your insurance company with the brand and color of the shingle. You'll then give the results to your roofing contractor so they can find the shingle specified in the report.
Learn if the shingle in the ITEL report matches your current shingle color
After getting the report, you're ready to learn if the shingle's color in the report matches the shingle color currently on your roof. First, your roofing contractor will go buy a bundle of the shingles (if they're available and still in production) specified in the report.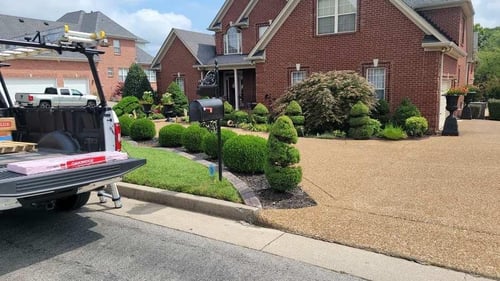 When they get to your home, they'll take a picture of the bundle of shingles in the bed of their truck with the mailbox and house in the background of the picture. They do this to prove it's your home and the shingles specified in the report are actually used.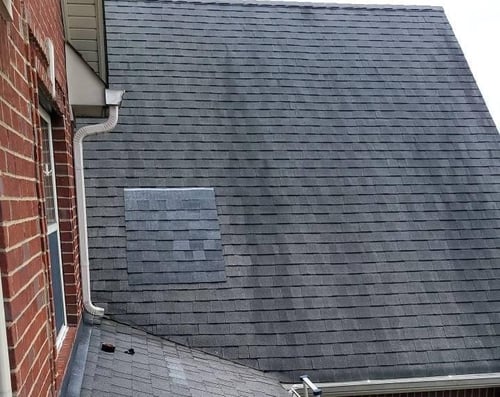 (Shingles taped on roof to show color difference)
Depending on your roof's pitch, they'll then put the shingles on your roof by nailing, taping, or laying them down to show the difference in color (if there are any). Your roofing contractor will take pictures showing the shade difference and send them to your insurance adjuster for review.
Determine next steps for repairs or a full roof replacement
What happens next with your insurance claim depends on if the shingles match your current shingles.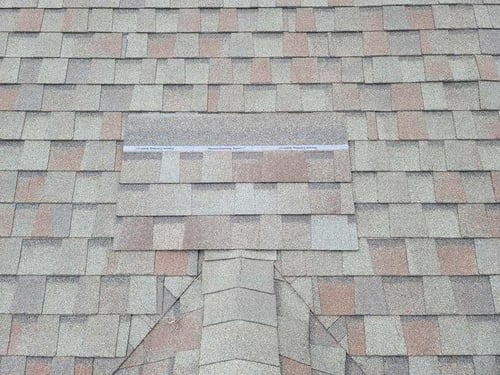 (Perfect shingle match)
If the shingles match perfectly, the insurance company will move forward with the repairs (patching) they approved, and your roofing contractor can get to work. But if the shingles don't match or they're discontinued, what happens next depends on your policy and state's matching laws.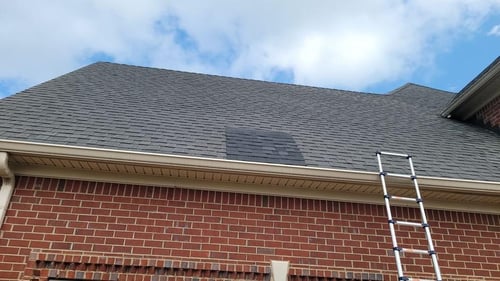 (Shingle color doesn't match)
If your state has matching laws and you don't have policy exclusions, your insurance company will pay to replace the entire roof if the shingles don't almost or exactly match your current roof. Luckily, the matching laws in Tennessee allow for homeowners to utilize the ITEL process.
Even if an out-of-state adjuster doesn't approve the replacement, all your roofing contractor has to do is show the state matching law that backs it up. But if your state doesn't have a matching law, it's up to your insurance company if they want to approve your insurance replacement claim.
The tips you need to find a roofing contractor for your insurance claim
Now you know how the ITEL process works for your insurance claim. Remember, this process is not 100% guaranteed to work and really depends on your state's matching laws.
If you're seriously considering going through the ITEL process, you need to find a roofing contractor with experience. And not only with the ITEL process but with experience working on insurance claims in general.
Finding a roofing contractor with insurance expertise will know how to read your claim, help you supplement your claim if anything is missing, and can even save you from committing insurance fraud. Because it's so important, we wrote another article that gives you the tips needed to find a great roofing contractor for your roof damage insurance claim.
Since 1990, the team at Bill Ragan Roofing has provided insurance expertise and guidance to homeowners in Nashville and surrounding Middle Tennessee areas. We take pride in advocating for you and going through all available avenues to get your insurance claim approved if you have storm damage.
Check out 5 Tips to Hire a Roofing Contractor for a Roof Damage Insurance Claim to find a great roofer to help guide you through the insurance process.