Roof Installation | Asphalt Shingle Roof
Can You Nail-Over an Existing Asphalt Shingle Roof?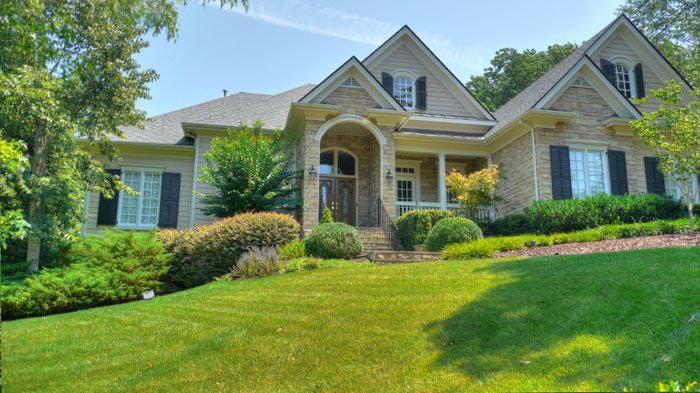 Did you just get the news that you need a new roof? Then you're probably starting to worry about the cost of it, especially if you're on a tight budget. That's where a nail-over reroof comes into play.
The team at Bill Ragan Roofing has been providing new roofs in the Nashville area since 1990. We want every homeowner to know their options when it comes to getting a new roof, especially if they're on a tight budget.
Because of this we're going to give you a complete break down of nailing over your current asphalt shingle.
By the end of this article, you'll learn what an asphalt roof nail-over is, if it's right for your roof, and the 5 things you need to know about roofing over your current asphalt roof.
What is an asphalt roof nail-over?
There are two types of reroofing, a nail-over and a tear-off. A tear-off reroof (roof replacement) is when a contractor tears off your old roof down to the decking and installs all new roofing components.
On the other hand, a nail-over reroof is the process of nailing over your current asphalt shingles with new ones.
In most states, you're only allowed to have 2 layers of shingles on a roof for fire safety reasons. However, you'll still see roofs that have 3 or 4 layers today.
If you already have 2 or more layers, a contractor will recommend a full replacement.
When would someone nail over their current asphalt roof?
To nail-over your current asphalt roof, the situation has to be right. With that in mind, most roofs are not going to be a good candidate for a nail-over.
To nail-over, an asphalt roof has to be near the end of its lifespan, and still lying down pretty flat (no lifted or cracked shingles, blisters, or bumps). The roof also must have only a few penetrations, a small amount of flashing, and no walls that have to butt up against your shingles.
Ultimately, it'll be up to what your contractor finds during your roof inspection that determines if a nail-over is an option for you.
5 things to know about nailing-over your current asphalt roof
Now you know what nail-over reroofing is and what the right situation for one is. But there are still some things you need to know about getting a nail-over.
You need to be aware of the cost, warranty options, and the aesthetics that come with upgrading your shingles when you nail-over your current roof.
1. It's cheaper than an asphalt roof replacement
The main drive for people to try to reroof is the cost. When you nail-over your old shingles, most of the typical roof replacement process is left out.
Nailing-over doesn't require a tear-off, dump fees, underlayment installation, new flashing, or new decking. This allows for the labor and material costs to come down, making it cheaper than a full roof replacement.
I understand everyone has a budget and a full roof replacement is an investment some people can't make. But it's crucial to the life of your roof (whether it's a nail-over or a full roof replacement) that you invest in quality over picking the cheapest estimate out there.
To learn more about how investing in quality affects your roof, read this article on the 3 ways cheap roofs cost more in the long run.
2. You won't qualify for an enhanced roofing material warranty
Your asphalt shingles come out of the package with a warranty from the manufacturer.
For example, a dimensional asphalt shingle has a 30-year warranty that's prorated after 10 years (coverage diminishes over time). When you get a full roof replacement, you can even register your new roof with the manufacturer to get the 50-year non prorated enhanced warranty.
However, if you get a nail-over you won't be able to get the enhanced warranty. Your contractor's workmanship warranty will still be the same, but you'll only have the standard material warranty on your dimensional shingles.
To learn more about your warranty options, read this article on what roof warranties cover.
3. You'll have a lumpy roof if you upgrade your asphalt shingles
When getting a new roof in general, you need to consider if you want to keep your current type of shingle or if you want to upgrade. For example, if you have 3-tab shingles and you want to upgrade to dimensional shingles.
If you try to upgrade your 3-tab shingle to a dimensional shingle when nailing over, it causes an aesthetic issue. The issue happens because 3-tab asphalt shingles run on a 5-inch exposure (you see 5 inches of the shingle out of the full 12 inches) while dimensional shingles run on 5 ⅝ inch exposure.
This difference in size creates a hump on your roof every 8 shingles. That's why I recommend going over your old roof with the same type of shingles when nailing-over.
4. Your current asphalt roof's flashing has to be used
Your roof's flashing will be checked out when a contractor performs an inspection for your new roof. Flashing is the metal placed anywhere the shingles butt up against something, such as a wall, chimney, or in open valleys.
When you get a nail-over, your current contractor has to rely on the past contractor's flashing job. If the metal's integrity is compromised or the work was done poorly, I would not recommend a nail-over.
You're just asking for one of the common roof leaks if the flashing doesn't do its job. To learn more about the common roof leaks, check out this article on the 6 most common roof leaks.
5. The contractor can't inspect your asphalt roof's decking
When you get a full roof replacement, your roof is taken down to its decking. This gives your contractor a chance to inspect the decking's integrity to see if it can handle your new roof.
When you get a nail-over, there's no opportunity to inspect the decking before installing your new roof. If one of the boards break during installation, the contractor will have to take off the old shingles, replace the piece of broken decking, put the old shingles back on, and start installing again.
This adds to the time it takes to replace your roof and can even add to the final cost of the job.
Is a nail-over or a complete asphalt roof replacement right for you?
Now you know what a nail-over reroof is, when it's right to get one, and the 5 main things you need to know about it. If you think a nail-over is the right option for you, call a local roofing contractor to give you an honest assessment of your roof.
If nailing-over isn't the right fit for you, you're going to have to go through the replacement process. But before reaching out to a roofing contractor, you need to learn as much as possible about an asphalt roof replacement.
To help make your research easier, we put all the crucial information about replacing your asphalt roof in one place.
The team at Bill Ragan Roofing has been providing the residents of Nashville with high-quality roofs since 1990. We know what it takes to give you a roof that gives you peace of mind. That's why we like to say, "When you work with us you'll never have to worry about your roof again."
To learn the information every homeowner needs to know about replacing their asphalt roof, check out What is an Asphalt Roof Replacement? (4 Things You Need to Know).