Should You File a Claim for Roof Damage? (& What to Know Before)

Finding roof damage after a strong storm isn't a fun experience. And to be honest, dealing with the insurance company to get it taken care of is even less fun.
Because of this, some homeowners want to avoid the process altogether. I understand this point of view, and I honestly can't blame you.
But why pay for insurance if you're not going to use it? So, before making a decision, let's talk about it.
At Bill Ragan Roofing, we believe in providing honest and transparent advice on handling roof damage insurance claims. Because of this, I'll break down if you should file a claim for roof damage.
After that, I'll also give you 5 things you need to know before actually filing a claim.
Should you file an insurance claim for roof damage?
Yes, you should absolutely file an insurance claim for roof damage. You pay your insurance premiums for this very reason.
But you should only do so if extreme weather or a storm event is the cause of your roof damage. For insurance to cover roof damage, it must be caused by straight-line winds (aka damaging winds) during heavy thunderstorms, hail storms, and tornados.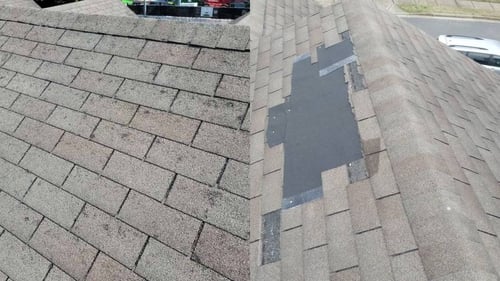 (Left: hail damage; Right: wind damage)
Most policies also cover roof damage from fallen trees or tree limbs during storms. If any of the above caused your roof damage, the insurance should pay for most or the full amount of a roof replacement.
Just know that you have to depend on what the adjuster finds during their inspection to learn if there's enough roof damage to warrant a full replacement. But as long as extreme weather caused your roof damage, your homeowner's insurance should pay for a replacement.
So, yes, I recommend filing an insurance claim for roof damage. At the end of the day, though, it's completely your decision if you want to or not.
5 things to know before filing a claim for roof damage
Now you know you should file a claim for roof damage if you have it. But there are some things you need to know when filing an insurance claim.
The rest of the article covers the 5 things every homeowner needs to know before actually filing a claim with the insurance company.
1. Check your insurance policy
Your roof is covered by homeowners insurance, but your specific policy determines the payout you get from the insurance company. That's why you need to check your policy as soon as you suspect roof damage before filing a claim.
When looking at your paperwork, your policy will either be an Actual Cash Value (ACV) policy or a Replacement Cost Value (RCV) policy. An Actual Cash Value policy means you get a check for the depreciated value of your roof.
With this policy, your insurance company only pays for what your roof is valued at today. On the other hand, a Replacement Cost Value policy means you'll get what it costs to replace your entire roof or at least a majority of it.
However, you don't get the full amount upfront. You'll first get a check for the actual cost value of your roof while the insurance company holds back the recoverable depreciation.
After your roof replacement, you'll provide proof that it was done per the claim. If everything checks out, your insurance company then sends a second check for the rest.
Just know they don't have to send the second check for the depreciated part of the claim if you didn't get the work done. While both policies protect your roof, a Replacement Cost Value policy ensures you get the most out of the premiums you've been paying.
2. What you pay when getting an insurance roof replacement
You'll have to pay your deductible once your claim is approved. Besides your deductible, you'll also have to pay the difference to cover the rest of the roof replacement if the insurance company doesn't give you enough.
Many homeowners take advantage of adding upgrades (new style shingles, copper flashing, etc.) to their roof because the majority is already paid for by insurance. This is especially popular for homeowners who want to go from 3-tab asphalt shingles to dimensional asphalt shingles,
But if the insurance company gives you enough to cover the full cost, you'll only have to pay your deductible to get a brand-new version of your current roof.
3. You have to rely on your insurance adjuster to approve your claim
As soon as you suspect roof damage, the very first thing you should do is call your insurance company. Depending on the insurance company, they'll either send out an adjuster or tell you to call a roofing contractor for an inspection.
Even if they tell you to find a roofer first, the insurance adjuster is the only one who has the power to your claim. A roofing contractor will inspect for storm damage, document proof, and advocate for you if they think you have it.
But even if a roofing contractor is 100% certain that your roof has storm damage, the insurance adjuster has the final say.
4. There's a chance your claim will be denied
One of the biggest things to keep in mind before filing an insurance claim for roof damage is that it could be denied. An insurance claim can be denied because of improper roof installation, inadequate attic ventilation, you waited too long to file, or because of policy exclusions.
But there's no reason to panic if they deny your claim because they think there's no roof damage. There are ways to double and even triple-check for roof damage if the initial claim is denied.
The first way is to ask your insurance company for a different adjuster to get a second opinion from a set of fresh eyes. They'll either approve your claim or agree with the first adjuster that there's no cause for a claim.
If you're still adamant and want to continue pursuing the claim, you can contact a structural engineer. They'll perform an inspection and offer proof (if there is any) to the insurance company that the roof structure needs a replacement.
If this fails, your last option is going down legal avenues that we aren't qualified to speak on. This should be an absolute last resort and gets costly with attorney and legal fees.
5. Getting multiple quotes is pointless
Normally, I recommend getting multiple quotes to ensure you find the right roofing contractor. But it's pointless to get quotes from different roofing companies when it comes to insurance.
This is because insurance companies determine the amount you get for your roof replacement. They do this by using software called Xactimate to determine the price based on the general average pricing of the materials in your area.
Unfortunately, they usually leave off important things like overhead and profit on top of other things a business needs to keep the doors open. This is why a roofing company's estimate ends up being more than your insurance's initial estimate.
If this happens, you can put the work in and supplement the claim, so you get everything you're owed. But if you're happy with the payout, you'll only pay your deductible and the difference in the estimates.
It can be tempting to find the cheapest contractor who will do the work for the amount insurance gives you. But I guarantee this will lead to more problems, and I doubt you'll get a decent workmanship warranty to take care of them down the road.
There's a reason why they're willing to do it for that amount when other companies aren't. That's why it's important to look for a roofing company you trust, not the one offering the lowest price.
Because of all this, there's no reason to look for the roofing company with the lowest estimate.
How do you hire a roofing contractor for an insurance claim?
Now you know the five things you need to keep in mind before filing an insurance claim. After reading this, it's now time to decide if filing a claim is worth it.
If it is, the very first thing you should do is call your insurance company. But no matter what they tell you, it's up to you to find a roofing contractor.
Unfortunately, insurance work brings out the worst in the roofing industry, and scams are prevalent. The last thing I want is for you to be taken advantage of by a bad roofing contractor.
That's why I wrote another article to help you find one you can trust.
Here are 5 Tips to Hire a Roofing Contractor for a Roof Damage Insurance Claim to learn what you should look for when it's time to find a roofer to handle your claim.