How Much Should I Spend on a New Roof?

Needing a new roof is never fun, but spending money on a new roof is even less fun. And you probably have no idea how much it'll cost if you've never been through the roof replacement process.
This leaves you wondering, "How much should I spend on a new roof?" You probably think we'll give you a high number because we're a roofing company.
But for over 30 years, the team at Bill Ragan Roofing has taken pride in providing honest and unbiased roofing knowledge. That's not stopping today or anytime soon.
That's why I wrote this article to give you an idea of how much you should spend on a new roof. After that, I'll give you the 4 main reasons you need to invest in a quality roof system even if it may cost more upfront.
How much should I spend on a new roof?
Every roof is different, so every homeowner will spend a different amount on a replacement. You also have to consider that everyone's budget is different.
So, I can't exactly say how much you should spend on a new roof without knowing your budget. But on average, a homeowner spends around $12,000-$15,000 on a new roof.
This price is based on a 3 bedroom, 2 bathroom home with a walkable roof pitch, a little roof complexity, and architectural asphalt shingles.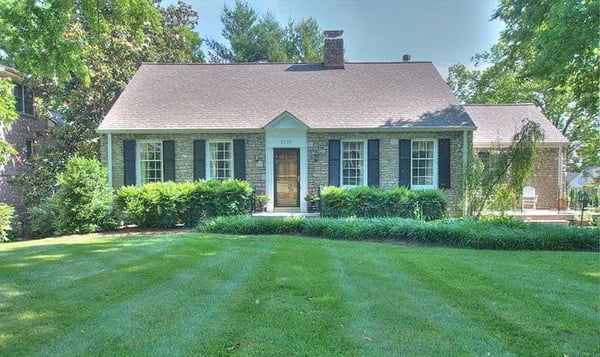 As I said, every roof replacement is different, so you may or may not fit into the price range above. But no matter what, a new roof will be an investment.
That's why it's important to actually invest in a quality roof. So, back to the original question, "How much should I spend on a new roof?"
The simple (and honest) answer is the amount that gets you a quality roof that'll protect you and your family for decades to come. The best way to do this is by not looking for the cheapest price available in your area.
So, talk to multiple roofing contractors, get multiple quotes, and find the right company that fits your roof replacement budget. If you want a better idea of the budget you'll need for a new roof, use our Roof Cost Calculator.
4 reasons you need to invest in your new roof
As I said, I can't exactly say how much you should spend on a new roof. But as long as you invest in quality, you should get a great roof system.
Now, I know some homeowners will still look for the cheapest price even after reading this. That's why I'm hammering the point home by breaking down 4 reasons why investing in your roof replacement is crucial.
1. You'll save more money in the long run
A roof replacement will always be expensive. But you'll save more money in the long run by investing in a quality roof from the beginning.
If you avoid quality and go with the cheapest price available, you'll have problems sooner rather than later. Because of this, you'll spend more money on repairs and eventually a full roof replacement before you should need one.
Do you really want to spend even more after spending thousands of dollars on a new roof? Just invest in quality from the beginning to save you stress and frustration, and keep your hard-earned money where it belongs, in your wallet.
2. Your new roof reflects the quality you pay for
The last point already told you that finding the cheapest roof leads to future problems. So, this next one should be pretty obvious.
Your new roof reflects the quality you pay for. Getting that cheap roof we discussed earlier means you're likely getting the cheapest components and labor available to install them.
On the other hand, a good roof system will cost more for quality labor, roofing materials, and components. So, the difference in price estimates can be drastic.
No matter which route you go (cheap or quality), you get out of what you put into it. So, it's always recommended to spend a little more money on a quality roof system.
3. You'll have better warranty options
You get two types of warranties to protect your new roof from future problems. You'll have one on the roofing contractor's workmanship and one on the roofing materials from the manufacturer.
Every new roof should get these warranties after installation. But you'll have better warranty options if you invest in a quality roof system.
If you get an architectural asphalt shingle roof and use all of the manufacturer's roofing components, you can get an enhanced warranty. This non-prorated material warranty guarantees the manufacturer covers labor, materials, and dump fees for 50 years if the materials are defective.
On the other hand, I can guarantee you won't qualify for the enhanced warranty by getting a cheap roof system. Even if you get this enhanced warranty, it'll most likely be voided due to improper installation or inadequate attic ventilation because you paid for cheap labor.
Cheap labor and materials also impact the type of workmanship warranty you get. If you hire a company with the lowest labor costs, you'll get anywhere from a tail light warranty (as soon as you see their company truck's tail lights disappear, your warranty is gone) to a two-year or possibly a five-year warranty.
These contractors won't give more than a five-year workmanship warranty because they don't want to be responsible for something that'll have continuous problems down the road. Their main goal is to get your new roof through the warranty time frame before it fails completely, and they're on the hook to fix it.
Because a new roof is an investment, you want to ensure it's protected. So, invest in quality to get better warranties opportunities.
4. The lifespan of your roof will be maximized
The lifespan of your roof is the return you get from your investment. Just know that your new roof's lifespan is determined by the roofing material you choose.
But if you invest in quality, you can count on getting the maximum number of years out of your new roof. For example, an asphalt roof lasts 20 to 30 years, depending on which shingle is used.
If you decide quality isn't important, I can guarantee your asphalt roof's lifespan won't reach its full potential. You may think you can avoid this by investing in quality materials and getting the cheapest labor to install them.
But cheap labor usually leads to cut corners and incorrect roofing techniques. So, getting quality materials means nothing if they aren't installed correctly.
This leads to your roof system failing before it has a chance to reach its full potential. Even if you're looking for the most affordable roof replacement, invest in quality workmanship to maximize its lifespan.
Find a great roofing contractor for your new roof
Now you know the 4 reasons you need to invest in quality when it's time for a new roof. I'm not saying you have to break the bank to get a quality roof replacement.
But don't go into the process with the mindset of finding the lowest price possible. That's why it's important to talk to multiple contractors and find a company that fits a reasonable budget range.
Unfortunately, finding a reputable roofing company is harder than you think. And I'm sure you noticed as you read through this article that a roofing contractor has a huge impact on a roof replacement.
This makes finding a great one in your area crucial. Well, I want you to have the power to spot a reputable roofing company out of the sea of options.
That's why I wrote another article that gives you the 7 tips every homeowner needs to find a great roofing contractor.
The team at Bill Ragan Roofing has provided high-quality roof replacement to thousands of homeowners in Nashville and surrounding Middle Tennessee areas. You can count on our workmanship to maximize your roof investment, and we back it up with a lifetime craftsmanship guarantee.
Check out 7 Tips to Find a Great Roofing Contractor so you can find a reputable company in your area for all of your roofing needs.