Asphalt Shingle Roof | Metal Roof
5 Problems With Installing a Metal Roof Over Shingles

Getting a new metal roof is an expensive purchase. So, it makes sense that you want to try to save money where you can.
Some homeowners do this by trying to install a new metal roof over their current asphalt shingle roof. While this is possible in certain circumstances, some problems come with it.
For over 30 years, the team at Bill Ragan Roofing has provided honest and unbiased roofing information to homeowners like you. Because of this, I want to help you understand the problems associated with putting a metal roof over a shingle roof.
Let's get to 5 problems with installing a metal roof over the top of an asphalt shingle roof.
1. There's no chance to replace bad roof decking
Roof decking is the wooden boards that make up the foundation of your entire roof system. When getting a roof replacement, your old roof is torn off all the way down to its decking.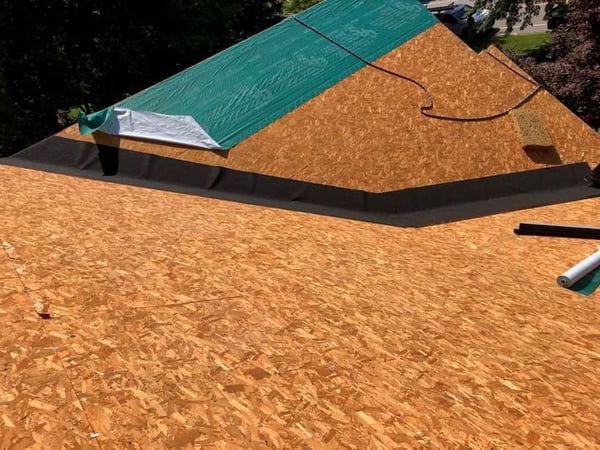 This gives your roofing contractor a chance to inspect the roof decking for broken boards or signs of rotting. The problem is that there's no opportunity to inspect your roof's decking when installing a metal roof over your asphalt roof.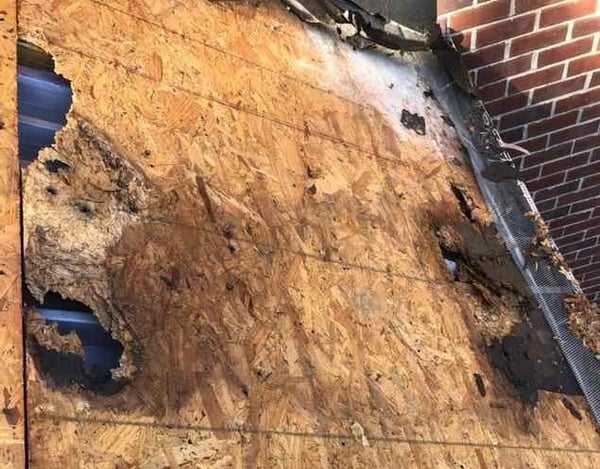 (Rotting roof decking)
This means you don't know if the decking's integrity can handle your new roof. Unfortunately, you won't know there's a problem until it's too late.
Now, there's a chance your roof decking has no problems. But most roof replacements require some replacement decking, and some even need the entire roof redecked.
2. The weight of the metal and the shingles
As I said, you need to know if your current roof decking can handle a new roof installation. But because there's no chance to truly inspect it, you may have broken boards or rotting you can't see.
The problem is that you already have a shingle roof installed and you're about to install a metal roof on top of it. This adds some significant weight for your decking and home to hold.
And if your decking's integrity is compromised, this extra weight can do structural damage to your roof and even your home. This won't happen immediately unless your decking is in seriously bad shape.
However, the weight will become a big problem down the road if the decking continues to rot. As long as you hire a reputable roofing contractor, they won't recommend installing a metal roof over the top for this reason alone.
3. Crucial roofing components can't be replaced
A roof replacement is literally the chance to replace old roofing materials and components that have reached the end of their lifespan. You don't get a chance to do this because you bypass the tear-off process when getting a metal roof over shingles.
While this saves you money upfront, the problem is that you miss out on replacing crucial materials that shouldn't be on your roof anymore. Let's use underlayment as an example.
Underlayment is installed directly over your decking and is your roof system's last line of defense. When installing a metal roof over shingles, you have to rely on the underlayment from the old roof system.
Not only that, but you won't get the proper underlayment specifically designed for a metal roof. Roofing components aren't meant to last forever.
Because of this, I always recommend a complete tear-off before installing your new roof.
4. Future leaks are harder to track and repair
It takes skill to find a roof leak, track it, and repair it. But it's even harder to do this when you install a metal roof over shingles.
If water gets under your metal panels, it'll go down your old asphalt roof, find the path of least resistance, and start leaking inside your home. What makes this difficult to repair is that the leak could come from two different parts of two different roofs.
This makes it incredibly hard to find the origin of the leak in your old roof or new metal roof. If it's found that it's your old shingle roof, the roofing contractor has to go through the metal roof to repair it.
That's why it's important to ask your contractor about the condition of your current shingle roof if you're strongly considering installing a metal roof over it. If you already have roof leaks, it's best to avoid doing it altogether.
5. You're covering up an old roof with problems that don't go away
The last problem on this list goes back to the other four we already covered. This is simply the fact that problems or issues with your old shingle roof don't magically go away when covering it with a metal roof.
If your asphalt shingle roof is covered up without taking care of a problem, it will still be there when water gets under the metal roof. This means you'll spend even more money to fix a problem that isn't guaranteed to go away permanently.
After all, you covered up an asphalt shingle roof near or at the end of its lifespan. So, the old roof has done its job and performed its function.
But even though you covered it up, it doesn't mean the components stop aging. There's also the issue of mold and mildew if moisture gets in between the old shingle roof and the metal roof.
This moisture can also rot your shingles over time. No matter the problem with your old shingle roof, installing a metal roof over it doesn't mean the same issues won't pop up down the road.
Compare asphalt roofing and metal roofing to learn which one is right for you
Now you know 5 problems when installing a metal roof over shingles. While these problems are a big deal, it doesn't necessarily mean they'll happen to you.
But the truth is, most asphalt shingle roofs won't be a good candidate for installing a metal roof over it. That's why you'll most likely have to choose one or the other.
The best way to do this is to compare metal roofing to asphalt shingle roofing on key decision-making factors. To further help you, I wrote another article that matches up the two roofing materials to help you determine which one is right for you.
The team at Bill Ragan Roofing has provided high-quality roofing services to homeowners in Nashville and surrounding Middle Tennessee areas since 1990. After our job is done, you can count on our workmanship backed by a lifetime craftsmanship guarantee to give you a roof that lasts for decades.
Check out Asphalt vs. Metal: Find Out Which Roof is Right for You to learn which one is right for your upcoming roof replacement.