The Top 9 Insurance Roof Replacement Questions Answered

There are a lot of questions that need answering before a roof replacement. But there are more complex questions when you throw insurance into the mix.
Unfortunately, the insurance roof replacement process is confusing (and honestly overwhelming) if you've never been through it before. So, it's understandable to have a lot of questions.
Bill Ragan Roofing believes in providing homeowners with all the information they need for any roofing project. Because of this, I'll use my 30-plus years in the roofing industry to answer the most common questions homeowners like you ask about an insurance roof replacement.
This article answers the following insurance roof replacement questions:
The difference between the types of insurance policies.
The type of roof damage covered by insurance.
Who you should call first for roof damage.
If a roofing contractor can approve your claim.
Whether or not you need to get multiple quotes.
What it means to supplement a claim.
What to expect from the insurance process.
If you'll pay anything when filing a claim.
Your options if your claim is initially denied.
1. What's the difference between an RCV and ACV insurance policy?
When filing a claim, you'll either have an Actual Cash Value (ACV) policy or a Replacement Cost Value (RCV) policy. While both policies equal a payout from the insurance company, the value between the two policies is very different.
Actual Cash Value is when the insurance company pays out the depreciated value of your roof. This policy means your insurance company only pays what your roof is valued at today.
Replacement Cost Value policy is when the insurance company pays out what it costs to actually replace your entire roof. However, they don't give you the full amount for the roof replacement upfront.
You'll first get a check for the actual cost value of your roof while the insurance company holds back the rest to calculate the recoverable depreciation. After the insurance roof replacement is complete, you'll provide proof it was done in accordance with the claim.
Once the insurance company gets the proof, they'll send a second check that covers the rest of the cost. But if you don't get the work done, they don't have to send the second check for the depreciated part of the claim.
Both policies protect your roof in the event of storm damage, but a Replacement Cost Value policy ensures your insurance company pays for a full roof replacement.
2. What kind of roof damage is covered by insurance?
For insurance to cover roof damage, it must be caused by extreme weather or a storm event. This includes straight-line winds (aka damaging winds) during heavy thunderstorms, hail storms, snowstorms, and tornados.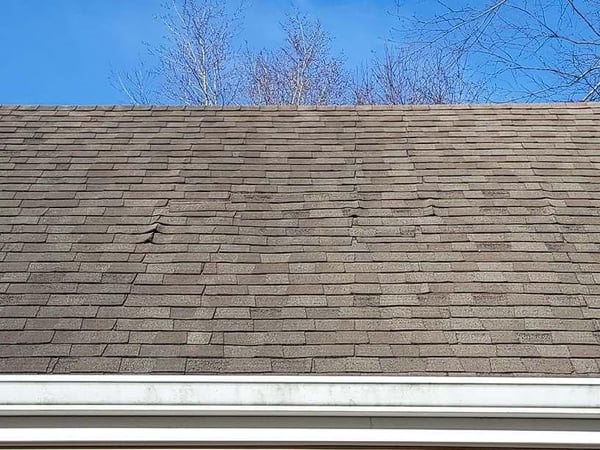 Most policies also cover roof damage from fallen tree limbs caused by strong storms. If any of the above caused roof damage, the insurance should pay for a replacement.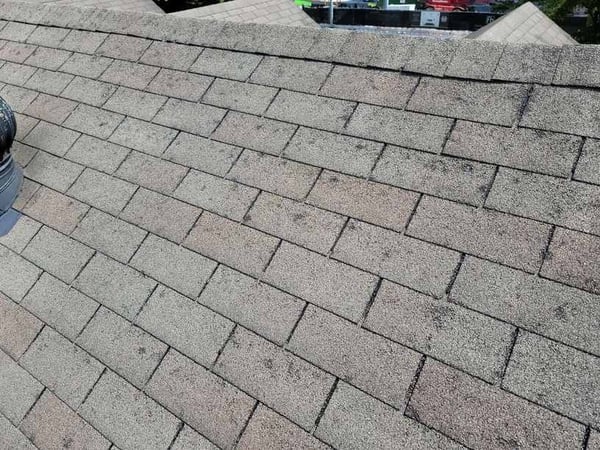 (Hail damage)
However, it ultimately depends on what's found during the inspection if there's enough roof damage to warrant a full replacement. But if extreme weather caused damage, your homeowner's insurance should pay to replace your roof.
3. Should I call a roofer or my insurance company first?
The first thing you should always do is call your insurance company. After giving them all the relevant information, they'll either send out an adjuster or tell you to contact a roofing company.
If the insurance company schedules an adjuster, they'll come out to inspect the damage and determine if you have a claim. If they approve your claim, it'll be time to find a great roofing contractor.
If the insurance company tells you to find a roofing contractor, you'll find one you trust for an inspection. If they find signs of storm damage, they'll document the proof and send it off to your insurance company for approval.
No matter what, the first thing you should always do is to call your insurance company if you suspect storm damage.
4. Can a roofing contractor approve my insurance roof replacement?
As I just said, the first thing you should do is call your insurance company. Let's say they tell you to contact a roofing contractor.
While they'll look for and document any signs of storm damage, it's out of the roofing contractor's hands if the claim is actually approved. Unfortunately, some homeowners think that a claim is approved because the roofing company found storm damage.
However, the insurance adjuster and the insurance company have all the power to approve or deny your claim. So, even if the roofing contractor is certain that you need your roof replaced because of storm damage, the insurance adjuster is the only one who can move you forward in the approval process.
5. Do I need to get multiple quotes for my insurance roof replacement?
Once your claim is approved, there's no reason to get multiple quotes from different roofing companies. This comes down to the fact that insurance companies determine the price for your insurance roof replacement.
They do this by using software called Xactimate to come up with the price based on the general average pricing of the materials in your area. Because of this, there's no reason to go looking for the roofing company with the lowest estimate.
Even if the roofing company's estimate ends up being more than your insurance's initial estimate, there's no reason to panic. This is where hiring a roofing contractor that helps you supplement comes in handy (more on this next).
If your claim is approved, the most important thing to look for in a roofing company isn't pricing; it's trust.
6. What does it mean to supplement my insurance roof replacement?
If your insurance company approves your claim, you'll get an estimate for the scope of work required to replace your roof back to the way it was before the damage occurred. Unfortunately, most of the time, insurance adjusters leave key line items off the estimate.
Some even leave off crucial code upgrades required to ensure your roof complies with your state's building codes. When this happens, your insurance claim has to be supplemented.
Supplementing an insurance claim means doing the due diligence to ensure every line item (including local codes) your roof needs is included and covered by the insurance company. If a roofing contractor won't help or give you tools to do this, don't even think about hiring them.
Just know that some insurance companies give homeowners some push back on supplementing. But as long as you're willing to put in the work and hire a reputable roofing contractor, your roof will get everything it needs.
7. What does the insurance roof replacement process look like?
Some homeowners expect their roof to be replaced as soon as their insurance claim is filed. Unfortunately, the insurance claim process moves slowly and can be a long process.
The reason for this is because of all the moving parts and people who play a role in the process.
Below is a quick rundown of some of the steps to file an insurance claim and the people involved:
You'll call your insurance company
An adjuster comes out for an inspection
They'll write up a claim if the adjuster approves
You'll need to find a reputable roof contractor
They'll go over the claim paperwork and give you a list of what should be supplemented
You'll send the supplemented claim back to the insurance company for approval
If approved, your roof replacement will be fully covered by insurance
These steps vary depending on the insurance company, your policy, and the roofing contractor, so it won't be the exact same for everyone. This list demonstrates that the entire process takes time and there are moving pieces behind the scenes when you file an insurance claim.
8. Do I pay anything when getting an insurance roof replacement?
Everyone's insurance policy is different, but you'll usually only have to pay your deductible once your claim is approved. This means you'll pay the deductible, and the insurance company will pay for the rest of the roof replacement.
If your policy has a code upgrade provision, the insurance company also pays for anything your roof needs to ensure it's up to code. But if you add other upgrades, like going from 3-tab asphalt shingles to dimensional asphalt shingles, you'll pay out of pocket.
Just know that many homeowners take advantage of adding upgrades (new style shingles, copper flashing, etc.) to their roof because the majority is already paid for. But if you only want to pay for your deductible, you'll get a brand-new version of your current roof.
9. What if my insurance claim is denied for a roof replacement?
Just because you file a claim doesn't mean it'll be approved by your insurance company. It could be denied because your roof wasn't installed properly, your attic isn't adequately ventilated, you waited too long to file, or because of policy exclusions.
These are legitimate reasons, and there's nothing you can do about it. But if your claim is denied because the adjuster says they didn't find any or enough damage, there's no reason to panic.
You can double and even triple check your roof if you're adamant it has storm damage. The easiest way is to ask your insurance company to send out a different adjuster to get a second opinion.
They'll either approve your claim or agree with the first adjuster that there's no basis for a claim. But if you still want to pursue a claim after the second adjuster says no, you can contact a structural engineer.
They'll perform an inspection and offer proof to the insurance company that the roof structure needs to be replaced. If even this fails, you'll bite the bullet or pursue legal avenues that we aren't qualified to speak on.
Have even more questions about an insurance roof replacement?
There you have it; the top 9 insurance roof replacement questions answered. Remember, it's impossible to answer every insurance question a homeowner may have in one article.
But if you do have more questions, you're in luck. Our Learning Center has even more roofing insurance information available.
Since 1990, the team at Bill Ragan Roofing has helped thousands of homeowners in Nashville and surrounding Middle Tennessee areas with their insurance roof replacement. With over 30 years of experience, we do everything in our power to get your insurance company to adhere to your policy.
If you're local to Nashville, don't hesitate to Contact Us for any of your insurance or roofing needs.
Check out our Learning Center to continue learning about insurance roof replacement related topics.